Recently, I came across a picture of a kitchen I absolutely loved. It led me to a site called Plain & Fancy Cabinetry. Don't you love that name. It's like kitchen heaven, looking through their website. I found so many beautiful kitchens! I chose a few of my faves to share with you today. Do you have a bib on? You will need one because we're entering serious drool territory!
Let's start off with my very favorite of all of them. I LOVE this beach cottage kitchen, the colors, the glass front cabinets, the hidden refrigerator. Don't hate me, but I'm not a big lover of stainless appliances. I don't hate them, but how I do adore a white kitchen with hidden appliances.
This kitchen totally checks all my boxes and a few I didn't know I even had. I love the color of the center island. It's the perfect amount of turquoise/aqua without feeling overwhelming. And the good thing is, this is basically a white kitchen so if the aqua ever became too much, it could be painted over or changed to a different color without a whole lot of work.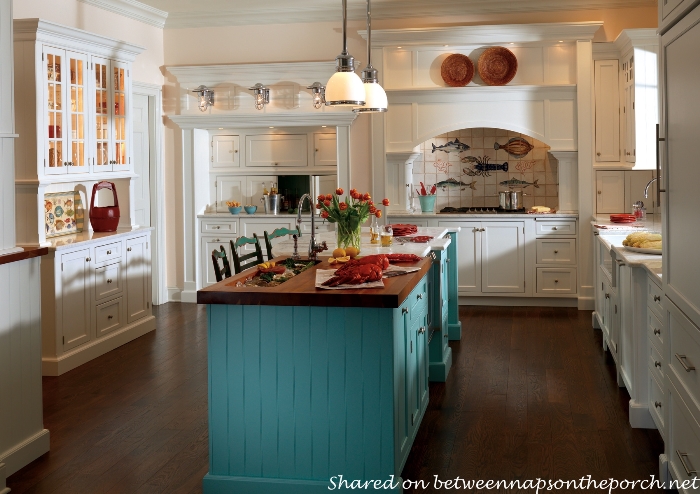 Do you follow BNOTP on Facebook? If you do, you saw this gorgeous kitchen below yesterday when I shared it on Facebook. It was reshared over 435+ times, so apparently I'm not the only one who loves it.
Look at all those windows! The ceiling, the floors, the fireplace…there is so much to love!
Here's a view from the other end.
Love a dark-stained island? This kitchen had kind of an old world feel to me…very beautiful!
This kitchen is an excellent example of French Country. Love the rich yellow walls, the farmhouse sink and that beautiful window overlooking a lovely view.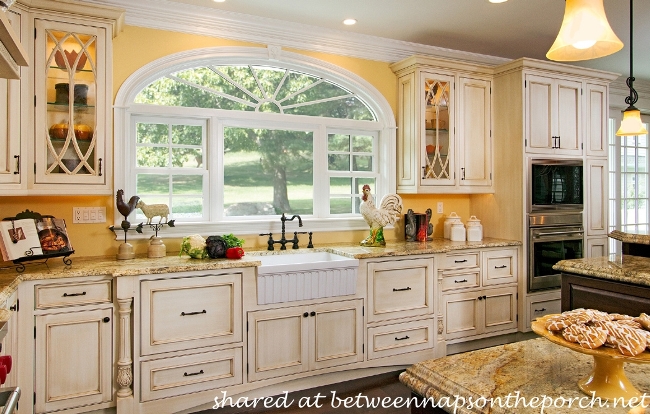 Another great kitchen! My favorite thing in this kitchen is the glass front refrigerator. Do you think that's a Sub Zero? You always see them in stainless but apparently you can have custom cabinetry made to make to fit over it.
How do you like the soft color of the cabinetry in this kitchen? Is it a sea green or is it a soft gray? Hard to tell but it's beautiful!
I recently shared a photo of a kitchen with a stove like this one on Facebook. Someone recognized it and said it's by a French Manufacturer and the brand is La Cornue. It comes in lots of colors: a bold blue, sky blue, white, soft green, red, purple (yes, purple) and of course black as shown here. It probably comes in more colors than that, those are just the ones I saw at their website. I would have to pull a Julia Child and go to a French culinary school to be worthy of cooking on a La Cornue. 😉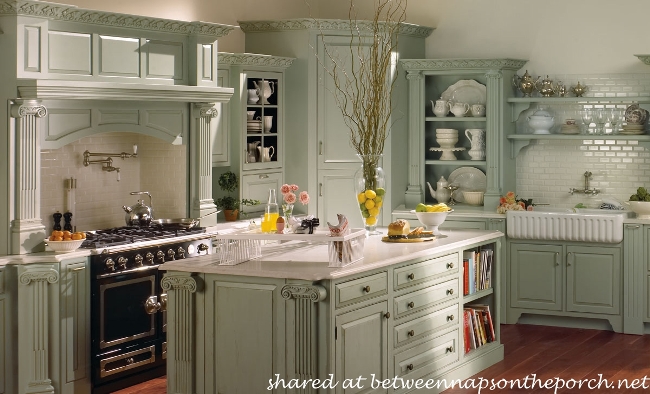 How do you like the mix of colors for the cabinets in this kitchen. You have antique white/cream, deep blue and a stained island. I personally love the variety and how it all works together! Do you like a mix or prefer all the cabinetry be the same?
This kitchen has a more sleek, modern feel. When I've gone on home tours in Atlanta, I've seen quite a few kitchens like this one. It's a popular look for kitchen renovations in some of the older historic homes in Atlanta.
Another beautiful kitchen with a hidden refrigerator. Love the coffered ceiling and notice the rock surround above the stove top.
Even smaller kitchens can be loaded with style! Notice the open beam ceiling. You can just see the stove top off to the right, built-in at an angle in the island. As much as I LOVE glassed cabinets, I'd be tempted to remove the ones over the bar/island. I love being able to see through without having to look under cabinets. The extra storage is nice though!
Did you have a favorite?
If you could build your dream kitchen, how would it look? Would it be a combination of some of these or is one of the kitchens pictured above, your dream kitchen?
Love dream rooms? You'll find 12 beautiful bedrooms in this post: Dreaming of Beautiful Beds
(Pictures above are from Plain & Fancy Cabinetry.)
*If a post is sponsored or a product was provided at no charge, it will be stated in post. Some links may be affiliate links and as an Amazon Associate, I may earn from qualifying purchases. *