Welcome to the 473rd Tablescape Thursday!
Things are still a bit crazy around here with furniture still piled into the breakfast room and the deck furniture piled onto the porch. Fortunately, they are coming today to put everything back onto the deck now that it's dry. Looking forward to getting everything back to normal!
Update: Sorry this post is going up a bit late…painters arrived while I was creating it and I had to help with moving the deck furniture back in place.
Halloween Craft Fail
I've always been a bit of an Edgar Allan Poe fan, the crafting of the short story, The Tell-Tale Heart, left a big impression on me back in high school. I was hooked after that!
So, many years ago when I came across this wonderfully creative setting featuring the Poe poem, The Raven, at the blog, Brooklyn Limestone, I saved the photo hoping to one day re-create it for a Halloween table. Unfortunately, after Stefanie created her setting, she discovered the paint markers she had used were not considered "food safe."
I've searched off and on for years for paint or paint markers that were not just for ceramics but were actually certified to be "food safe" and I finally thought I had found them. All the info I found online and in forums said they were safe for food because you bake the plates in an oven for 30 minutes afterwards and that sets the paint. The info I found online even stated that the plates were dishwasher safe after baking them. That sounded pretty good, right?
I ordered a few pens and after weeks of searching online, I finally found a crow stencil that was pretty close to the size I needed to paint a crow onto my salad plate. The stencil was actually of a crow on the back of a sheep, but I knew I could cut the sheep part off and just use the crow.
Once the pens arrived I decided to contact the company via email just to verify they were indeed safe for painting in the center of a plate. Just wanted to be sure. This was the response I got back.
Good morning Susan,

Thank you for your message and for contacting us with your question.

We recommend our Marabu Porcelain & Glas Painter to be used only on the outer rims of plates and the outsides of cups and bowls.

Despite the fact that our Marabu Porcelain Painter as well as the new Marabu Porcelain & Glas Painter are water based, non-toxic, certain very strict rules apply for paints for direct food contact. As these certifications comprise a vast number of chemical analyses and many factors to be monitored, we cannot certify our paint as suitable for direct food contact. But again, they are safe to be used on mugs if you leave a 2cm undecorated gap on the rim.

For tableware designs with the Marabu Porcelain Painters we recommend you do not paint on cutting areas, inner surfaces or glass rims as the painted parts might get off because of the mechanical abrasion by knives, spoons, teeth etc.

We hope this helps. Please don't hesitate to contact us again if you have any further questions.

Kind regards
🙁
Ummm, not the answer I had been hoping for since I wanted a crow right in the middle of my salad plate. By the way, I found white plates, both dinner and salad, in The Dollar Tree. The price was right at $1 each, and the rim of the dinner plate is relatively flat, perfect for writing on.
Here's one plate I had started before I received the reply email from Marabu. He's not baked yet since I still needed to write "Nevermore…" underneath. I guess it would be okay if I just painted him on the rim, then baked him since they say that's okay in their reply email. Drat! I had really wanted him in the center of the plate. Maybe he would be okay for finger foods where utensils weren't being used. I guess on the rim is better than not at all, right?
In the meantime, I'm sharing links to some previous Halloween tables for a bit of spooky inspiration. Hope you enjoy!
Click on the title of any table to see that table in full!
A Halloween Table for the Birds!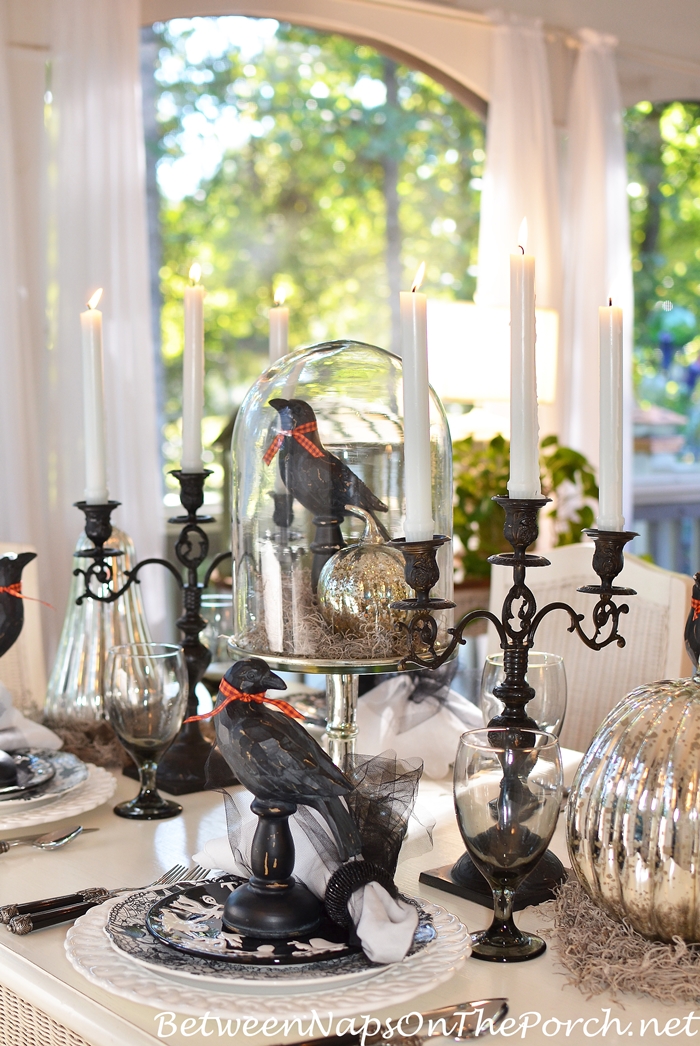 Halloween Table in Orange Yellow and White with Scarecrow Centerpiece
A Spiderweb Tablecloth for a Spooky Setting
You'll find additional Halloween tablescapes I've created over the years here: Halloween Tables. (Click any picture on that page to access that previous tablescape.)
Looking forward to all the beautiful tables posted for this week's Tablescape Thursday!
Pssst: I post almost daily to Instagram. Follow Between Naps on the Porch on Instagram here: Between Naps On The Porch.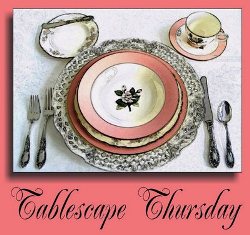 If you are participating in Tablescape Thursday, please be sure to add your permalink below, and not your general blog address.To get your permalink, click on your post name, then copy and paste the address showing in the address bar, into the "url" box when you link up.
You'll need to include a link in your post back to the party to link up and participate. That's so visitors to your blog will be able to find the party and the other Tablescape Thursday participants. Requiring a link back also prevents businesses and scammers from linking up to sell their products. (Yup, that really happens, unfortunately.)
*If a post is sponsored or a product was provided at no charge, it will be stated in post. Some links may be affiliate links and as an Amazon Associate, I may earn from qualifying purchases. *