I'm currently in the planning stage of a bath renovation. My bathrooms are all over 30 years old, so it's time. The bath I thought I'd start with is the upstairs hall/guest bath. The toilet has been replaced (see that post HERE) and now I'm looking at vanities.
(Update: I've called this a guest bath in this post since that's how it is being used in my home now. But for future families living here, it would be the main "kids" bath upstairs since it serves as the bath for the bedrooms, other than the master.)
When we first moved in, this blue vanity was already here. We had plans to change it out but our son who was seven at the time really liked it. So instead of changing it, I looked for coordinating wallpaper.
I came across this adorable (and unfortunately, expensive) baseball wallpaper on a "Street of Dreams" home tour. My son played baseball from the 2nd grade through the 11th grade and was a big Braves fan, plus the blue was a perfect match for the sink.
My plans are to make this bathroom more neutral, moving away from the look of a kid's bath. I'm kind of sad to see the wallpaper go, but it's time. Patricia who reads BNOTP had a great idea. She suggested I save a good size piece to have matted/framed for my son. I love that idea since he's such a big sports fan and hopefully it will bring back some nice memories of his childhood home whenever he sees it. Thanks so much for that suggestion, Patricia!
I have to tell ya, I'm not good with change. I guess I'm just too sentimental because change is always hard for me, especially when it ties back to my son in some way. Even though he's grown, out of college and living in his own home, it was hard when I turned his old room…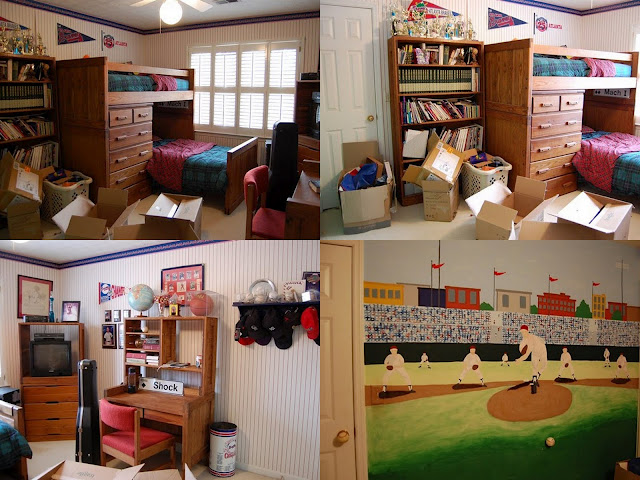 …into my home office. But I enjoy this room so much now and it's the most used room in my home these days. So change can be good and we always have our pictures and our memories, right? (See office transformation here: Creating a Home Office: The Journey)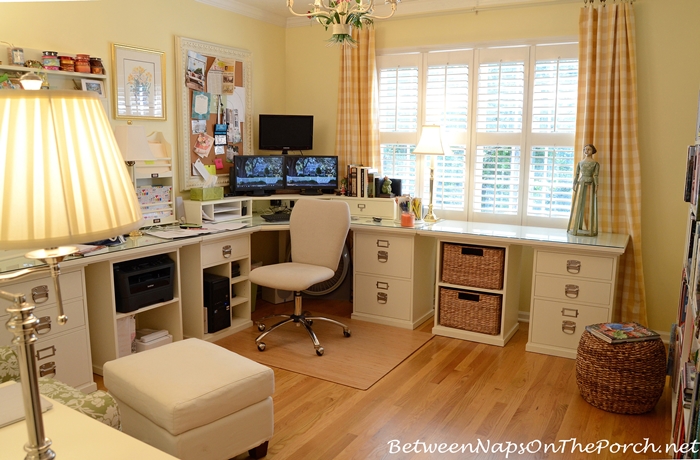 I haven't looked at bathroom vanities in ages. The ones I seem to like are all free-standing. That should work if I decide to go that route since there's plenty of space between the current vanity and the toilet. If I go with a free-standing vanity, it will also mean a new floor for the bathroom. The tile in this bathroom is fine and is an off-white color that's completely neutral, but it will definitely need to be replaced if I decide to use a free-standing vanity.
As I've been shopping online, one vanity I considered was this one at Houzz called the Abbey. I would not go with that style faucet and would choose something else, but I do love the Carrara marble. I asked someone recently how a Carrara marble top holds up in a bath and was told that it works well in baths since folks aren't cutting with knives and working on the countertop like they do in a kitchen. As long as it's sealed, it is supposed to work fine for a bath. Anyone have Carrara marble in their bath and has it held up well?
Note the drawer/cabinet design, how the drawer and cabinet panels lay atop the cabinet instead of being built into it. Not sure how I feel about that. It's not bad, but there are other designs to consider. Notice how thick the marble top looks around the outer edge. It doesn't look as thick on the inside of the sink. (Dimensions: 48 x 35 x 22 inches)
Another vanity I came across and liked at Houzz is the Katherine. I really like the curvy cabinet design and the Carrara marble top. (Dimensions: 48 x 35 x 22 inches)
This is the Vinnova Verona from Overstock dot com. This wouldn't work that well in a bath with beadboard wainscoting, would be beadboard overload and would probably conflict with the beadboard design on the walls. But in a bath without beadboard, it could be really nice. Wonder if it would be hard to keep clean with all those beadboard grooves. (Dimensions: 48 x 35.8 x 23 inches)
One vanity style I keep seeing is the open shelf style, but I'm 99% sure I would prefer a closed cabinet. The one below is at Overstock dot com. I just don't want a surface I'll need to worry about dusting/keeping clean in the bath. Plus, I'd like more hidden storage for bathroom tissue and things like that. I have a nice size linen closet in this bathroom so there's already plenty of towel storage available. As pretty as the open shelving is, I just don't think I'd use it very much and don't won't to really worry with keeping it clean/neat. (Dimensions: 48 x 35.8 x 22 inches)
The Ariel Kensington from Overstock is a nice design. It's and inch longer at 49 inches, but that's fine since I have a good amount of space between the vanity and the toilet. The slated/shutter doors are cute.
A few of the vanities I found are available with a large rectangular mirror, but if I do go with a free-standing vanity, I'm leaning toward using an oval mirror with wall sconces on either side. A mirror the same size as the vanity (like shown below) would be too large to allow for wall sconces on either side in this bath, so an oval would probably be a better choice if I do go with sconces on either side. (Dimensions: 49 x 35 x 22)
Finally, another I liked is the Norwood. It's available at Home Depot and Wayfair Supply, but is currently out of stock. It's supposed to be back in around the first week in May. The Norwood is the deepest of all the vanities I'm considering which worries me a little. I don't want to crowd out the entry to the bathroom. My existing vanity that's not free-standing is 22 inches. The Norwood is 23.6 in depth. (Dimensions: 48 x 35.2 x 23.6)
Did you have a favorite? Know of any others I should consider?
*If a post is sponsored or a product was provided at no charge, it will be stated in post. Some links may be affiliate links and as an Amazon Associate, I may earn from qualifying purchases. *