Welcome to the 199th Tablescape Thursday!
Greetings! Hope your week is going great. Look what I found on my front porch today. A package! I wonder what could be inside?
Oh, there's a little note. Let's take a closer look and see what it says. The note says, "Enjoy!" and it's signed, Mary. Any guesses what might be inside?
I'll give you a big hint. Tucked inside this lovely package is the sweet fulfillment of a wish…a wish I voiced out loud in last week's Tablescape Thursday post, pictured below. If you saw that post, you may remember I only set four place settings because I was missing two of something I needed to set six. Mary saw my post and e-mailed to say she had two extras and would love for me to have them. Wow! How nice is that! They arrived yesterday and I couldn't wait to use them! Have you guessed what they are?
Yes! It's the elusive, hard-to-find, beautiful, blue glass chargers! It was totally a miracle I had managed to find four…remember that story from last week. And now I have six thanks to the sweet generosity of Mary! Mary, thank you soooo much for the chargers…I am absolutely thrilled to have a full set of six now. You'll be seeing these again this summer. I'm envisioning a wonderful blue and white table setting.
I put the new chargers to immediate use, creating one last table setting for our upcoming Independence Day celebration.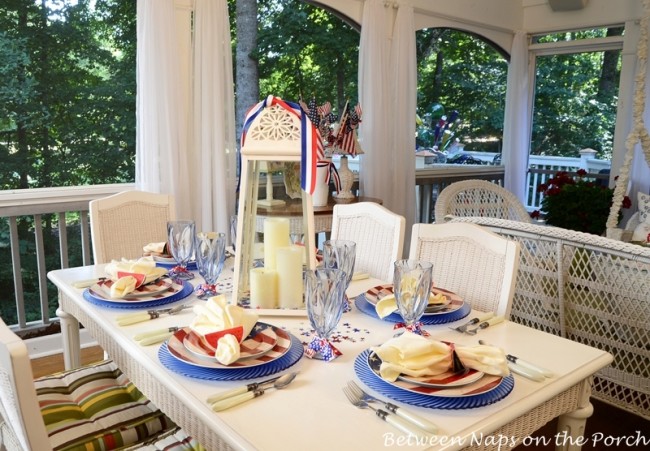 This was one of those weeks when I couldn't decide between a couple of centerpieces, so I decided to take pictures of both.
After a few pics with this wonderful lantern (found last summer in Old Time Pottery) as my centerpiece,
I decided to try the pinwheels. (Tutorial for making this centerpiece can be found here: Pinwheel Centerpiece for 4th of July Party)
I really liked both centerpieces but ended up using the pinwheel one (with flags) for the rest of my pics.
This is by far my favorite china for a 4th of July table setting. I saw it for the first time when I posted two table settings created by my friend, Bonnie: 4th of July Table Settings. I was fortunate to find six place settings of it on eBay that year.
I completely forgot to take a close-up pic of the flag china so I stole the photo below from an Independence table setting I put together last year. The china pattern is Colonial by Warren Kimble. Last year I made bunting napkin rings for our celebration. (Tutorial can be found here: 4th of July Craft Bunting Napkin Rings.)
This year I went with these cute, wood, watermelon napkin rings. I can't remember now if I've ever used these in a table setting for Tablescape Thursday. Okay, just checked and I have used them once before in a table setting last summer featuring a carved watermelon centerpiece. Watermelon just fits with a 4th of July celebrations, doesn't it?
The beautiful glassware was provided by Noritake and it's the first time I've use it in a setting for a Tablescape Thursday. It's called Breeze Blue. Does that not sound like the perfect glassware for dinner on this "summer-breeze-makes-me-feel-fine" porch? It comes in lots of pretty colors. I used the amber for an autumn tablescape last fall.
I added a tiny embellishment to the stem of the glasses: two yummy mints attached with starry, red ribbon. They are little surprise treat for my dinner guests.
Evening arrives…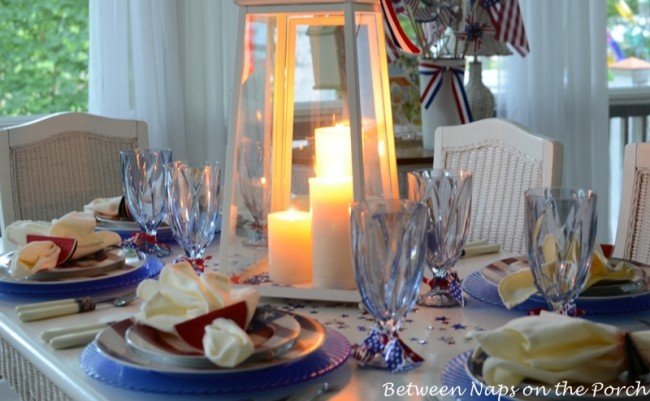 God Bless our great country and the brave men and women who risk their lives to protect it, and us. Words can't express how grateful I am every single day!
Have a wonderful 4th of July, dear friends!
Receive BNOTP updates right in your Inbox:
To receive the latest posts, as well as updates about upcoming blog parties, subscribe To BNOTP posts via an RSS Reader. Or, have BNOTP delivered right to your Inbox. You'll find links to subscribe via RSS and e-mail on the top right sidebar of the BNOTP home page.
Reading this post via e-mail or RSS feed?
*If you are reading this via email or RSS feed, to view all the tablescapes linked for Tablescape Thursday, click HERE.


Please Read:
If you are participating in Tablescape Thursday, please be sure to add your permalink below, and not your general blog address. To get your permalink, click on your post name, then just copy and paste the address that shows up in the address bar, into the "url" box when you link up.
You'll need to include a link in your post back to the party in order to link up and participate. That's so visitors to your blog will be able to find the party and the other Tablescape Thursday participants.
If you would like to use the Tablescape Thursday logo button in your post, just copy and paste it to your computer and upload it to your post as you would any photo.
Please, don't add your post name/blog name ALL IN CAPS. It creates big spaces between the rows of links. Thanks!
Let's try something fun today! Please visit the person who linked before you and after you…that way everyone will get some visits. Hope you'll visit more, of course.

*If a post is sponsored or a product was provided at no charge, it will be stated in post. Some links may be affiliate links and as an Amazon Associate, I may earn from qualifying purchases. *