It's countdown time–I'll be leaving for Egypt in less than a week. This trip seemed so far off when I shared the details in this previous post: Pyramids, Mummies and Cruising the Nile River.
Before every trip abroad, I usually pick up a few new items. I love trying new things, especially if it will enhance some aspect of the trip or prevent a problem.
2-Stage Filtered Water Bottle, Good for Travel or During Natural Disasters for Filtering Water
When I traveled to Morocco, I enjoyed that trip very much, but the one part I absolutely hated was constantly having to worry about having enough drinking water. Our guide provided us with plenty of water during the day as we toured all about Morocco, but if you forgot to ask for a bottle (or two) before heading back to your room for the night, it made for a miserable evening.
It's the pits getting back in your room at 8:00 PM at night, only to realize you have just a few inches of bottled water left, and that little bit of water has to last all the way until breakfast the next day–plus, you still need to brush your teeth. Argggg!
I've been hearing all about water bottles that filter water, even water taken directly from a stream. In addition to using them when traveling, they are also great to have on hand during a natural disaster where the water may not be safe to drink for a few days.
I think some of the negative reviews on the bottle I purchased are user error…like not realizing the bottle comes with a shrink-wrapped piece of plastic over the tip of the straw or that the filter needs to be primed when it hasn't been used in a long time. My water bottle came with easy instructions on how to prep the filter the first time you use it or after it has been stored away for a while. I tried it for the first time this evening and it worked great!
Tip: I also found if you tilt your head back, gravity helps a lot with the flow of the water through the filter and the straw. I'm very pleased with this bottle and I think it will be a true blessing in Egypt where the water can sometimes upset tummies not used to it.
You can read more about this water filtering bottle where I purchased mine here: Water Bottle with 2-Stage Filter. Wish I'd had this water bottle with me when I was in Morocco for 15 days.
TSA Approved Containers
I've tried several different types of containers for holding liquids when traveling and they have all failed. It's not a lot of fun to find the shampoo you packed for a two-week trip is now coating all your other toiletries inside your toiletry bag!
The first set of bottles I purchased for travel failed when the plastic bottles cracked. The second set failed because the container part was soft rubber and it broke away from the hard plastic tops leaking the contents inside my toiletry bag.
This one looks a lot more promising with screw-on lids, plus, it has great reviews. It also meets TSA's requirements for size. It comes with two foldable toothbrushes which are quite nice! You'll find it here: Travel Bottle Set.
Selfie Stick
I've never purchased a selfie-stick but I think one would come in handy for this trip based on some of the photos I've been seeing online where folks have taken photos of themselves in front of the pyramids and such. I like this one because you can snap the photo easily with the hand that's holding the stick and it's super easy/fast to get your camera phone into and out of the little holder. It doesn't require any batteries to operate or apps to download. Check out the great reviews here: Selfie Stick.
Travel Undies
I purchased a pair of ExOfficio underwear a long, long time ago to take along on trips. Sometimes when traveling, I'll just take older undies and throw them away along the way, but lately, I seem to be having an issue with waistbands giving me a rash. I hope I'm not developing a latex allergy. I think I may be because this past week when I ate 1/2 a banana every day for 3-4 days, I was itching to death all over. I've noticed this before when I've eaten bananas several days in a row…but it doesn't always seem to happen. I Googled and read that often folks who have sensitivity issues when eating bananas, often have a latex allergy, too. Have you ever heard of that?
So lately I've been wearing these ExOfficio undies and the small rash on my waist is much better. I also quit eating bananas so maybe that helped, as well. These undies are super comfortable so I purchased several more pairs for my upcoming trip.
It's my understanding they were actually designed for travel. When washed, they dry in 2-4 hours, so you can wash them at night and wear them again the next day. I think their tagline is that you only need two pairs of underwear for every trip…one to wear while the other pair is drying. I'm taking along several pairs so washing won't be needed very often on this trip. You'll find these "travel" undies in a lot of different colors here: Travel Undies.
Bag Cover
Of course, you already know about the Away bag I purchased and the cute cover I bought to protect it if it ends up being checked on a regional flight. If you missed that post, check out yesterday's post for more information about the cover and THIS post for more information about the Away bag.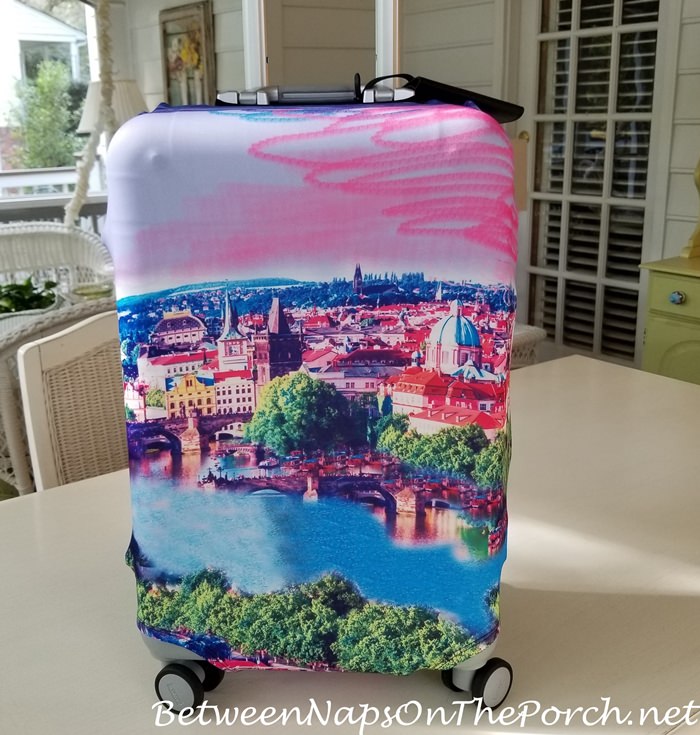 Have a trip planned? Check out these previous posts for more tips on my must-haves for travel.
5 Items I Always Take When Traveling Internationally
The One Part of Travel I Always Dread and a New Tactic for Managing It
UPDATE: I've had several questions about the jacket in this photo. It's a jacket I purchased a few years back when I first started traveling. This jacket goes with me on every trip because it takes up little to no space and is perfect for travel.
It's light-weight but amazingly warm when layered on top of a sweater. I love the hood because you can still take photos on those misty/rainy days and not have to worry about holding an umbrella. Love that!
It comes in a bunch of colors but the aqua color is my favorite. I definitely recommend it for travel, or really anytime! It's available here: Jacket. It's also available here: Raincoat.
You can read more about it in this recent post: https://betweennapsontheporch.net/packing-for-travel-to-egypt-and-a-cruise-along-the-nile-river/.
*If a post is sponsored or a product was provided at no charge, it will be stated in post. Some links may be affiliate links and as an Amazon Associate, I may earn from qualifying purchases. *