Welcome to the 103rd Metamorphosis Monday!
It's freezing here in Georgia and it's about to get worse. The weather man is predicting freezing rain, sleet and snow up to 5 inches. So if you don't see me online tomorrow, you'll know it's because I am without power. Really hope that doesn't happen.
Four months ago I gave my notice at work and left the field I had been working in for 8 years to work full-time from home. My home office has been here in the dressing room located just off my Master Bedroom.
I've been blogging from this spot for a little over two years. It really worked well for the first 2 years, but lately…not so much. The slipper chair I've been sitting in apparently was not meant to be an "office" chair and it has begun to sort of sink down in the center when I'm sitting on it. Maybe it's too many Fudge Brownie Sundaes. 😉
The "desk" was really a dressing table for the previous owner and is too shallow for the desktop computer I purchased when I began working from home. I didn't take a photo of my current set up, but just imagine a monitor and a full size keyboard in the small place where you see my laptop. It's a bit crowded to say the least. Also, the CPU tower is sitting on top (yuck) since this "desk" doesn't have any holes for wires.
Since I'm working from home now, I've been thinking I really should consider turning my son's old room into a home office. Where to begin this process of creating an office? I've planned and decorated living rooms, bedrooms and kitchens, but never an office. Number one goal…a good desk, a good chair and lots of bright, happy light.
My son is grown and has flown the nest. I've never taken his room apart because 1. I dreaded doing it for sentimental reasons and 2. I had no need for the space. Plus, I thought if I ever moved, it might come in handy to leave it as it was so the next family could envision this room as a child's room. But, now I'm craving an office and this room is the perfect spot. It has two good size windows and is on the south side of the house. It's one of the brightest rooms in the house.
Before I take it completely apart (that's what all the boxes are for) I thought I'd share how it looked for so many years. Over the years, I considered updating it as our son grew older, but he always liked it as it was so it remained the same as we completed other projects and rooms in our home.
As you can see, there's red pinstripe wallpaper on the walls with a Braves border along the top. My son played baseball from 1st grade through 11th grade (in addition to swimming, basketball and soccer) hence the baseball themed room. Even the trash can was a Braves themed item. (In case you're wondering, Shock is a black diamond slope in Breckenridge, Colorado.)
The wall paper and border will need to go. I had it professionally installed and the walls were primed first, so I'm hoping it will come down more easily than the rest of the paper has in this house. It's already beginning to peel up at the seams, so that's a good sign.
When I first put this room together for my son, he was around 8 years old. I painted a crude mural on one wall. I got the idea from an old Cargo catalog. Cargo was the store where his furniture was purchased and one of the photos in their catalog showed a wall painted this way. I did my best to copy it for this one wall in his room. The pitcher has just thrown the ball and you are the batter. Note the home plate on the floor. 🙂 I had some serious fun doing this room.
The ball is coming out of the wall…literally. A little 3-D action going on here. 🙂 To attach the ball to the wall, I drilled a small hole in the ball. Then, I hammered a nail into the wall…then just pushed the ball onto the nail. I may have used a finishing nail…it's been so long, I've forgotten now. I guess I'll find out soon when I remove it. The door knob on the door is a baseball, too…not a real one…just designed to look like one. Bye, bye mural…you're about to be painted over, to never be seen again.
The Plan:
So, I've been shopping office furniture and so far the furniture I like best is the Bedford Collection (shown below) from Pottery Barn.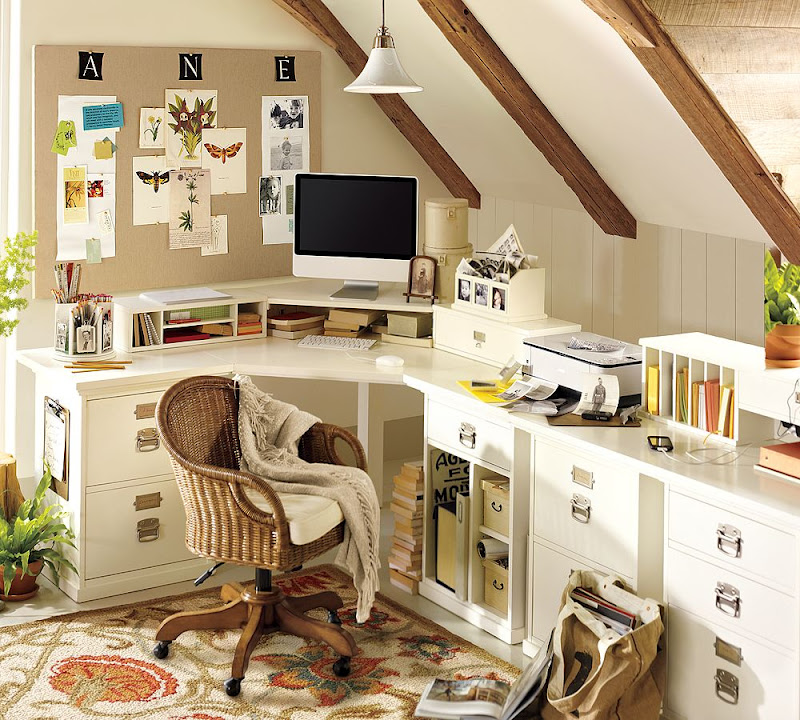 Ballard Designs has something similar called Southporte…see below. After visiting Ballard Designs in person today, I have decided I like the Bedford Collection from Pottery Barn the best. The finish on the Bedford collection is smoother and I really liked how it looked.
(Photo from Ballard Designs online.)

Here are the inspiration pics for my future office. I totally love the paneling on the wall here. Not sure if I'll add this, though I'd love to. Do you think it would hurt for resale purposes down the road? The room I'm turning into an office is actually a bedroom so I'm not sure if a future buyer of my home would care for a painted, paneled bedroom. What do you think?
Notice the white chair…it and a rattan one are the two I'm trying to choose between. They are both pretty comfortable. The advantage this chair has is it will tilt back a little…it flexes some…which adds to the comfort.
Here's the rattan chair. Again, it sits comfortably, but doesn't flex back at all.
I adore these windows!!! I'm hoping to keep the desk out a little from the windows so I can throw back the shutters in my office on pretty days. I designed the shutters in my sons room to bi-fold back, though due to the arrangement and size of his bedroom furniture, it is impossible to do that in its present state.

Don't you love the wrapping station on the wall?! It's pretty expensive so not sure I'll be adding that…at least not right away. Actually, I'm not sure if it is still available.
So, that's the BIG plan. I'll be spending this week boxing up my son's room and trying to find someone who can dissemble the bed and haul it all to the basement. Next will be removing the wall paper. I'm not sure how long all this will take but once I get a bee in my bonnet, I tend to push forward. I will definitely keep you posted on the progress.
Pssst: See the final completion of my home office in this post: Pottery Barn Office Renovation, The Journey.
Metamorphosis Monday:
If you are participating in Metamorphosis Monday: Please be sure to add your permalink below, and not your general blog address. To get your permalink, click on your post name, then just copy and paste the address that shows up in the address bar at the top, into the "url" box for the picture linky. You'll also need to put your e-mail address in, but don't worry, it will not be visible to anyone.
If you'd like to include the MM button in your post, just copy and paste the Met Monday button to your computer or grab the html code from underneath the MM logo under the "Join the Party" header at the top.
Please include a link in your MM post back to the host blog, Between Naps on the Porch. Why is this important? When you include a link back to BNOTP, it ensures your regular readers/visitors will find the other awesome "Before and Afters" linked for this Metamorphosis Monday. If everyone links back, this maximizes the visits for all participants.

Please DO NOT type in all caps…it spreads the links waaaay out. Thanks!


*If a post is sponsored or a product was provided at no charge, it will be stated in post. Some links may be affiliate links and as an Amazon Associate, I may earn from qualifying purchases. *