Welcome to the 308th Metamorphosis Monday!
It's always struck me as so ironic that one of the most well-loved beach houses ever to exist, didn't really exist. Do you know the one I'm talking about? Yep, that one–the beautiful and iconic home in the romantic comedy, Something's Gotta Give, starring Diane Keaton and Jack Nicholson. Movie goers everywhere fell head-over-heels for the amazing interiors of that home, only to discover that the rooms were all sets created and assembled in a movie studio for the movie. Drat! Hate it when that happens!
Well, take heart beach-house lovers because dream beach homes do exist! The home we're touring for this Met Monday belongs to comedian Dennis Miller and per the real estate listing, it's been fully renovated in recent years. As I toured this beautiful home, I couldn't help but wonder if some of the rooms were inspired by those in Something's Gotta Give. I don't have "Before" pics to share but the "After" is totally movie worthy if ever a beach house was!
Upon entering this Carpinteria, California beach home, you would find yourself standing in a beautiful two-story foyer. This home was designed by Architect Don Nulty to have the look of a beach home you would typically see on the east coast, but with all the luxury you would expect from a modern day home on the west coast.
Views from the living room are breathtaking! The rug reminds me so much of the striped rug in the Something's Gotta Give living room.
Is that rock fireplace not perfect for this room! Love! This home feels more casual than the SGG house and I really like that.
A comfy TV/family room is located just off the living room. It has a great bay window, shutters and a darling window seat. It's going to be all I can do to not say "love" 485 times in this post!
The kitchen is outfitted with a Viking stove, Bosch dishwasher and Sub-Zero refrigerator. Does any room in this house not have an amazing view? How did they do that…give every room a fabulous view?! Wait until you see the breakfast room!
Is this not heaven?! Can you imagine having breakfast here with the doors thrown open on both sides just as they have it in the view below. Just imagine starting your day to the sounds of crashing waves and seagulls, as ocean breezes  swirl all around.
It even has a fireplace to keep you warm when nightfall comes, because there's no way you're going to want to close those doors. What a great house for entertaining! Before we leave this room, look at the floors! I love that weathered look for a beach home! Perfect!
The bedrooms are just as fabulous as the rest of this beautiful home. The fireplace in this master suite was created from an antique French window!
The French window became the mantle and the shutters from the window make a great backdrop for the bed. I could definitely handle waking up to these views! It would be wonderful to throw open the doors on warm summer nights and let the sound of the waves and the soft ocean breezes lull you to sleep.
If Something's Gotta Give had been filmed here, this is where Diane Keaton's character,  playwright, Erica Barry, would have been found writing her book. I think I'd prefer a proper desk for this study, maybe something with a beach vibe. Oh, who am I kidding, I'd never get any work done in this room! How could anyone actually focus on work with those views!
Such a cute spool bed in this darling guest room. This bedroom has its own ensuite bath and access to the beach, as well. Your guests would never leave!
This bedroom is just as charming as the others. Again we see another clever wall design behind the bed. Feels so tropical!
Even the bathrooms have amazing beach views!
I always like the "beach side" of a beach house better than the front. Have you noticed that…how the beach side of a beach house is always so much prettier than the road side?
Talk about right on the beach! Yep, this would work! I could suffer to live here. 😉
Gorgeous sunset…what a dream location!
So what do you think, does it rival the Something's Gotta Give house? The kitchen isn't as big but this beach house has one big advantage over the one in the movie. It's REAL! 🙂
You can see more of this wonderful beach house at Riskin Associates where these pictures were found.
Take a tour of the the beach house in the movie, Something's Gotta Give here: Tour The Home In The Romantic Comedy, Something's Gotta Give
Looking forward to the other Before and Afters for this Met Monday!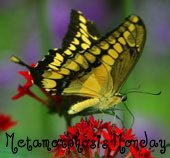 If you are participating in Metamorphosis Monday, you will need to link up the "permalink" to your MM post and not your general blog address. To get your permalink, click on your post name, then just copy and paste the address that shows up in the address bar at the top of your blog, into the "url" box for InLinkz.
In order to link up, you'll need to include a link in your MM post back to the party so the other participants will have an opportunity to receive visits from your wonderful blog readers.
Please observe these few rules:
Only link up Before and After posts that are home, gardening, crafting, painting, sewing, cooking, DIY related.
Do not link up if you're doing so to promote a website or product.
Do not link up a post that was just linked last week since a lot of readers will have already seen that post.
Please do not link up more than 2 Before and Afters each week. Thanks!

*If a post is sponsored or a product was provided at no charge, it will be stated in post. Some links may be affiliate links. *