Welcome to the 196th Tablescape Thursday!
Recently, I embellished a candle holder with aqua-colored seashells. It provided the inspiration for this week's table setting.
We've had the most wonderful spring here in Georgia. Lots of mild days with occasional rains. Has it been nice where you live, too? I wish every spring was like this one.
Soft, cool aquas are perfect for a spring/summer table setting. (Press Ctrl + a few times to enlarge all pics in this post. Press Ctrl 0 (zero) to return to normal size.)
I spotted the wine glasses in Pier 1 a couple of months ago and loved the color for a summertime table setting.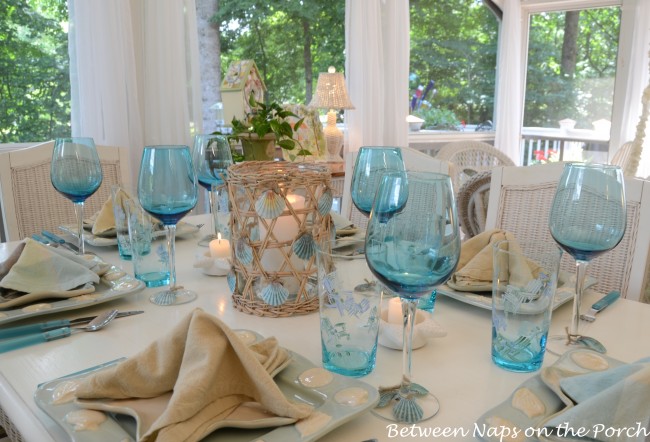 The aqua reminds me of summer skies and ocean waves. The china is from Kohls, four years ago.
Come a bit closer and check out this napkin fold. It has to be one of the easiest napkin folds ever.
Can you tell what it is? Yep…a starfish! My napkin wasn't very stiff…a starched napkin would probably work a bit better. I'll put together a tutorial post for creating this super easy fold real soon. In the meantime, if you are looking for a great napkin fold for your spring/summer tablescapes, check under the "Tablescape" category at the top of the blog. You'll find the Napkin Folding category there and there's a cute sailboat napkin fold linked there.
Oops, forgot to take a pic of the starfish salad plate. If you would like to see it a bit better, check out this previous beach themed table setting. I used them in that table setting, too.
I had lots of shells left over when I embellished this candle holder. (You'll find the tutorial showing how I attached the shells to the candle holder in this post: Decorate a Lantern with Shells
I used some of those left over shells to decorate the stems of the wine glasses, too. I drilled a teeny hole in the top of each shell, just as I did for this previous Beach/Seaside Table Decoration. Then I just ran some jute thread through the holes and tied them to the stems of the glasses. Here's how they look decorated with three shells.
And here's how they look with a single shell adorning the glass. I alternated the three-shell and single-shell look around the table.
The iced beverage glasses in this table setting were only $1 each from Dollar Tree last summer. They are covered with the cutest Adirondack chairs. Can you see it now? Adirondack chairs painted in bright summer colors, all lined up along the beach. I chose a bright yellow one to sit in…what color did you choose? We are totally relaxed, sipping our cool drinks while ocean waves lap at our toes and salty breezes kiss our faces. Here, let me freshen up your drink. One cherry or two? 🙂
A closer view of the shell decorated stems…
While taking pics of this table setting, I heard a loud buzzing sound. I know that sound! I looked behind me and there he was…a cute little hummingbird buzzing around under the pergola, looking for the feeder I usually hang from the outdoor chandelier each spring. It's amazing how they remember where the feeders were in previous years and come back to dine. I stopped taking pics and ran inside to mix up some nectar. You can see the feeder hanging there in the background. I'm not sure if he ever came back. I hope he did. I love watching them through the kitchen bay window and from the porch. (Pssst: I made a video of a hummingbird feeding at the that feeder back in August 2010. Just click on the link in the above paragraph to view the video.)
A few final views of this table setting…
Now that I'm finally using my camera in the manual setting, I love playing around with the aperture, honing the focus in on one portion of the table while blurring the rest. The photo below was taken with my D7000, an AF-S Nikkor 35mm 1.8G lens, ISO set at 100, aperture at f1.8 and exposure time was 1/60 second. I absolutely love this 35mm lens for photographing table settings. Really lets in so much light!
Getting darker now…
A couple of evening views..
Do you have a beach trip planned? Go ahead…make me insanely jealous!
Looking forward to all the beautiful tables settings for this Tablescape Thursday!
Receive BNOTP updates right in your Inbox:
To receive the latest posts, as well as updates about upcoming blog parties, subscribe To BNOTP posts via an RSS Reader. Or, have BNOTP delivered right to your Inbox. You'll find links to subscribe via RSS and e-mail at the top of the sidebar OR click HERE to subscribe via RSS Reader and HERE to subscribe via e-mail.
Reading this post via e-mail or RSS feed?
*If you are reading this via email or RSS feed, to view all the tablescapes linked for Tablescape Thursday, click HERE.


Please Read:
If you are participating in Tablescape Thursday, please be sure to add your permalink below, and not your general blog address. To get your permalink, click on your post name, then just copy and paste the address that shows up in the address bar, into the "url" box when you link up.
You'll need to include a link in your post back to the party in order to link up and participate. That's so visitors to your blog will be able to find the party and the other Tablescape Thursday participants.
If you would like to use the Tablescape Thursday logo button in your post, just copy and paste it to your computer and upload it to your post as you would any photo.
Please, don't add your post name/blog name ALL IN CAPS…it tends to create big spaces between the rows of links. Thanks!
Let's try something fun today! Please visit the person who linked before you and after you…that way everyone will get some visits. Hope you'll visit more, of course.


*If a post is sponsored or a product was provided at no charge, it will be stated in post. Some links may be affiliate links and as an Amazon Associate, I may earn from qualifying purchases. *