Welcome to the 408th Tablescape Thursday!
Last November I joined The Property Brothers and a couple thousand of my closest friends for Drew and Jonathan's first ever Sailing with the Scotts Cruise.
It was a blast meeting Drew and Scott and they are just as nice in person as they are on TV. Try to ignore my completely starstruck face! lol
It had been a very long time since I'd taken a cruise. Last time I was on a cruise was in, uhh–never mind the year, 😉 and I had just graduated from high school!
Cruises can be noisy, crowded places, especially out on the decks. Each day we got a little rain, but the storms were always the kind you don't mind because they only lasted a few minutes. Once they were over, they always left plenty of beautiful sunshine behind.
After one of those mini-storms, I found the top deck completely empty and sat down to enjoy all that quietness with a fruity drink. It turned out to be one of the best moments of the trip. It was so peaceful sitting and gazing out across the deep, blue ocean while sipping from a drink that looked like a lost prop from a beach movie.
But what made that moment really unforgettable was the double rainbow that suddenly appeared. I stood up and walked back to get this photo for you, you can still see my drink on the table where I had been sitting.
Love these unexpected gifts from nature!
The double rainbow stretched all the way across, it was stunning and these pictures snapped with my cell phone do not really do it justice.
I knew I had to bring back this silly coconut to remember that special moment. I was amazed to discover it wasn't made of plastic or resin but was a real hollowed-out coconut! Inside was a tall, skinny, plastic cup. I envisioned sipping a cold drink from it some hot, summer night out on the porch.
How fun it would be to bring back two, then I could enjoy a drink on the porch with a friend, both of us sipping from our monkey-face, coconut shells. Before the cruise ended, I purchased one more fruity drink.
On the last day of the cruise as I packed my suitcase to head back home, I figured that there was no way the coconuts were going to make it home. I still vividly remembered the grilling I got in the Atlanta airport when I brought back six, hand-carved, wooden animals from Africa last September for my grandson. What an experience that was! If the hollowed-out coconut shells didn't shatter from being tossed around by the baggage handlers, I figured my suitcase would never make it pass TSA.
Imagine you're a TSA agent and you're sipping your coffee and peering into your computer x-ray screen when a suitcase passes through containing two large, round balls. Inside each of these big round objects, you see a long, skinny cylinder. Yeah. Just imagine how that would look on the TSA scanners! If I were that TSA agent, I would have probably called in the bomb squad and had that suitcase dispatched!
I was so happy when my suitcase appeared on the baggage carousel in the Atlanta airport. I was even happier when I got home and opened my suitcase to discover two intact, smiling, coconut monkeys still bidding me, "Have Fun."
Come on, Friend! Let's have a little dinner out here on the deck.
Listen! I think I hear the ocean waves now! 🙂
The last time I hung this whimsical sign here, I placed netting over the window behind it.
Do you remember this table? (Table below can be viewed here: Sand, Sea and Surf Table)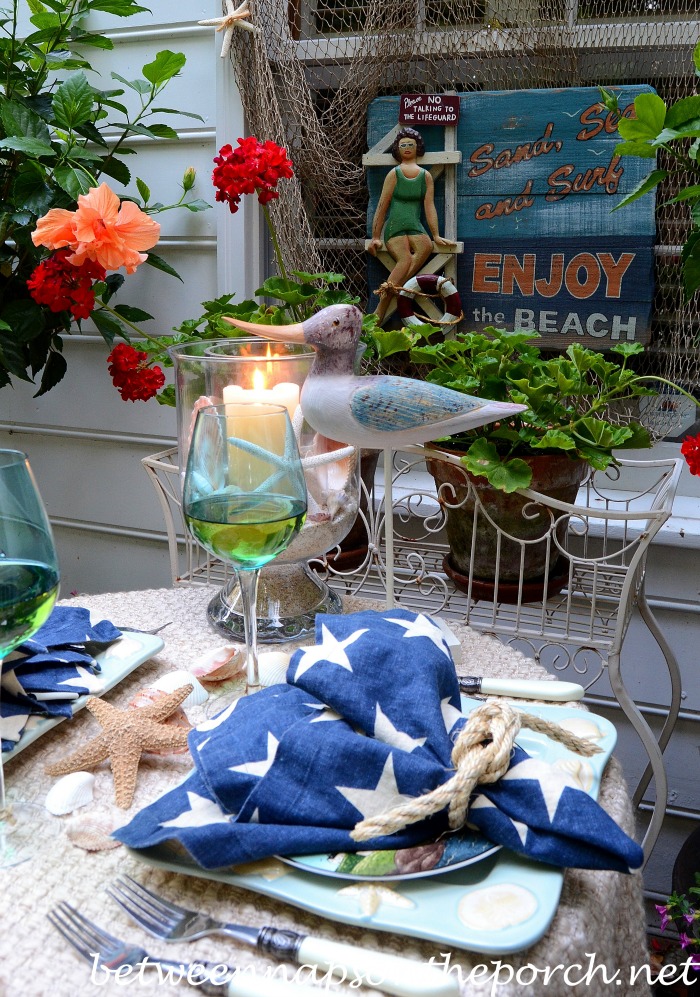 This time I used the netting as part of the tablecloth.
I think I found this cute sign in Marshall's one year. I love it because it looks like she's pining away for the lifeguard and has run him off from his stand. Or, maybe she's eagerly awaiting his arrival! lol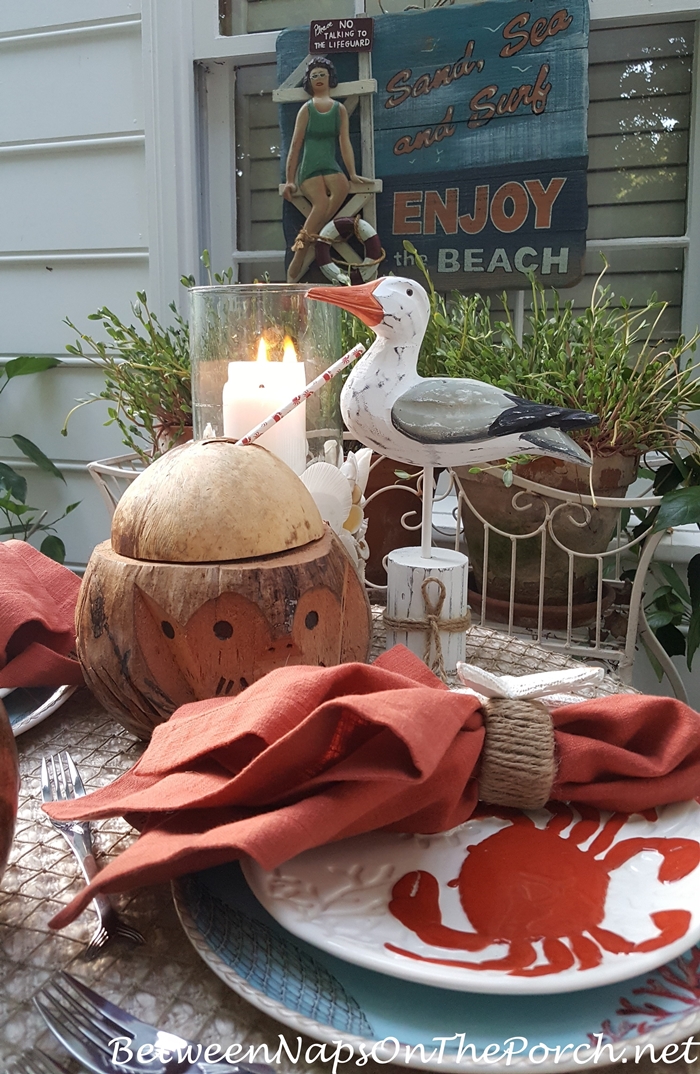 The starfish napkin rings are a DIY project from a while back and you'll find the tutorial to make them here: DIY Starfish Napkin Rings
Salad plates don't have a hallmark or brand name on the back, they just say "World Market" which is where I found them several years ago. Notice the coral design in the background of the salad plate.
I love how it mimics the design we see in the dinner plate. I love pairing these salads with these dinner plates even though they didn't come together. Can't remember where I found the dinner plates, probably Marshall's. Unfortunately, they only had three but I liked them so much I purchased those three hoping to find three more later on. They are marked "Effetti d'Arte" on the back and are signed, "Tiffani" on the front.
I tucked straws covered in little red crabs into our fruity, coconut drinks. Straws are from Marshall's a few years ago.
I love this silly shark flatware! It's available for purchase and is on sale here Shark Flatware. I think I found it HERE when I purchased it, but not sure if it's still available now.
The knife has a fin on top so it looks so cute when displayed turned up.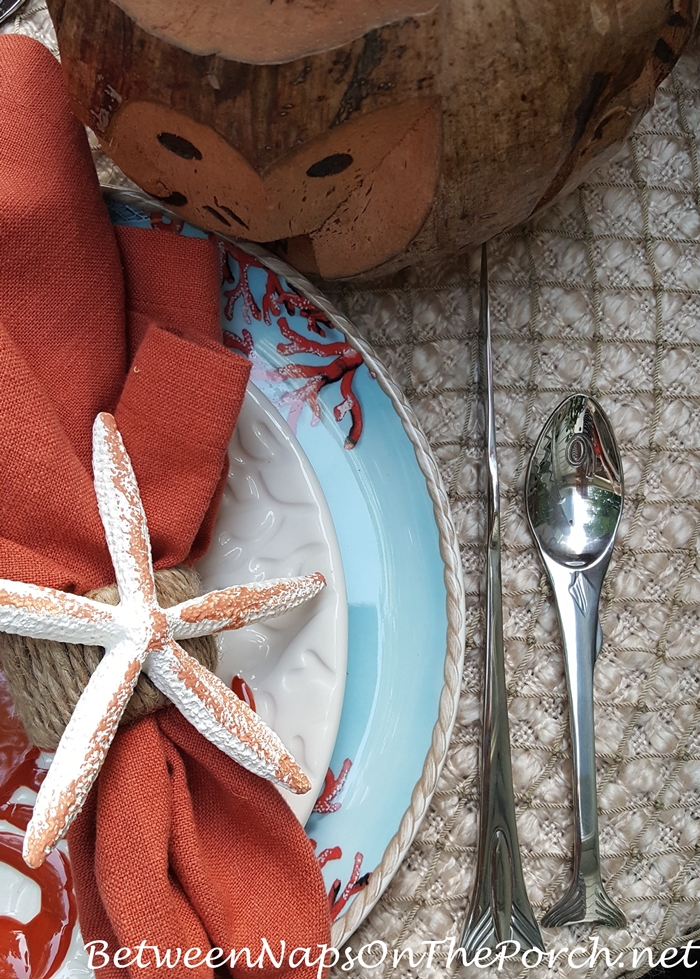 In addition to the fin on the top, the knife also has the shark face etched into the surface. The serrated part of the knife looks like teeth! lol Just love the whimsy behind this flatware!
Do you have a beach trip planned? I can't believe how fast summer is passing!
Looking forward to all the beautiful tablescapes shared for this week's Tablescape Thursday!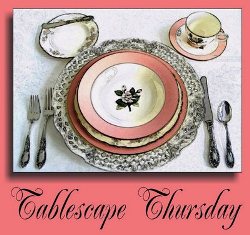 If you are participating in Tablescape Thursday, please be sure to add your permalink below, and not your general blog address.To get your permalink, click on your post name, then copy and paste the address showing in the address bar, into the "url" box when you link up. You'll need to include a link in your post back to the party to link up and participate. That's so visitors to your blog will be able to find the party and the other Tablescape Thursday participants.
This blog party has ended. Click the link below to view the participants.

*If a post is sponsored or a product was provided at no charge, it will be stated in post. Some links may be affiliate links and as an Amazon Associate, I may earn from qualifying purchases. *