Welcome to the 255th Tablescape Thursday!
Recently, Sandi who reads BNOTP e-mailed me and shared a special table setting she had put together for her family as they gathered to celebrate the life of their 94 year old grandmother who had just passed away. A theme emerged as preparations were being made and Sandi and her daughter, Heather, called this memorial gathering, "The Legacy of the Little Things."
Sandi said, We printed that out on the green cards for everyone to take home with them as well as the tussie mussies and the beachy note card with three of Grandmother's best recipes on them. She was a good cook, too."
Sandi said, "Grandmother Brown's favorites were butterflies and the beach on Dauphin Island where they had a beach house and later a condo after the house was destroyed for the third time. The tablescape incorporates those ideas."
The centerpiece was so beautiful with green and white flowers, an angel and the butterflies so loved by their grandmother. It even incorporated touches of the beach with shells and coral.
I love that there's nothing sad or depressing about this setting. It truly is a celebration of her long life. Imagine living to the age of 94!
Green and white gingham makes such a nice backdrop for the centerpiece.
Thanks so much to Sandi for sharing this lovely tribute to their grandmother whose life touched so many.
If you would like to read what Sandi's daughter, Heather, wrote in honor of her grandmother, you'll find it below:
The Legacy of the Little Things

My grandmother always made me mushrooms. They were (and still are) one of my most favourite foods. Whenever I would come to Birmingham and often when we arrived at DI, I would walk in the door and there would be a small pan of mushrooms sautéed in butter sitting on the stove just for me. All for me…in a family of four kids it's pretty rare that you get something to yourself…especially when it comes to food. I would generally walk over and grab a few straight from the pan with my fingers and she would smile and say "I made those just for you". We were talking about Grandmama last night as we sat around the table and I smiled a lot because as the stories unfolded I realised that each of us had a little story like that of Dora Lee…a little thing that maybe only we noticed or shared with her. For Elisabeth time with Grandmother meant sitting on the couch together while she taught her to cross stitch, for Susan it was watching her doodle absentmindedly with her finger while she chatted or sharing cinnamon toast and tea when she was unwell. For Chad it was the time of fellowship spent the summer he lived with them when he was in college. For Stephen it was the 24 hour full service kitchen at Dauphin Island. For Jane Ellen it was a fierce mother's determination to be present at the birth of her grand babies far away…. for Anne a safe haven at home in The Brown House and a reassuring voice at the other end of the phone every day for years…I didn't get a chance to talk to everyone but its clear to me that Grandmama said I love you to us with much more than her words.

My grandmother loved butterflies. They were in her house everywhere…on her cushions, her china, and, in the late 1970s, in the ubiquitous stick pin on a blazer. She loved butterflies in her house, but she especially loved them in the yard. She would stop whatever she was doing to point one out. I remember spending several weeks one summer needle pointing one for her and finishing it on the ferry to Dauphin Island. She hung that right on the wall of her kitchen and it stayed there until the day a few months ago that Annie took it down and gave it back to me. It's on the bookshelf in my bedroom now and when I walk past it I think about her and how she always had time to stop and look and butterflies, always had time to stop and share them with whomever was nearby. I see those butterflies and they remind me to take the time to notice. Yesterday I saw a squirrel…probably not particularly exciting for most of you but we don't have squirrels in Australia and its always one of the first things my girls look for in the back yard here. So yesterday when my daughters called out to me because they were all excited about this cute little animal that I've seen a bazillion times, I got up and walked to the windows and had a good look. I was there in that moment with them watching and you know I decided that I really do love squirrels, because squirrels mean their grandmama's house to my girls like butterflies mean that to me.

My grandmother loved the beach at Dauphin Island. And just like she always had time to notice a butterfly, she also always had time to walk with us on the beach and look for shells. I know that for my generation of the family some of the most joyous memories of Grandmama are tied up with the magic of summer on Dauphin Island. Somehow Grandmama managed to feed and house a small army of ravenous teenagers, sunburnt children, and tired parents while at the same time making each of us feel appreciated and loved for exactly who we were. As a mother I am in awe that she managed to do all of that without running out of toilet paper while simultaneously reminding us to wash our feet at the bottom of the stairs so we didn't track sand through the house!

That's the grandmother of our memories…I know that we lost that grandmama when her sickness took over. We…especially Anne and Jane Ellen…have lived with that loss for a long time. I feel so very grateful to be here today because it is a good thing to be able to share that pain and mourn that loss and to throw off the yoke of the disease that defined her last years. Its a great thing to talk and think about who she really was…a girl who married the man she loved and kept that love alive through 70 plus years of marriage, a mother who raised two beautiful daughters who are as generous and kind as she was, a daughter in law who gave the same loving care to Dabo in her home that she gave to her own two babies, a wife who never in my recollection raised her voice (and if you knew Big Earl I imagine you understand the magnitude of that achievement), a Southern lady who exemplified the best true meaning of manners by always making the other person feel special and loved, a generous person who spent her time and energy helping others through her church and her work at the hospital, a friend whose relationships with her sister Johnnie and people like Aunt Rosemary spanned decades. But most of all my grandmother Dora Lee Hughes Brown was a woman who understood that its the little things like butterflies, mushrooms and seashells that can teach a granddaughter like me how to be a mother, a wife and a friend.
As it says in psalm 118, I shall not die, but live, and declare the works of The Lord – Grandmama you live on in your legacy of family, service and your love. Thank you.
Looking forward to the beautiful tablescapes linked for this Tablescape Thursday!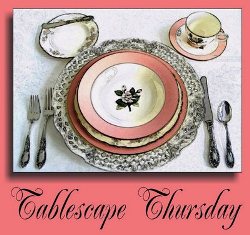 If you are participating in Tablescape Thursday, please be sure to add your permalink below, and not your general blog address. To get your permalink, click on your post name, then copy and paste the address that shows in the address bar, into the "url" box when you link up.
You'll need to include a link in your post back to the party in order to link up and participate. That's so visitors to your blog will be able to find the party and the other Tablescape Thursday participants.
If you would like to use the Tablescape Thursday logo button in your post, just copy and paste it to your computer and upload it to your post as you would any photo.
Please, don't add your post name/blog name ALL IN CAPS…it tends to create big spaces between the rows of links.
Thanks for participating…looking forward to your beautiful table settings!




Welcome! Thanks for coming to the party!
*If a post is sponsored or a product was provided at no charge, it will be stated in post. Some links may be affiliate links and as an Amazon Associate, I may earn from qualifying purchases. *