What is it about a Carmel cottage, they lure you in with their simple charm and the promise of sunny days and ocean breezes. Recently, this sweet Carmel-By-The-Sea cottage caught my eye with its beautifully landscaped front yard and overflowing window boxes.
I did a little googling and was going to share some of the history of this area, but decided to share a fun little fact I came across, instead. Did you know it's against the law to wear high heels in Carmel? Yep, per Wikipedia, Carmel is known for having some unusual laws and one of those is a prohibition against wearing high-heel shoes without a permit.
Apparently, the law was enacted to prevent lawsuits caused by tripping accidents due to uneven/irregular pavement. What a hoot! I'm guessing they don't really enforce that law, it's probably just on the books so if someone does trip while wearing high-heels and tries to sue, they won't get very far.
Does the city or town where you live have any funny laws? There's a city near me (cough-Kennesaw-cough) that has a law requiring every single citizen own a gun. You know that law is being broken right and left!
Let's go inside and tour this adorable cottage. Oh, and if you're wearing heels, please remove them before we head up the steps. 😉 Notice how the front door is kind of inset which creates a bit of a courtyard feel out front.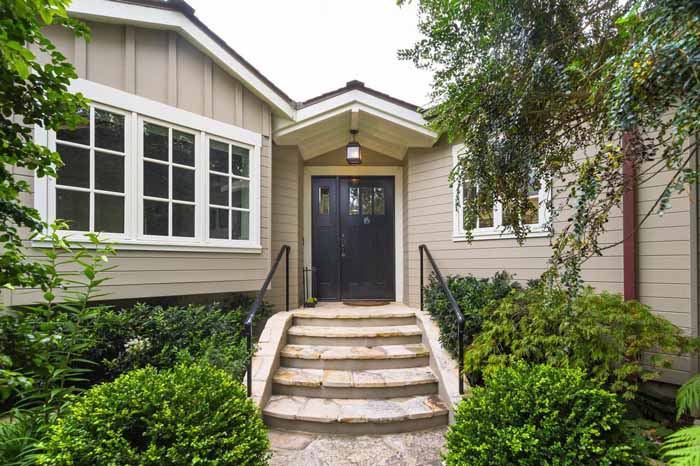 This cottage saw a recent renovation and it is perfect! You'll see this wonderful raised, beam ceiling throughout the home.
I love a window seat! I was reading an article recently that said window seats limit how space can be used in a room. I completely disagree. I think they add so much personality and charm and you can back a chair up to one as they've done here. Imagine this room without the window seat under all those glorious windows…just wouldn't be the same, would it?
Notice the great built-in bookshelves on either side of that fabulous stone fireplace. And be still my heart…it has a Dutch door! Do you see it there on the left? Sooo charming!
This room must be stunning in person with so much natural light pouring in. I love how they made light a priority, squeezing in a window everywhere they could, including in the corner.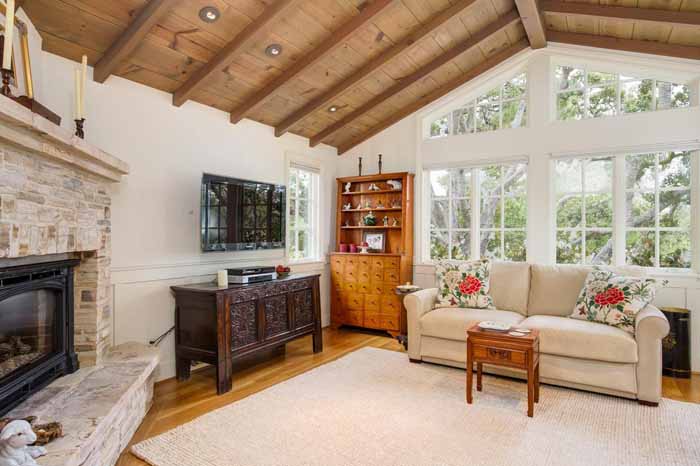 A beautiful, light-filled kitchen! Notice how the refrigerator is inset/counter-depth, love that! The only thing I might change is the black stove…maybe change that to white or stainless. I like that it's a gas stove.
A place to dine while enjoying the views…
So love this bedroom with yet another great window seat. I wonder if the window seats in this home have a lift-up lid with storage underneath. They can be such a great storage area when built that way. This room feels so fresh, doesn't it?
Love how all the bedrooms have their own window seat for taking in the views.
I'm pinning this bathroom. I'm starting to pin bathrooms more now as I think about updating the baths in my house. I love the soft blue of the walls. Notice the paneling in front of the tub. Not sure if that would work in my home but it's right at home in this adorable cottage.
This home even has an elevator! Wouldn't this come in handy for taking furniture or heavy things upstairs.
I love a brick patio…just love the rich color of the brick, so pretty against the green foliage of the flowers.
One of the first places I ever noticed a brick patio was when we toured Colonial Heights Plantation in this previous post: Colonial Heights Plantation in Cave Spring Georgia. I would love to add something like this underneath my deck…just love the look of the brick.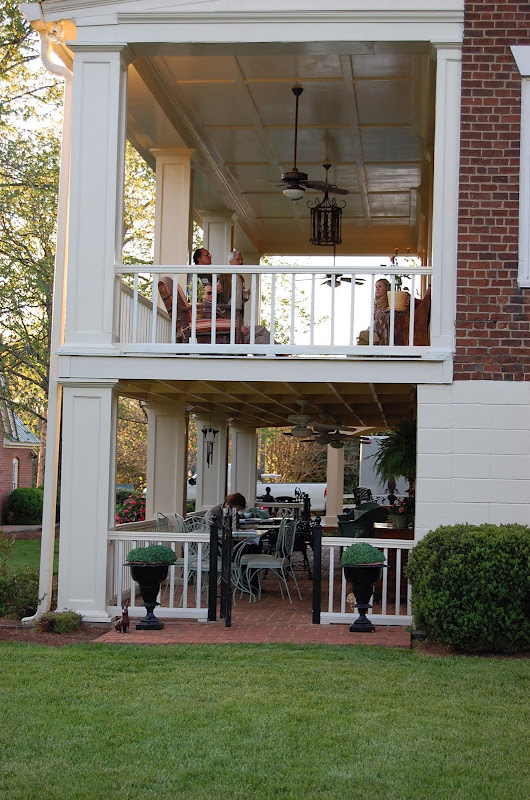 I realized as I was creating this post, we've taken a fair number of Carmel Cottage tours here on the blog, so I created a separate category for those. If you love seeing these Carmel-By-The-Sea cottages as much as I do, check out the others we've toured here: Carmel Cottage Tours
You can see more of this charming cottage HERE where these pictures were found.
*If a post is sponsored or a product was provided at no charge, it will be stated in post. Some links may be affiliate links. *