Welcome to the 314th Metamorphosis Monday!
I love wireless devices and the freedom they afford us, but that freedom has to take a pit stop every now and then to recharge. I think I may finally have a system I'm happy with for handling the pit stops when they occur.
A little over a year ago I shared a solution for managing all the little charging cables on my desk in that semi-hidden area where the arrow below is pointing.
That little spot was grand central station for charging my iPad, phone, camera battery and wireless keyboard and mouse. Though convenient in that spot, it was always frustrating when something needed charging, which was pretty much every day. I'd have to separate the maze of wires to figure out which one was the one I needed.
In that previous post post, I shared these nifty cable-labeling organizers. They made it much easier to identify the cable I needed when something needed charging.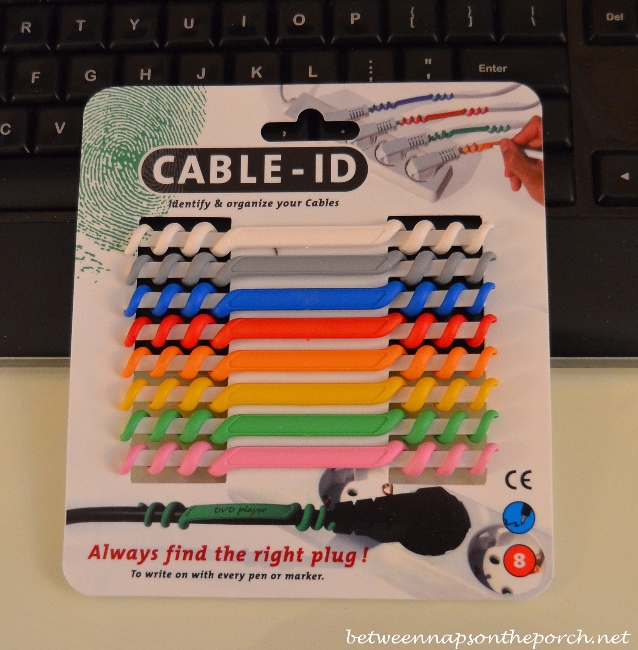 In August, 2014, I purchased a bluetooth speaker for listening to books on Audible while working at my desk. That posed a new problem, I no longer had enough USB ports or outlets to charge everything. I solved that issue by buying this desktop 5-port USB charger on Amazon. It worked great, supplying more than enough ports for charging all my wireless devices.
But I was still not thrilled with the spaghetti-like messiness of wires running hither and yon. I tried using twist ties to keep them a bit neater but that never seemed to work very well and they always ended up escaping to wire bedlam once more. So, I decided it was time to try something different.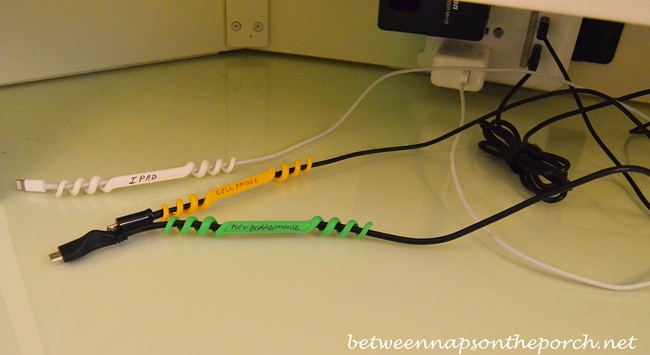 A Charging Station Valet
I went in search of a real charging station, sometimes known as a charging valet, and guess what I found! I discovered that every charging station I liked was "temporarily out of stock" or "no longer available." Don't you just hate seeing those words when shopping for something online?
I really liked this charging station I found on Amazon. The price and the reviews looked pretty good, too. Alas, it is "Temporarily out of stock." Drat! Update: It's back in stock and you'll find it here: Charging Station Valet
I also liked the "Heiden Deluxe White Charging Station Valet" I found on Overstock.com. Same story though…Out Of Stock. Ummphf!
I was elated to discover Pottery Barn made a similar charging station as seen in this picture from Better Homes and Gardens. This was the charging station I really wanted to find since I knew the hardware and paint color would be an exact match for my Bedford desk. Once again my hopes were dashed as I read the words "no longer available." A conspiracy, I tell you!
I began to wonder, was there some huge trend at some point for this style charging station, followed by a major run on them…during which time I was obviously living under a rock or hold-up in a cave somewhere! 😉 If this style charging station was so blooming popular, how come no one seems to be selling them right now? Is there a season for buying charging stations and winter is just not it? These are the questions keeping me awake at night! Okay, not really, but I sure would like to know why no one has them available right now.
So, what to do?
Well, here's what I did….I headed for the place I usually go when the thing I want or need is no longer available in a store: eBay!
Good ol eBay came through. The bidding was intense, I guess I wasn't the only one hiding under a rock or living in a cave when these were being sold. In the end it was mine for $20 less than what it had sold for brand new at Pottery Barn, including shipping. Not a steal but a decent price considering they are no longer available.
This particular charging station has a built-in power strip/surge protector with 6-outlets in back. I plugged my Anker 5-port USB charger unit into the power strip, so between it and all the other outlets, I have space to charge a whole bunch of devices now, more than I should ever need. But more importantly, there's no longer a spaghetti mass of cords all over the desk!
These are the devices I'll be charging on an almost daily basis. The iPad, Microsoft Fitness Band, Divoom Bluetooth Speaker and my phone get charged frequently since I use those every single day. The headphones don't need charging as often since they are only used occasionally. This charging valet has my neat-freak-gene singing for joy. Finally, all the charging cords are corralled and tidy.
The only cord that's still plugged in at my desk is the cord that charges my wireless keyboard and mouse. It needs to stay in that location for obvious reasons.
I'm using the shallow drawer for storing various cords and adapters I don't often use but need to keep around, just in case.
Here's another charging station I saw on Amazon that takes up less desk space: Multi-Charging Station.
I thought this one was pretty inventive. It's a DIY charging station made from a breadbox! I guess that's a cutting board underneath. So clever!
Here's where the Pottery Barn charging station is living in the office. It's super gloomy and rainy out today, so excuse the low lighting.
Do you have a charging valet or charging station? A lot of folks use them in kitchens when there are several family members who always have a phone or iPad or something that needs charging.
Isn't it funny, the things we need and use today, how our lives have changed just in the last 10 years. Makes me wonder what the next must-have items will be in the future. It's a good time to be an entrepreneur with an inventive mind, so many opportunities to create products people need and enjoy. I'm thankful for the creative soul who invented the first charging station, a clever mind who saw a need and filled it!
If you're new to reading BNOTP, you can see more of the office in this post: Designing and Creating A Home Office
Looking forward to seeing all the wonderful Before and Afters for this Met Monday!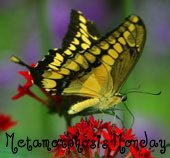 If you are participating in Metamorphosis Monday, you will need to link up the "permalink" to your MM post and not your general blog address. To get your permalink, click on your post name, then just copy and paste the address that shows up in the address bar at the top of your blog, into the "url" box for InLinkz.
In order to link up, you'll need to include a link in your MM post back to the party so the other participants will have an opportunity to receive visits from your wonderful blog readers.
Please observe these few rules:
Only link up Before and After posts that are home, gardening, crafting, painting, sewing, cooking, DIY related.
Do not link up if you're doing so to promote a website or product.
Do not link up a post that was just linked last week since a lot of readers will have already seen that post.
Please do not link up more than 2 or 3 Before and Afters each week. Thanks!
*If a post is sponsored or a product was provided at no charge, it will be stated in post. Some links may be affiliate links and as an Amazon Associate, I may earn from qualifying purchases. *