Welcome to the 271st Tablescape Thursday!
This week I'm sharing a Christmas table setting for Tablescape Thursday. Since I've already shared two fall tablescapes and one Thanksgiving table setting this season, I was in the mood to create something Christmas themed. I love Christmas tablescapes so there will be several more coming your way before Christmas arrives. Can you believe it's just 33 days until the big day?
The table I created this week was inspired by some really expensive dishware I just purchased. I'll share it with you in just a sec, but first…
Mr. Bunny is making another appearance again. I know you're wondering what a bunny rabbit is doing in a Christmas table setting. Shhh, don't say that out loud, he'll hear you!
He came bearing gifts, a pretty poinsettia in variegated shades of pink, green and white.
Mr. Bunny always has his basket filled with goodies when he stops by to help with a tablescape. It all started when he made his first appearance in a St. Patrick's Day table setting last March. For that occasion, he brought fresh Shamrocks blooming with the sweetest little white flowers. (Tablescape can be viewed here: St. Patrick's Day Table Setting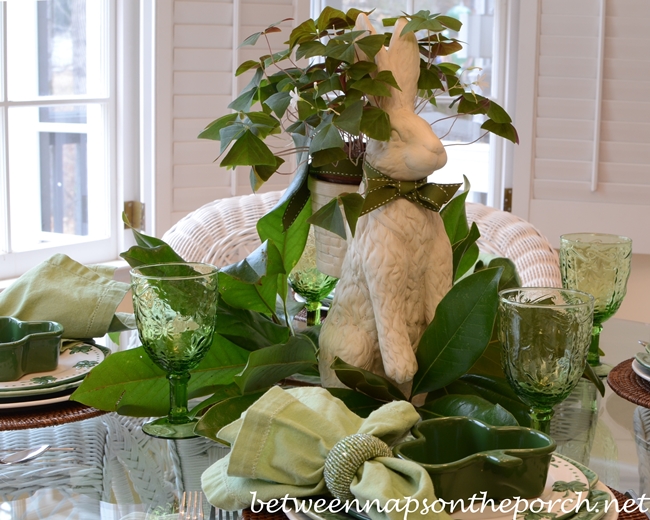 When Easter came around a few week's later, he stopped by again, this time with a basket full of Debutante Camellias. (Table Setting can be viewed here: Easter Table Setting.)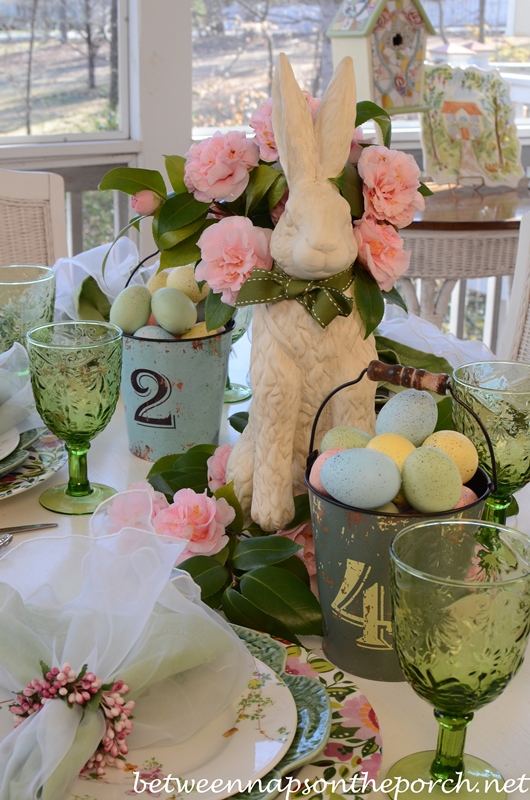 This past summer, the little stinker raided Mr. McGregor's garden and almost got caught! He just narrowly escaped with his basket overflowing with yummy carrots, all freshly pulled from Mr. McGregor's garden. (Tablescape can be viewed here: Peter Rabbit Raids McGregor's Garden
The real reason Mr. Bunny is in our table setting this week is because I"m pretty sure he was the inspiration for our salad plates.
See, there he is, sitting near a beautiful tree just as he is today!
This is that "expensive" dishware I mentioned–Better Homes and Gardens salad plates purchased from Wal-Mart for $2.99 a plate. You may remember the plaid dinner plates from previous tablescapes last Christmas. They are from Pottery Barn last year.
The salad plates are available in four different scenes and they are all really cute! My local store only had them in three of the four patterns, so I bought a few of each. If you want some, go today. They are going quickly.
Update: I stopped back by the Wal-mart near me on Thursday in search of ribbon. While there I took a quick run down their dish isle and they had gotten in the fourth pattern. Funny how those came in much later than the others. So if you buy some of these and a pattern is missing, check back a week or so later and maybe they'll have them in. It's also available in sets online.
I wanted to keep this table casual so I flipped over the velvet-edged, linen-weave napkins I've used in previous tables so the green velvet trim was on the inside and only slightly visible in this setting. I use these velvet-trimmed napkins as napkin sheaths so I tucked another linen napkin inside. Twig flatware worked great for this nature-themed table.
Mr. Bunny is reenacting the scene in our plates as he sits near our tree. The tree is decorated with birds, bird nests, birdhouses and plaid ornaments I already had. Some were purchased over the years and some are hand-made by a dear friend in my home town. (Thanks, Holly!)
The ornaments all tie back to our plaid dinner plates and nature theme. If I was serving dinner at this table, I wouldn't put a tree in the center since it would block the view of those eating here. But this centerpiece would be great for a buffet table or a sideboard filled with desserts. The salad plates would make great dessert plates, too.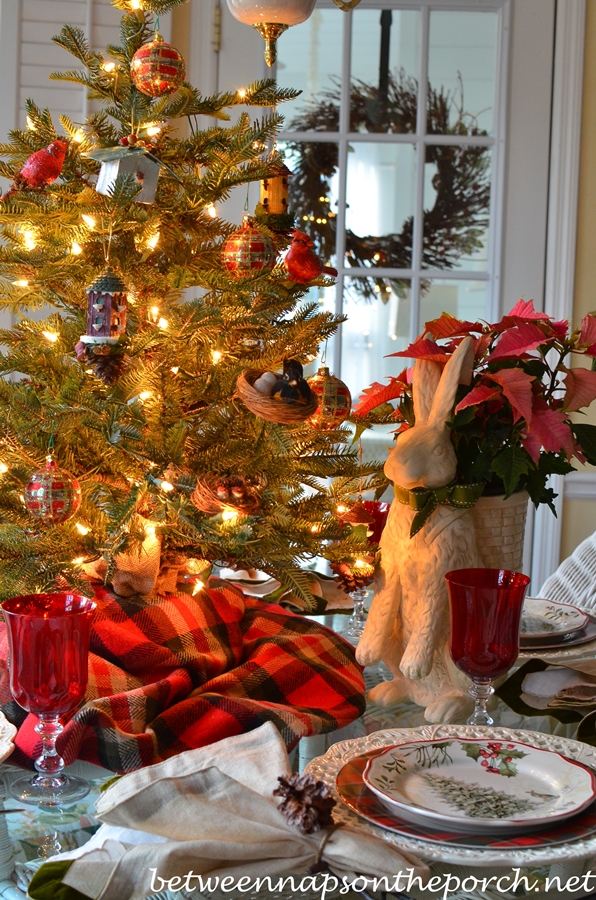 He's a hardworking bunny, appearing in now his fourth table setting! 😉
Hope you enjoyed this nature-themed Christmas table setting. Looking forward to the beautiful tables linked for this week's Tablescape Thursday!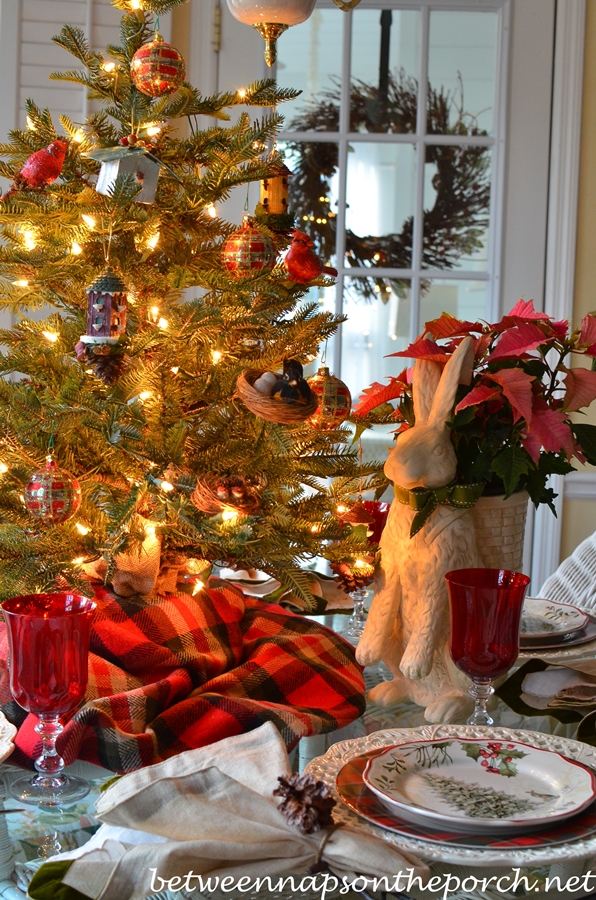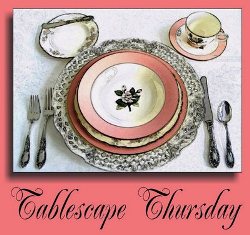 If you are participating in Tablescape Thursday, please be sure to add your permalink below, and not your general blog address. To get your permalink, click on your post name, then copy and paste the address showing in the address bar, into the "url" box when you link up.
You'll need to include a link in your post back to the party in order to link up and participate. That's so visitors to your blog will be able to find the party and the other Tablescape Thursday participants.
If you would like to use the Tablescape Thursday logo button in your post, just copy and paste it to your computer and upload it to your post as you would any photo.
Please, don't add your post name/blog name ALL IN CAPS…it tends to create big spaces between the rows of links.
Click on the Blue Frog below to see the links to all the participants in last week's Tablescape Thursday:




Welcome! Thanks for coming to the Party!
*If a post is sponsored or a product was provided at no charge, it will be stated in post. Some links may be affiliate links and as an Amazon Associate, I may earn from qualifying purchases. *