Welcome to the 423rd Metamorphosis Monday! I'm putting this post up early (Sunday  evening) since I have a busy morning tomorrow.
Email Update: I just noticed today that the company I use to send out emails for BNOTP, has been using the wrong return email address. It's been changed to the correct one which is [email protected] .
So please add that address to your "approved contacts" or your email addresses. That will help to ensure that you'll receive email updates when a new post is up here on the blog. If you're one of the folks who hasn't been receiving the updates, maybe this will better help those arrive in your Inbox.
So the address to add to your approved contacts is: [email protected] .
Office Before & After
If you've been reading BNOTP for a while, you may remember that I've been on what seems like an endless hunt for a comfortable desk chair. Most recently in August of last year, I purchased this pretty chair at Marshalls.
I loved its stylish nailhead trim but after getting it home and giving it a try, it had to go back. There were several things about it that weren't ideal, but the final straw that made me return it was the strong chemical smell it was emitting. After leaving it for a week unused in my upstairs family room, hoping it would air out, the chemical smell was still as strong as ever.
After sadly returning it, I went back to sitting in a chair I had purchased from Pottery Barn. This was the second one in this exact same style that I had purchased. The first one had been fine and worked great until it eventually wore out from sitting/working in it every day for two years. The seat had flattened to the point it was no longer cushy or very comfortable.
Unfortunately, the second one I ordered never sat comfortably. It leaned too far forward. I should have returned it right away instead of trying to make it work, but by the time I realized the back was never going to loosen up, it was too late to return it.
Recently after a long day of working here in the office, I've Googled to see if I could find a chair that was both attractive and comfortable. I usually came up empty-handed but one day fortune smiled down and I struck pay dirt!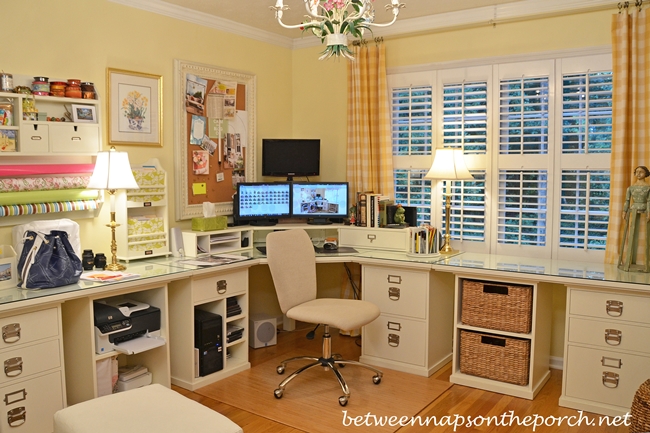 Here she is! I've been sitting in my new chair a lot over the last three days, and so far, things are looking good! I think she's a keeper.
This chair is much softer than the chair I've been using, and the back doesn't lean forward at all. What a relief!
I really love the color and it works beautifully here in the office. The fabric has the look of linen–love that!
I like the tufted back, it adds a lot of style to this piece. It's elegant, yet functional, I couldn't ask for any more!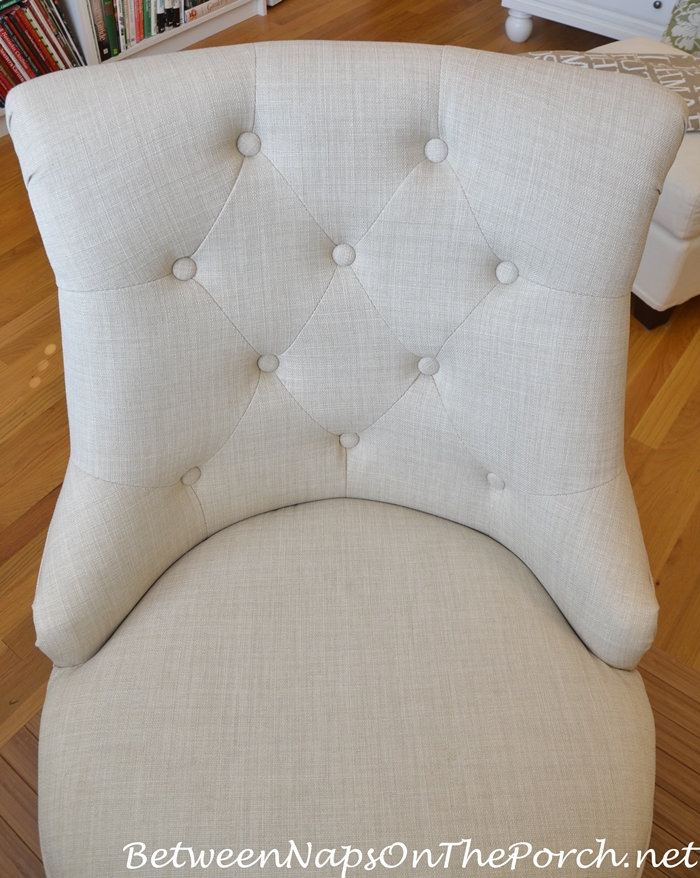 The legs/base has a distressed, washed look which I really like. It's much softer and prettier than if it were a dark brown or black color and it looks great with the color of the fabric.
It came with these wheels…
…but I changed them out for these: Chair Wheels. I've learned over the years that this style wheel below is easier on my wood chair mat than the other type. The rectangle chair mat I use is available here: Wood Chair Mat. There are other shapes and sizes of the wood chair mats available here: Chair Mats.
This chair also comes in a pretty gray that would have also worked nicely with the fabrics in my office. I had a hard time choosing between the two colors before finally settling on the lighter color.
If you're in need of an elegant, comfortable desk chair, you'll find these chairs here:
Natural Color (like mine) can be found here: Natural Color Desk Chair
Gray Color can be found here: Gray Desk Chair
So what do you think? I'm really happy with how it looks and I do love how it sits. I liked the price, also. It was $229, not bad for an upholstered piece. Shipping is normally $29.95 but with the code SPRINGFLING, shipping was free. This piece normally has a "shipping surcharge" due to the fact it's a big package to deliver. I used the coupon code, SUR60 and that gave me 60% off the surcharge. So in the end, I only paid $6 for shipping!
I just tested those codes to see if they still work, and they do. So if you end up buying this chair for your home office, don't forget to use both those codes at checkout to save a bundle on the shipping! I'm not sure how long those codes will work, but they are still working right now as I type this.
I can't tell you how happy I am to finally have a comfortable desk chair!  To learn more about how this office came together, check out this previous post: Designing and Creating a Home Office: The Journey
Have a great week, dear Friends!
Metamorphosis Monday
Metamorphosis Monday is a party that's all about Before and Afters. If you are participating in Met Monday, please link up using the "permalink" to your MM post and not your general blog address.
To get your permalink, click on your post name, then just copy and paste the address that shows up in the address bar at the top of your blog, into the "url" box for InLinkz.
In order to link up, you'll need to include a link in your MM post back to the party so the other participants will have an opportunity to receive visits from your wonderful blog readers.
Please observe these few rules:
Please link up Before and After posts that are home, gardening, decorating, crafting, painting, sewing, cooking, fashion or DIY related.
Be sure to include a link back to the party in your post, so your readers will be able to find and visit the other bloggers who are participating.
Do not link up to the party if you're doing so to promote or sell a product.
To those who are linking up: If you notice a shop or store linking up to sell products (yes, unfortunately that does happen) please let me know so I can remove their link from the party. No one wants to click a link expecting a Before and After, only to find a spam link to an online business/store.