This fall/winter I've been on a quest to completely overhaul my winter wardrobe, focusing on two things: comfort and warmth. I added a few more pieces this past week and thought I'd share those in this post in case you're looking to update your winter wardrobe, or just looking for some additional gift ideas.
Before this fall I didn't own a single Fair Isle sweater. A lot of the ones I've found over the years were a bit too colorful for my taste. I've added three to my wardrobe this winter, including this one below that's currently on sale here: Fair Isle Sweater. Use the code 30DEC17 to get 30% off. I love the little flecks in the lower part of the sweater…they remind me of stars in a night sky. Oh, and it's long enough to wear with jeggings…love how it looks with those!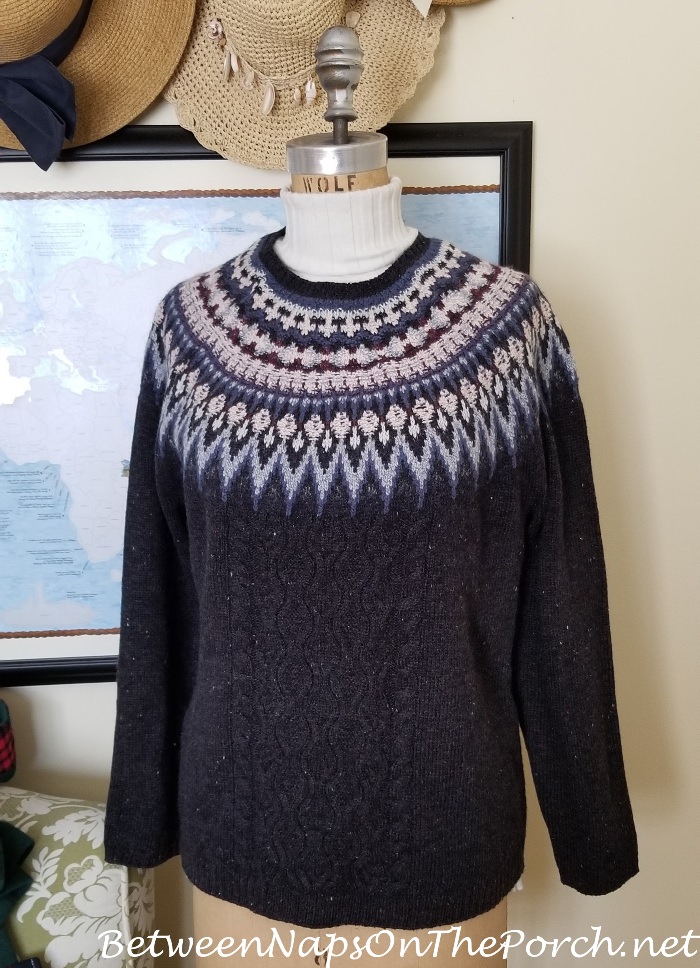 I'm thinking of ordering this one before the sale ends. It's available here: Fair Isle Sweater.
Added two pretty tops to my winter wardrobe, love the deep green color of this shirt paired with the tartan collar and cuffs.
So pretty! Red and green together are my favorite for fall and winter.
Here's the blue version…it comes in several other colors.
Both tops are available here under the "Sweatshirts and Fleece" category: Orvis
Probably the most favorite thing I added recently during a sale was this adorable wool jacket. It's lightweight and not bulky, though very warm since the plaid section is wool. The wool is not scratchy either, very soft.
This jacket is available here: Sunderland Jacket. The easiest way to find it at that link is to type "Sunderland" in the search box. Unfortunately, I don't think it's currently on sale but I had to share it in case it does go on sale again since I do love it.
While we're talking gift ideas, I can definitely recommend either of these two tops below. I've been wearing them all week and love them! They are fleece on the inside and super warm, plus they are currently on sale 25% off with the code: Holiday.
You'll find this one in several colors here: Sweater Fleece. I love the large pocket up front. It's where I toss my car keys when I'm out running errands. So convenient!
This is the other one I've been wearing this week and it's also on sale 25% off with the code "Holiday" here: Sweater Fleece. The sale ends tomorrow. If you like your sweaters with a hoodie, check this one out: Hoodie Sweater.
I'm thinking of buying a pair of these L.L. Bean slippers. They look so cozy! Does anyone have a pair of these yet? They are on sale with the code "Holiday" here: Slippers.
These make wonderful gifts. I have two pairs and love them! You'll find them here, again on sale: Slippers.
Update: Forgot to include these adorable blue and white Sperry Duck boots that I purchased for spring. They looked so beachy/nautical, thought they would be cute with blue or white jeans/jeggings this spring when the spring rains arrive.
They are currently on sale here: Blue and White Stripe Duck Boots. I think you may be able to get an additional 25% off the sale price with the code: SAVE25. Even without that extra code, the sale price is awesome! I usually order my duck boots a half size up to allow for thicker socks. If you don't wear thick socks, you'll be fine with your regular size.
Love this sweater too, it's on sale 50% off here: Sweater. How are you doing on your Christmas shopping? Almost done? I'm pretty much done now, just waiting on one more item to arrive and I'll be finished.
*This post contains affiliate links*
*If a post is sponsored or a product was provided at no charge, it will be stated in post. Some links may be affiliate links and as an Amazon Associate, I may earn from qualifying purchases. *