Welcome to the 457th Tablescape Thursday!
Recently, I shared Debbie's wonderful, 3rd Annual, My Favorite Things, party. If you missed that post, you'll find it here: Breakfast at Tiffany's Brunch Event.
I asked Debbie if she took photos of her first My Favorite Things party which she planned with a "French Queen Bee" theme, and she did! A couple of days ago I shared three adorable bee-themed wreaths she made for the party. (See that post here: Bee Wreaths.) Today we're checking out some of the tables Debbie set up for this event. I'll also be sharing the wonderful appetizers and desserts Debbie served!
Debbie's friends and family call her the "Queen of Theme" because when she chooses a theme for a party, she goes all out and carries it through for every aspect of the event. These were the beautiful invitations Debbie sent out for her French Queen Bee party.
Debbie said, "These were actually part of a wedding invitation kit I found at Hobby Lobby at 40% off. I loved the black lattice slip, and envelope lining."
Aren't these just beautiful! Debbie shared where she found her imagery for her invites. She said, "The vintage imagery was downloaded free from the Vintage Fairy website. I also used some bee and crown ink stamps on the envelopes. Then, I found these lovely black and white floral imagery stamps at the post office. I love making invitations as I think they set the tone for the event, and get my theme off and running!"
In the kitchen Debbie had name tags handy to help her guests get better acquainted.
When Debbie held her first My Favorite Things party, it wasn't a dinner affair, as it later became. Debbie said, "The first MFT party took place on a Sunday afternoon, and I did not serve a meal. Instead there were beverages, three appetizers, and lots of desserts and coffee."
This photo is a bit dark but I wanted to include it so you would have an idea how the desserts were arranged. You'll get a much better view of all those later in this post.
This was one of the tables where Debbie served appetizers for her guests. Debbie said, "The buffet table is actually an antique wallpaper worktable that collapses and folds in half lengthwise. I absolutely love it! It's narrow and about eight feet long."
"I used real dishes and glasses that first year. The clear glass plates were my French great grandmother's. They are from the U.S., though. I have matching wine and champagne glasses (Cambridge Rose Point, depression etched crystal).
The green cabbage bowl and plates are from William Sonoma, and there's also a lidded, clear cabbage small server. White, bird place card holders are used as menu tent cards (from Pier 1)."
Debbie found her flatware on sale at Overstock dot com. I checked and it's currently out of stock there, but I did find it still available and on sale here: Bee Flatware. I have a set of this flatware and love it! I've used mine in many table settings over the years and it's always a big hit.
Debbie used her Bee Hive Server to serve Honey Rosemary Sparkling Lemonade. Debbie said, "Fresh lemon slices floated in the dispenser."
"Mason jars served as glasses, along with fresh rosemary sprigs and lemon slice garnishes."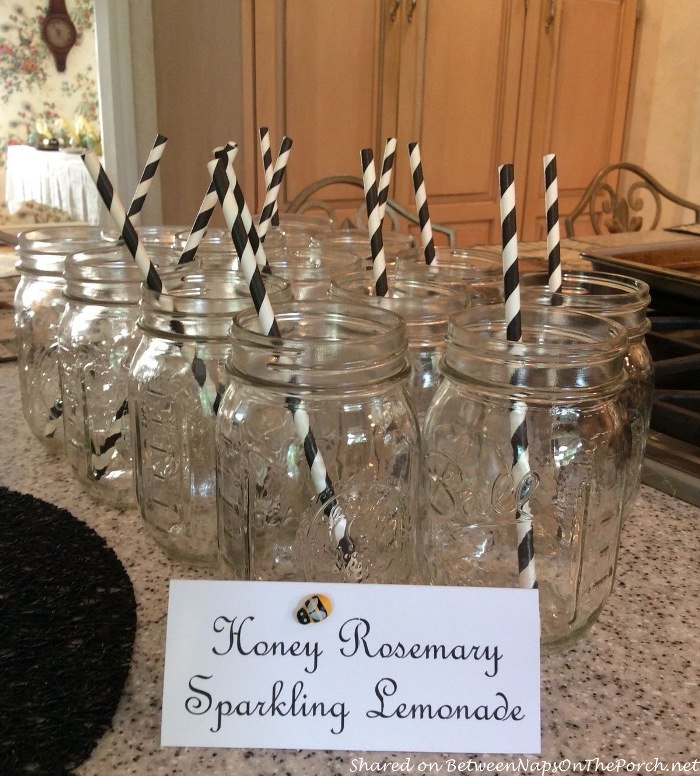 Debbie used these adorable bee glasses to serve a drink called, "Bee Sting of Bourbon Buzz." She garnished them with cute, yellow peeps. You'll find these same bee glasses available here: French Bee Glasses.
I have these bee glasses in 3 different sizes and they are actually my everyday glasses. The ones I use for everyday hold 12 ounces and are available here: Bee Glasses. You'll find them in several sizes/styles here: French Bee Glasses.
Love these cut beehive milk-jug style glasses! Debbie found these a few years back in Tuesday Morning and she used them at her party to serve Cucumber Mint infused water.
I just looked to see if I could find some online. I didn't find those but I found some that are very similar. I just ordered a set of six of these adorable bee hive milk-style glasses. I can't wait to use them in a table this summer! If you would like a set too, you'll find them here: Bee Milk Bottles.
For her dessert table, Debbie used these beautiful bee plates, a birthday gift from her hubby. They are still available where Debbie's husband found them here: Bee Plates. I'm seriously thinking I may need some of these. 🙂
Debbie offered her guests a variety of desserts.
Debbie made two adorable honey bear cakes for her party. Debbie said, "I made them out of a packaged lemon pound cake mix. Delicious! The tough part was icing and decorating those bears and adding yet more little bees to torment them! No one wanted to slice into them though!
So, for the party they were mostly decorative, but my family loved eating them afterwards. It was good balancing the time intensive desserts with the ones I just basically assembled. It's easy to find the large bear mold, the little one I only saw at Hobby Lobby."
Debbie made the adorable "bee-hive" desserts by stacking two Little Debbie cupcakes together. She drizzled a lemon glaze over them and added a few sugar bees as the finishing touch. To serve them, she placed each hive inside a black and white cupcake liner.
Debbie shared how she made her Oreo Bee Cookies. She said, "In the late spring summer you can find the blond Oreos with lemon cream filing. I just got some last week at the grocery. I also found chocolate ones with yellow filling. You just spread these out on waxed paper and using a tiny black icing tube, candy eyes, and sliced almonds for the wings to assemble them. Just don't expect to fly through quickly, they take some careful work and patience.
I put a 'nest' of them on a wooden slice block I had, then, a few of them buzzed about the rest of the table. Nothing gourmet, just theme perfection and no stings!"
Debbie made these Honey Cupcakes with Honey Cheese Frosting from scratch. She embellished them with little sugar bees.
A favorite dessert at Debbie's party was, Limoncello Tiramisu Parfaits. Debbie shared how she made them saying, "Basically I made a sheet cake, then using the plastic glasses cut out disks. These went into the bottom of the glass. I added a tablespoon of the Limoncello to the cake disk before assembling the rest.
I used jars of prepared lemon curd, packaged Lady Fingers, and whipped cream in a can, but real Limoncello. My dear friend, Bruna (she lives back in Italy now) got me addicted to it. I even add Limoncello to ice tea–something my book club went crazy for.
I put these together the night before, adding the top-tier of whipped cream right before the party. Then I shaved a bit of fresh lemon rind on top and added a lemon candy slice. Remember those from when we were kids? I found these at Party City."
Such a great idea for an easy dessert and I love the little candy lemon slice as a garnish! Oh, and in case you're wondering, Debbie found her parfait glasses in Dollar Tree, 5 for $1. She used them again when she hosted her Breakfast at Tiffany's party.
Debbie also served the following at her party: Warm Honey Fig Dip with Blue Cheese and Garlic Pitas, Crisps with Goat Cheese, Blackberry and Honey, Crostini with Peaches, Blue Cheese and Honey. You'll find all the recipes mentioned in this post linked on Debbie's Pinterest page here: Debra M.
Thanks so much to Debbie for sharing her party preparations for this wonderful French Bee themed party! I loved every single detail and it has definitely put me in the mood to create a bee-themed table this summer! So much inspiration and wonderful ideas!
I hope to share some of the other details like the decorations and party games Debbie put together for this party. Will try to get those posted very soon!
Pssst: I post almost daily to Instagram. Follow Between Naps on the Porch on Instagram here: Between Naps On The Porch.
Looking forward to all the tables linked for this week's Tablescape Thursday!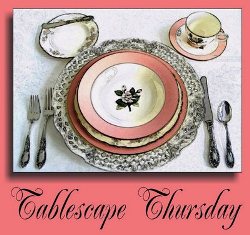 If you are participating in Tablescape Thursday, please be sure to add your permalink below, and not your general blog address.To get your permalink, click on your post name, then copy and paste the address showing in the address bar, into the "url" box when you link up.
You'll need to include a link in your post back to the party to link up and participate. That's so visitors to your blog will be able to find the party and the other Tablescape Thursday participants. Requiring a link back also prevents businesses and scammers from linking up to sell their products. (Yup, that really happens, unfortunately.)
Please Note: After 1 week, party links are still available to view by clicking on the blue button below.
*If a post is sponsored or a product was provided at no charge, it will be stated in post. Some links may be affiliate links and as an Amazon Associate, I may earn from qualifying purchases. *