Welcome to the 597th Metamorphosis Monday!
Over the past few months, I've had several requests to give an update on the front yard landscaping I completed back during Spring 2016. I've been meaning to share an update because I'm absolutely stunned how much the Green Beauty Boxwood shrubs I planted back then have grown!
Here's a before photo that was taken that May not too long after I planted all the shrubs. Let me tell you, these boxwood shrubs weighed a ton! All the Green Beauty boxwoods were balled-and-burlapped so they were super heavy. We weren't getting a lot of rain during that time, so the ground was pretty hard. I had to water it before I could even dig.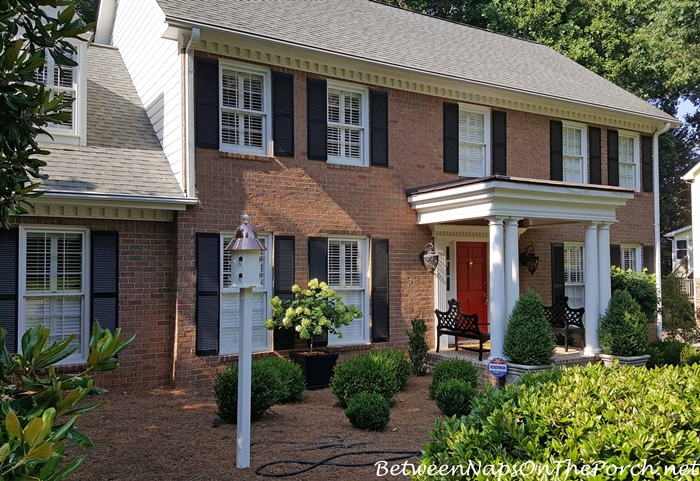 It was out of sheer will that I got all the holes dug and these babies into the ground! lol I tried to space them out well so they would have plenty of room to grow. You can read more about this project in this post: Landscaping with 4 Varieties of Boxwood Shrubs.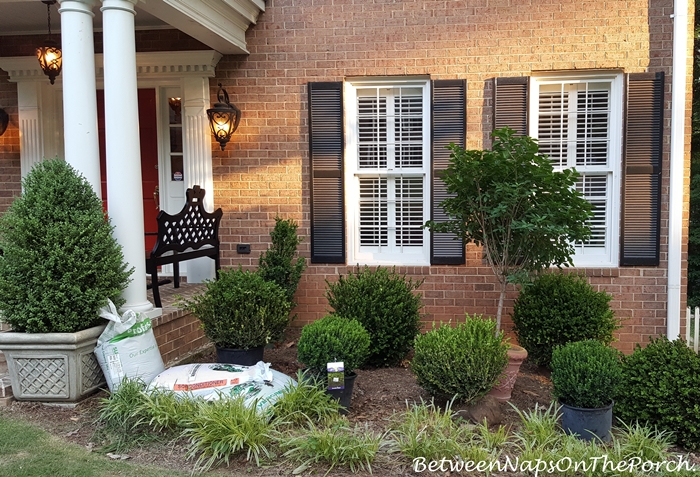 When I returned from Ohio a few weeks ago, the boxwoods were all growing wild and wooly. My neighbors tell me we got tons of rain while I was away during the spring, so the shrubs were badly in need of a trim.
They were definitely getting bigger than I wanted. I don't like for foundation shrubs to grow to the point where they are blocking the windows. I don't mind if they come up a little into the window but I like keeping them down where they don't block the view or take over half the window–if you know what I mean.
Trimming them back and into the round sphere shape I wanted was more than I thought I could do with my little hedge trimmers. So I let the guy who cuts my grass do the trimming with me keeping a close eye out that he didn't cut them too far back.
Here's how they look now, still so big! Notice how big the Green Mountain topiary in front of the column has gotten!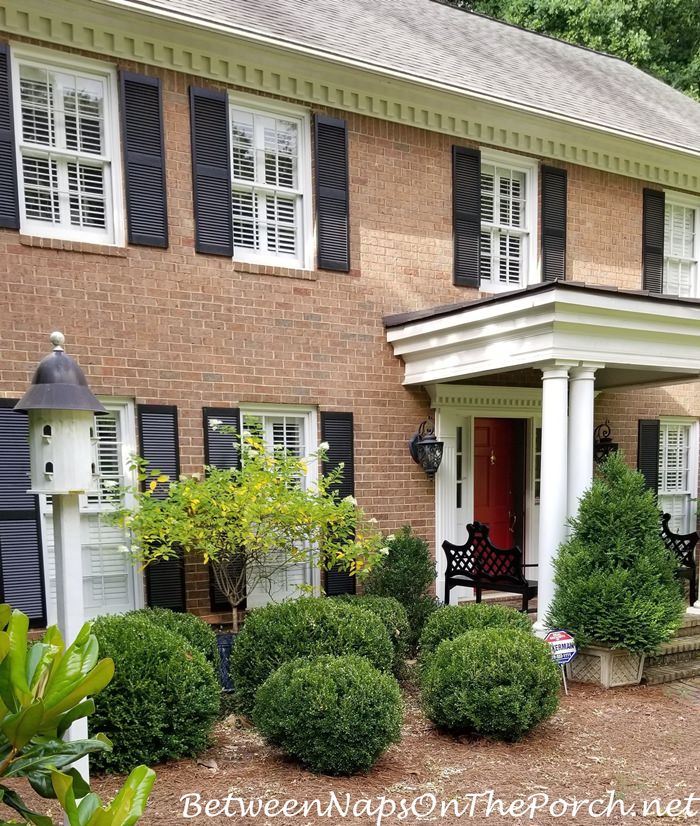 Here's how they used to look.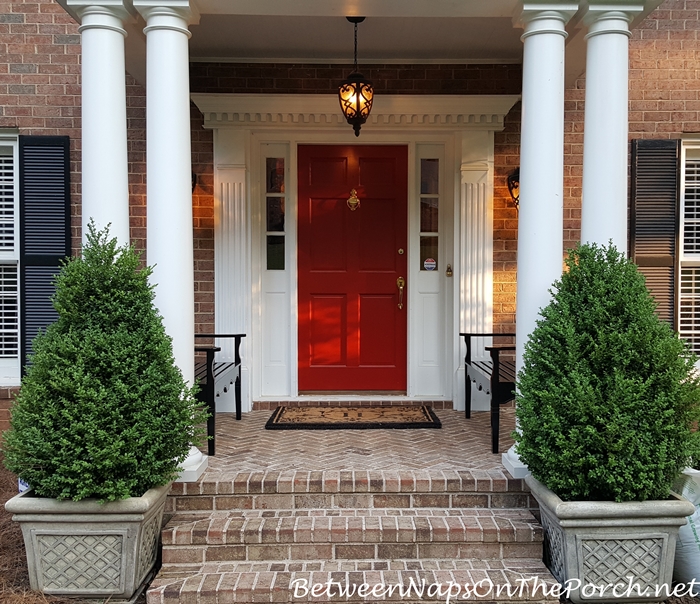 Here's a Before photo from when I first planted the Green Beauty Boxwoods back in May 2016. The two smaller boxwood shrubs up front are called Baby Gem and they are supposed to remain fairly small.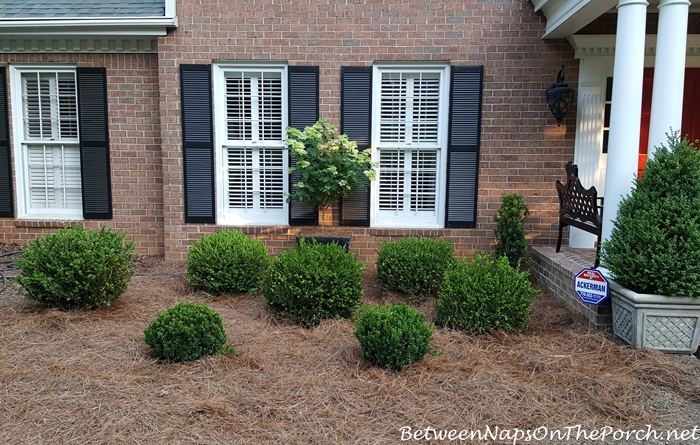 Here's how they all look today. I can't believe they've gotten this big in just 4 years! When I was planning this landscaping project, I had read that boxwood shrubs were slow growers. Well, apparently these Green Beauty Boxwoods didn't get that memo! I guess they are very happy planted here, even the Baby Gem boxwoods up front are getting big.
I purposely bought the boxwoods in a big size back then because I wanted an "instant" landscape. By Golly, I think I achieved that goal! If I had known they were going to grow this quickly, I probably would have purchased smaller shrubs and saved some $$$ and my poor back from having to dig such big holes. They are the perfect height right now, hope I can keep them around this height for many years to come.
I wasn't here to trim back the Limelight Hydrangea before it set buds, so it looks very gangly. I'll trim it back a lot at the end of next winter so that it will fill back out. The leaves are looking yellow. We've been getting a lot of rain so not sure if it's gotten too much rain or needing a particular nutrient. Any ideas?
Here's how the Green Beauty Boxwoods on the other side of the porch looked before trimming.
I actually love shrubs in their natural growth shape, but I can't let these go crazy or they will be covering the windows before long. Plus, if they get too big, I don't think they can't be trimmed properly without looking terrible. Also, I made the decision many years ago to keep this area looking a bit more formal since it's the front of the house, so that's why I'm going with the rounded "ball" shape for these boxwoods.
Here's how they look after their recent trim. If you know a lot about taking care of boxwood shrubs, please let me know if you think these look okay. Hopefully, my yard guy did a good job with trimming them.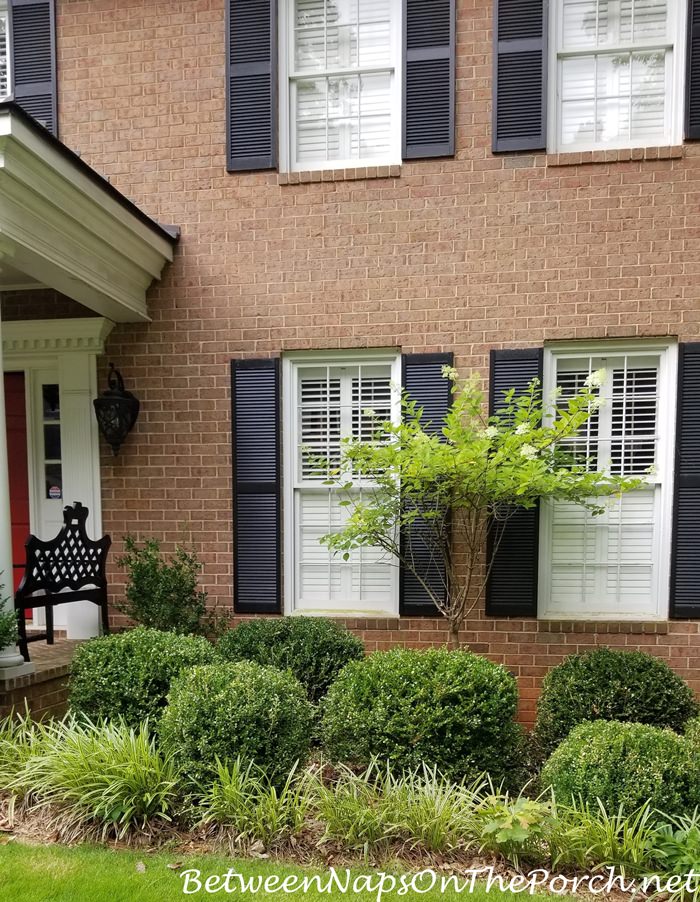 The poor benches on the front porch didn't get cleaned for three months while I was gone! They were caked in grime and pollen.
I was hoping that the finish wasn't ruined.
Thankfully, they cleaned up nicely.
These benches were definitely a great buy for the porch, they've held up quite nicely here on the porch.
I hope you enjoyed this little landscaping update! The front porch is getting painted in a few weeks, so I'll share another update once that's completed.
Have you been making a few landscape updates this spring? It's never-ending, isn't it? lol Get one thing looking pretty and something else starts falling apart! Arggg!
Pssst: Did you know Between Naps On The Porch is on Instagram? You'll find me on Instagram here: Between Naps On The Porch.
Like to know when a new blog post is up and available to read? Subscribe for email updates, it's free and your email will never be shared.
Subscribe for free post updates via email here: Subscribe.
Looking forward to all the wonderful Before and Afters linked for this week's Met Monday!
Metamorphosis Monday
Metamorphosis Monday is a party that's all about Before and Afters. Please link up your Before and After projects like DIY projects, room makeovers, craft projects even recipes. Any Before and After is great! Please do not link up Table Settings, save those for our Tablescape Thursday party on Thursday. 🙂
If you are participating in Met Monday, please link up using the "permalink" to your MM post and not your general blog address. To get your permalink, click on your post name, then just copy and paste the address that shows up in the address bar at the top of your blog, into the "url" box for InLinkz when prompted.
In order to link up, you'll need to include a link in your MM post back to the party so the other participants will have an opportunity to receive visits from your wonderful blog readers.
This party has ended, click button below for the links to all who participated.
*If a post is sponsored or a product was provided at no charge, it will be stated in post. Some links may be affiliate links and as an Amazon Associate, I may earn from qualifying purchases. *