Welcome to the 233rd Tablescape Thursday!
Recently I was invited to a dinner party at the home of my friend, Ginger. I didn't have my camera with me but I snapped a few pics with my cellphone. Fortunately, I have a new cell phone and wow, cellphone cameras have come a long way! My other phone was just over 2 years old and though it had a pretty good camera, I do not think it could have handled the low lighting near as well as the new phone. All the pics in this post were taken with a Samsung Galaxy S3 in the available light.
Each dinner guest bought along a dish to share that evening. Two of the guests (Dennis and Doug,) brought Oysters Rockefeller. Have you ever eaten Oysters Rockefeller? It was delicious! The oysters were cut up into small bite-sized pieces and we all ooohed and aaahed over how awesome it was. Maybe I can get Dennis to share the recipe…should I ask?
Ginger placed the Oysters Rockefeller on the cutest, leaf-shaped plates. The small green plates were hand-made in a limited quantity by an artist who lives in Florida. She has been collecting them over the years, a few at the time on each of her trips back down to the area.
When the guests entered the dining room, we were all delighted to find a little gift waiting at our place. Ginger was serving Mint Juleps, another first for me that evening. I've read about Mint Juleps but never had one. Can you believe that? Someone is gonna revoke my G.R.I.T.S. card after reading this! So that's the drink you'll see just above my plate in some of the pics.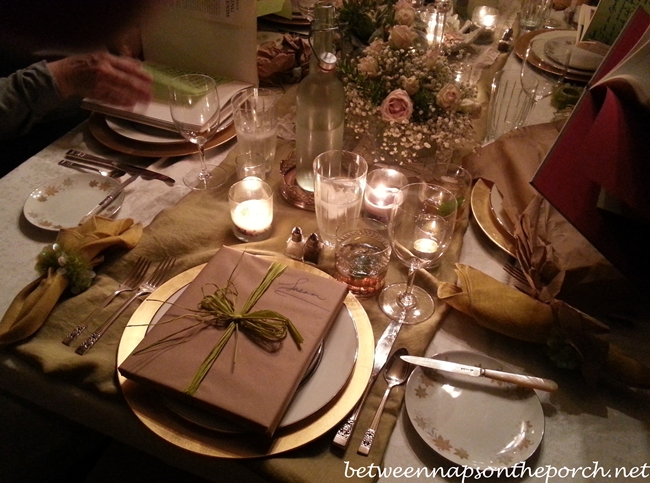 Don't you love the pretty wrapping!
Ginger had just finished lighting the candles as we began opening our gifts. She had hand-selected a book for each guest, one that suited their interests or hobbies.
My gift was a wonderful book called, Great Settings. Inside we found a handwritten note from Ginger. Such a beautiful gift and I'll always keep my note inside my book as a reminder of the evening.
Pretty napkin rings…a beautiful table setting!
I didn't take a lot of photos that evening, but I couldn't resist a few candid shots since I was seated at the end of the table.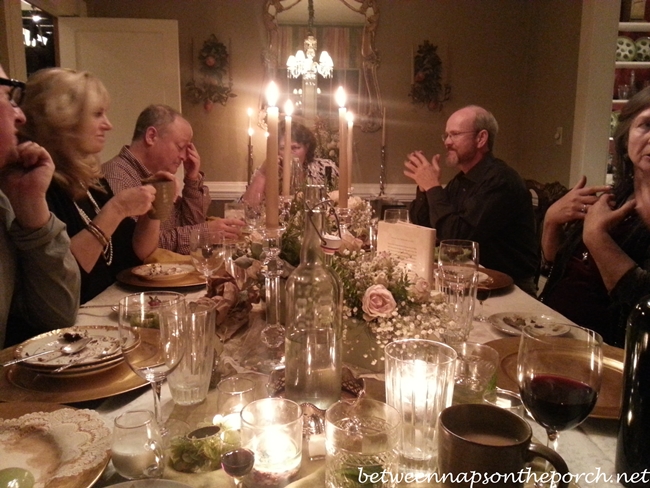 Remember the Devil's Food Toffee Trifle I made recently? (Recipe can be found here: Yummy Devil's Food Toffee Trifle)
It was one of our desserts that evening. We also had chocolate-covered strawberries!
Ginger served a yummy chocolate liqueur toward the end of the dinner. I wasn't in "blog" mode at the party so I totally forgot to snap a photo of the actual dinner/entree. Ginger served Beef Tenderloin and Brussel sprouts straight from her garden. Wish I had thought to take a picture of the platter as it was brought around. It was beautifully presented with lots of green vegetables.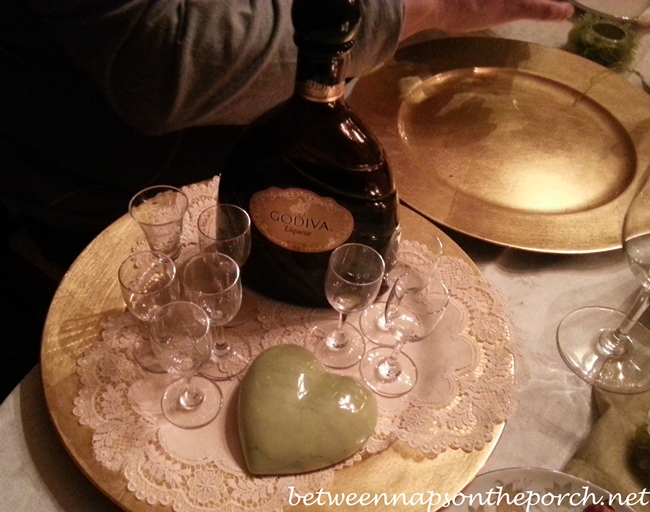 The centerpiece was roses and the soft, soft pink color of the roses, along with the candlelight, gave the table a dreamy, enchanting feel. It was a wonderful night shared with friends.
Looking forward to all the tablescapes for this Tablescape Thursday!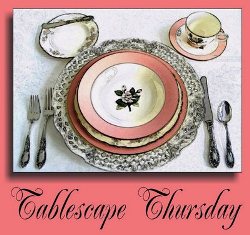 Please Read:
If you are participating in Tablescape Thursday, please be sure to add your permalink below, and not your general blog address. To get your permalink, click on your post name, then copy and paste the address that shows in the address bar, into the "url" box when you link up.
You'll need to include a link in your post back to the party in order to link up and participate. That's so visitors to your blog will be able to find the party and the other Tablescape Thursday participants.
If you would like to use the Tablescape Thursday logo button in your post, just copy and paste it to your computer and upload it to your post as you would any photo.
Please, don't add your post name/blog name ALL IN CAPS…it tends to create big spaces between the rows of links. Thanks for participating…looking forward to your beautiful table settings!


*If a post is sponsored or a product was provided at no charge, it will be stated in post. Some links may be affiliate links and as an Amazon Associate, I may earn from qualifying purchases. *