Welcome to the 449th Metamorphosis Monday!
I really didn't know what to name today's post because I've been like a frantic little bee ever since returning from Ireland. I've been buzzing all over this house, working to tie lots of little loose ends together. You would think it was spring…this urgency to get things spiffied up around here. Maybe it's the early morning waking hours that has me so energized. Or, is it the cooler temps we've been experiencing? Mornings are definitely feeling very fall-like these days.
One item I'm working on getting checked off the old "to-do" list is replacing the door that leads down to my daylight basement. It's in a small hallway right off my paneled living room.
Many years ago I had a kitty door installed in this door since the litter box was in the unfinished part of the basement. I had to go with a larger doggy door due to the design of the door. A kitty door wouldn't fit quite right with the panel design of the door. I didn't feel bad about having the cat door installed because after we moved into this home, we discovered the door was pretty badly scratched (on the basement side) from the previous owner's dog.
Since I don't plan on adopting another cat, especially with my desire to travel more now, I'm in the process of having a new door installed. Home Depot carries a stain grade, six panel door and I'm going to let them install the new door. This will be the third door they've installed and I like that they stand behind their work. Someone is supposed to call me this week to set up a visit to measure.
The hardest part will be getting it stained afterwards. I'll have to find a really good painter who is talented at matching stain. I think the stain is a standard color because years ago when I had some molding replaced (after our Golden Retriever puppy used it as a teething ring) the painter I used then had no trouble matching the stain. Unfortunately, he no longer lives in this area.
I'm looking forward to getting this door replaced, a long, over-due improvement.
Another project I've started thinking more about is this unused living room. Several BNOTP readers have asked for an update on this space and I really didn't have anything to report. Honestly, I need to renovate bathrooms before I work on this room!
Many years ago I purchased a mantel that was being removed from another home, hoping I could add a gas fireplace to this room and turn it into a library. I envisioned built-in shelves on either side of the fireplace, so a few years back when I came across these arched cabinets for sale at A Classy Flea, I purchased them. They were from a 1920's home and had been painted over many times. My plan was to have all the paint stripped off and to have them built into the room on either side of the fireplace.
This weekend I changed my mind. I had already come to the conclusion quite a while back that the mantel wasn't going to work. To start with, it was too big and overwhelmed the arched cabinets. The proportions were just not working, at least to my eye.
Also, I realized it was going to be costly to pay someone to strip off all those years/layers of paint from the arched cabinets so they could be painted the way they really should be. So recently I consigned the mantel and arched cabinets with someone from whom I've purchased furniture before. I've decided if/when I do turn this room into the library I've always envisioned, I'm going to have the mantel and cabinetry built from scratch. That way the fireplace and cabinets will all fit together seamlessly.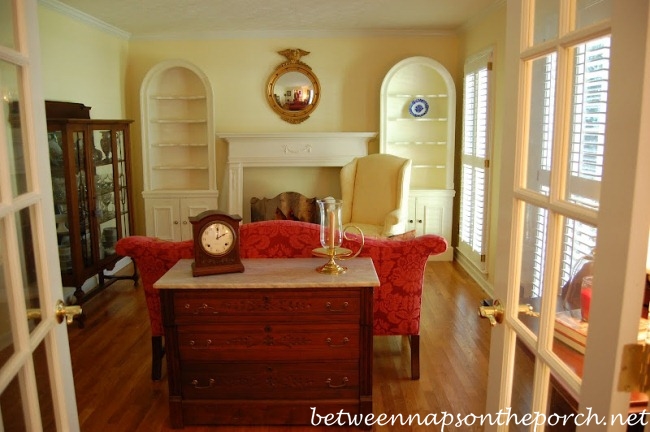 I used to think I wanted built-in shelving all down the left wall, but since I've added bookshelves to one wall of my office, I really don't need that anymore.
I kinda have a whole new vision for this space. I see the damask, camel-back sofa covered in a more playful fabric, perhaps a stripe. Instead of the wingback chair, I would rather have two cozy reading chairs, one on either side of the fireplace, facing back into the room toward the sofa.
The marble top chest is an inherited piece and I'm not sure if it would stay. I really prefer a non-marble top chest, so this one would probably go to another family member. But I really should renovate bathrooms before pursuing ideas in this room. So, again it's on hold, but I'm feeling better about the direction I'm going.
Another small change I made this past week involves this room.
For many years I had a cute bunny hanging over the double windows above the window seat. I came across that painted window in an antique shop many years ago. Unfortunately, the shop has long since gone out of business.
Here's a close-up of the window. I love how the checked border looked with the chairs in this room.
I still love the painting, but a year or two ago I removed it from the window. I just wanted to simplify the look of the window–was ready for a change. It's dark as I write this and this was the only photo I could find this morning that shows the window without it. I need to take some updated photos of some of the rooms around here.
For the last year or two, the painted bunny window has been leaning against the wall in this room while I tried to decide if I wanted to put it back up or just store it away. I still love it, so I knew I didn't want to get rid of it. This weekend it finally hit me, I had the perfect spot for it!
I've been wanting to hang something above my potting bench in the garage and this little bunny was just the thing! I love how it looks here. I may eventually scoot the potting bench over to where it's in front of a window in the garage, but probably not because I love how the window looks hanging against the wall. You can really see the design quite well. It would be really cute in a potting shed, wouldn't it?
The other thing I'm working on this week is to finish replacing every single shelf in my garage storage cabinets. I've already replaced all the shelves in three of the cabinets. Only the two on either end and the one that houses my chargers still have the original, narrow shelves that came with the cabinets.
Why am I going to replace all the others? Because of this–the shelves that came with these units are so wimpy, they can't even support glassware without bowing/bending. Take a look at the second shelf in my glassware cabinet. Is that not ridiculous?! Those glasses do not come even close to weighing 35 lbs, the weight each shelf is supposed to support.
Thank GOODNESS Home Depot carries melamine shelves in their lumber section that can be cut down to the correct size to fit these cabinets. All of the shelving I've purchased at Home Depot is doing great, no bowing at all. Plus, it holds more weight than these thin, wimpy shelves that came with the cabinets.
I've also been able to store a few more pieces in my other cabinets with the Home Depot shelves, so that's been awesome. The HD shelves are $7 each, but totally worth it to get non-bowing shelves and even more storage capacity. So I'll be working on that this week, too.
Despite having to replace all the shelves with better shelves from Home Depot, adding these cabinets to my garage has been one of the best things I've ever done for my home and my sanity. It has freed up so much space in my kitchen and laundry room cabinets, allowing me to spread things out more inside those cabinets and get much more organized inside my home.
I've done a lot of re-organizing inside and I'm loving how much easier it is to find everything now. I can't wait to create a fall table for you! I know right where those fall dishes are stashed, and they are all together in one place! Yay!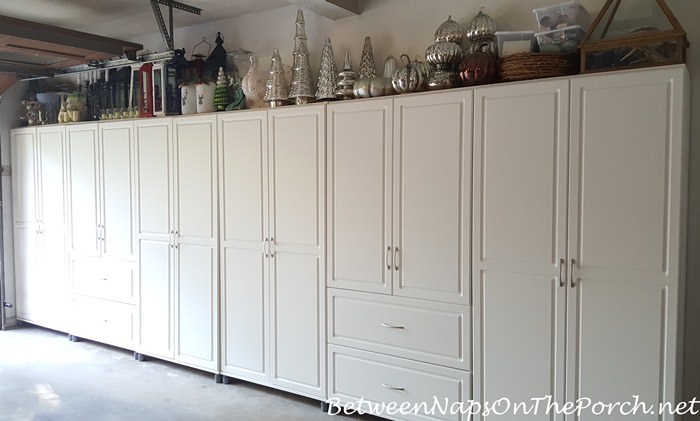 I've been on a tear around here. If you stand still long enough, you're liable to get moved, reorganized, donated or consigned! All good things, though!
Happy Labor Day!
Pssst: I post almost daily to Instagram. Follow Between Naps on the Porch on Instagram here: Between Naps On The Porch.
Looking forward to all the great Before and Afters linked for this week's Metamorphosis Monday!
Metamorphosis Monday
Metamorphosis Monday is a party that's all about Before and Afters. If you are participating in Met Monday, please link up using the "permalink" to your MM post and not your general blog address.
To get your permalink, click on your post name, then just copy and paste the address that shows up in the address bar at the top of your blog, into the "url" box for InLinkz.
In order to link up, you'll need to include a link in your MM post back to the party so the other participants will have an opportunity to receive visits from your wonderful blog readers.
Please observe these few rules:
Please link up Before and After posts that are home, gardening, decorating, crafting, painting, sewing, cooking, fashion or DIY related.
Be sure to include a link back to the party in your post, so your readers will be able to find and visit the other bloggers who are participating.
Do not link up to the party if you're doing so to promote or sell a product.
To those who are linking up: If you notice a shop or store linking up to sell products (yes, unfortunately that does happen) please let me know so I can remove their link from the party. No one wants to click a link expecting a Before and After, only to find a spam link to an online business/store.
*If a post is sponsored or a product was provided at no charge, it will be stated in post. Some links may be affiliate links and as an Amazon Associate, I may earn from qualifying purchases. *