Welcome to the 665th Tablescape Thursday, a blog party sharing beautiful table settings for all occasions!
When Elena has family over for a birthday celebration, in addition to setting a beautiful or whimsical table for the grown-ups, she always creates a special table just for the kiddos in the family. During a recent gathering, she created an amazing table that captured the fascination of both the kids and the adults!
Elena said, "Of course, my main inspiration for this tablescape was a HUGE Godzilla toy based on the 2014 movie. He is 24 inches tall and 48 inches from head to tail, quite an imposing fellow when I place him on the kitchen table."
"The kitchen nook table comfortably seats 6. I knew I had to find a rectangular Godzilla tablecloth measuring about 70 by 84 inches. Miraculously, I was able to find a great tablecloth that shows Godzilla with a wide-open mouth as he roars and menaces down on everyone below him."
"The Godzilla toy is huge and takes up a big part of the table—but I also knew I needed to have some skyscrapers. Besides fighting other monsters and swimming in the ocean, Godzilla really likes to stomp around between skyscrapers at night. I pitched my skyscraper concept to Dear Husband and he made it happen."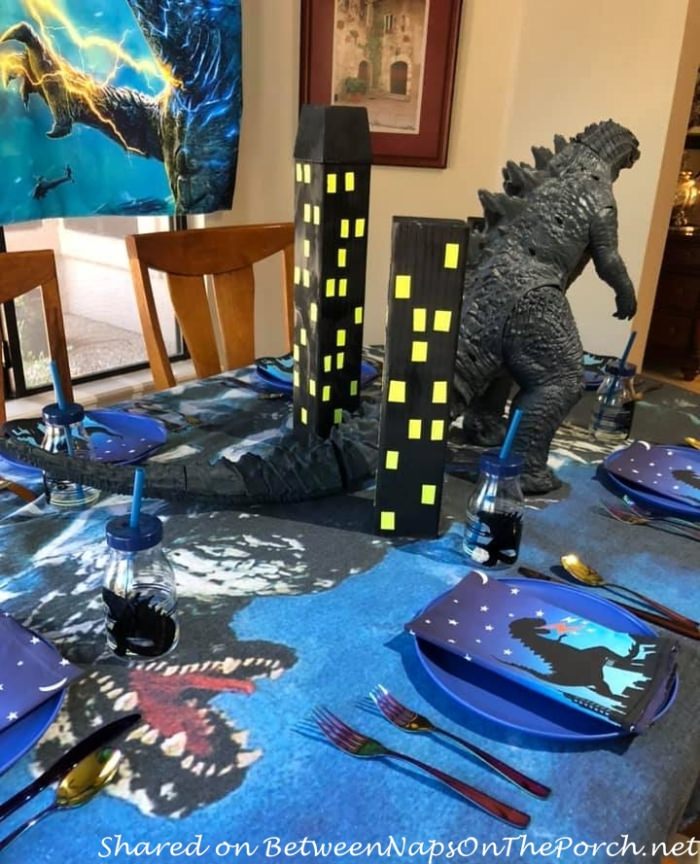 "We bought a 6 ft tall redwood fence post (square in cross-section) and cut it into 3 pieces, three different heights. Next, we spray painted the fence post sections with matte black paint. Finally, we cut (what seemed like) zillions of little "windows" out of yellow card stock and glued the "windows" by hand to the black standing posts. Voila! We created three skyscrapers for Godzilla."
Elena described some of the decorations she found saying, "I found a couple of very cool inexpensive Godzilla wall tapestries to pin to the valances on my kitchen nook windows. There's one tapestry of Godzilla blasting his lightning breath up into the sky."
"The other tapestry has Godzilla fighting with the three-headed monster Ghidorah. These are big tapestries and they add to the feeling of hugeness for the tablescape."
Elena kept the place settings kid-friendly so the little ones could just be kids and enjoy. Elena said, "For the place settings, I used simple blue plastic plates that I found at Target. I found cute blue striped acrylic beverage cups with lids and straws, the colors went well with the other decorations. I was able to find black Godzilla vinyl stickers for decorating the drink cups."
Elena made these awesome napkins! Elena said, "I was happily able to find Godzilla cotton fabric at Spoonflower.com, and I used it to sew napkins to place on the plates. For eating utensils I used my iridescent flatware; it goes so well with all the other colors!"
The fabric Elena chose for making her napkins is perfect for this table setting! I love how the iridescent flatware adds even more mystery and excitement to this creative tablescape!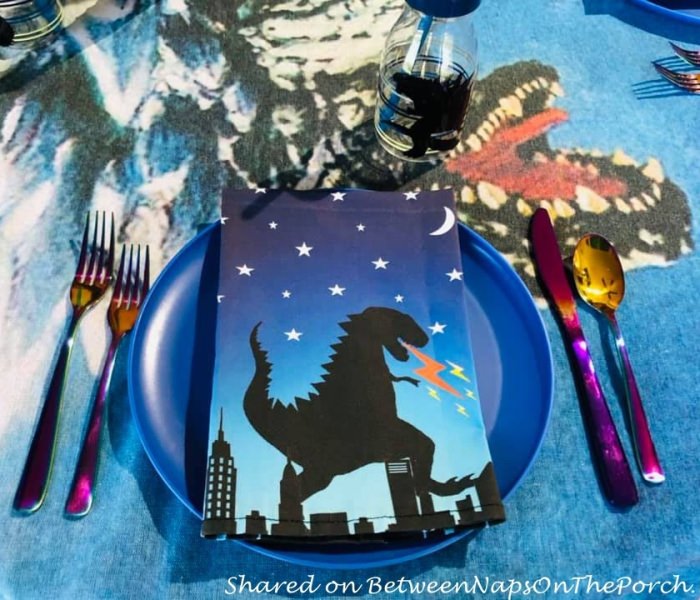 The Godzilla-themed glasses Elena found worked beautifully for this kid-friendly table.!
Thanks so much to Elena for sharing this amazing Godzilla-themed table setting–I would love to have seen her grandchildren's faces when they walked into the room! They must get so excited when they are on their way to Elena's home for a special dinner because Elena always creates amazing tables for the little ones!
Below you'll find a list Elena put together detailing where she found some of the items she used in her table setting. If the item is still available, you'll find it linked below.
Resources:
HUGE Godzilla Toy (based on the 2014 movie): I bought him on sale (I think) at Toys R Us, paid maybe $60.00 for him. Unfortunately, Amazon now wants $300 to $400 for the same toy! I definitely lucked out on the price.
Godzilla tablecloth—Walmart
Skyscrapers—6 ft redwood fence post (from Home Depot), matte black spray paint, yellow card stock, and glue from Michaels
Blue plastic plates—Target
Acrylic beverage cups with lids and straws—Target
Black Godzilla vinyl stickers for beverage cups—AlleyShop store on Etsy
Iridescent Flatware
Godzilla cotton fabric for napkins—Spoonflower.com (Spoonflower also now sells hemmed tablecloths in this same fabric pattern!)
Large Godzilla Wall Tapestries
Looking forward to all the wonderful table settings linked for this week's Tablescape Thursday!
Did you know Between Naps On The Porch is on Instagram? You'll find me on Instagram here: Between Naps On The Porch.
Like to know when a new blog post is up and available to read? Subscribe for email updates, it's free and your email will never be shared. Subscribe for free post updates via email here: Subscribe for Post Updates.
Tablescape Thursday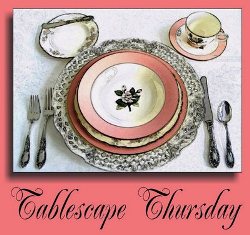 If you are participating in Tablescape Thursday, please be sure to add your permalink below, and not your general blog address. To get your permalink, click on your post name, then copy and paste the address showing in the address bar, into the "url" box when you link up.
You'll need to include a link in your post back to the party to link up and participate. That's so visitors to your blog will be able to find the party and the other Tablescape Thursday participants. Please, don't add your post name/blog name ALL IN CAPS…it tends to create big spaces between the rows of links.
This party has ended, click button below for the links to all who participated.
*If a post is sponsored or a product was provided at no charge, it will be stated in post. Some links may be affiliate links and as an Amazon Associate, I may earn from qualifying purchases. *