I've been putting off a major landscape renovation for several years. I knew it would have to start with some serious tree removal and the process would be expensive and emotionally taxing. I hate cutting down trees but there is no shortage of trees in my yard, my neighborhood or this area. If anything, as I drive around my area I see so many houses in the same situation mine was in–buried behind and under the trees.
Tree Paralysis is an insidious disease. Have you heard of it? It creeps slowly upon you year after year. It wasn't until I broke free and made some much needed changes that I realized just how much the trees were controlling everything. Not only do they control the decisions you make about your landscape and your gardens, they control the light and the feel of your home inside.
I love all the light I have coming in now. It sort of feels like I have a new house! It is so nice to step out the front door and not be immediately overwhelmed with thousands upon thousands of baby oak trees growing everywhere. It's so wonderful to walk across the grass and not have my feet slipping and rolling atop billions of acorns and huge roots stretching out across the lawn.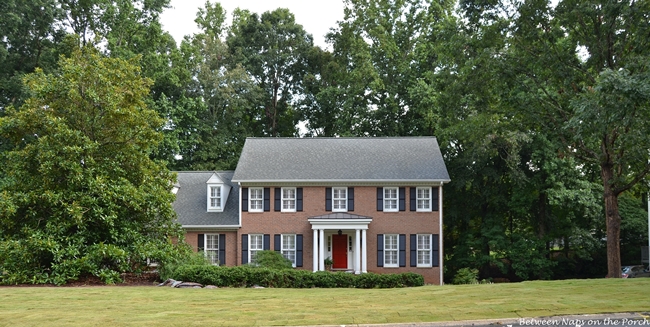 The Major "To-Do" List:
There still remains soooo much to be done. Some things on my "To-Do" List really need to be done right away, while others are projects for fall and beyond. Today's post is as much for me as it is for you because it's forcing me to put down in writing all the things that still need to be done.
I've organized it all by areas. It's all a bit overwhelming and I'm guessing it will take at least a year, maybe two to get it all done. And you know what? That's okay. It's okay if it takes a while.
Let's start here in the front. The area to the left of the front door needs to be completely redone. If I can find the right spot, I'm going to move the "Waterfall" Japanese Maple to another area of my yard. If I can't find a great spot, I may just create a Craig's List ad and offer it to anyone who is willing to come dig it up. It's a beautiful tree and I'd love to keep it, but the challenge will be in finding the right spot for it.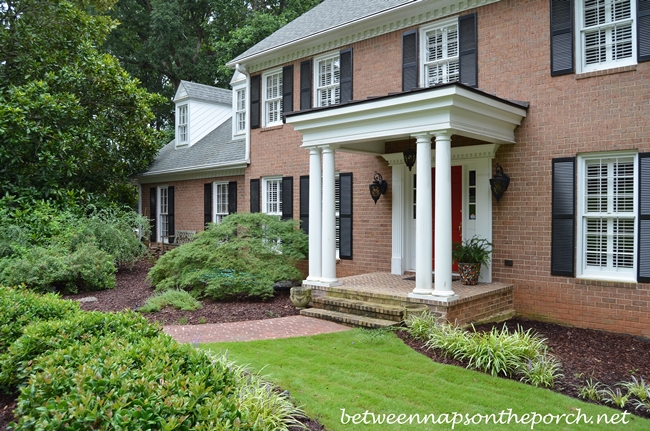 I don't have a landscape plan yet for that area but it will involve removing the deciduous shrubs in front of the magnolia and planting back a variety of evergreen shrubs and/or shrubs with interesting colors/textures, maybe even some flowering shrubs. I imagine they'll be some flowers, too. Fall is the perfect time for planting so I would like to get all that done this fall.
Across the walkway is a small area where I used to have an annual bed. I'm thinking of planting lots of pretty perennials, leaving enough space to mix in a few annuals each year, too. I've been buying a few things already, just to see what would look good there.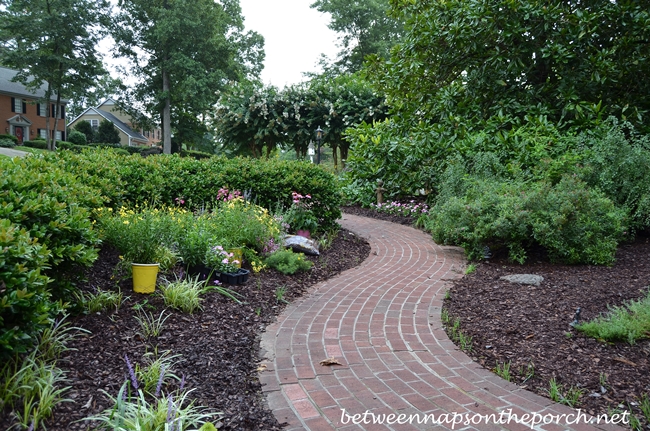 As you continue up the walkway, you come to the large Southern Magnolia, Grandiflora. You can see it in this picture below on the left. I didn't plant the magnolia in this location, not sure who did since this variety gets absolutely HUGE. Maybe they thought it was one of the smaller magnolias. I love it and don't ever want to cut it down, but it can be a challenge keeping it from taking over the walkway and the driveway. It took over the home's original walkway long ago, that's when I added the brick walkway. It can't have the brick walkway, too so I prune on it a little each year to keep it in check.
On the to-do list is having it professionally pruned, as well as cleaning years and years of leaves out from under it. One of the nice things about not cutting off the lower limbs of a magnolia is the limbs do a pretty good job of hiding the leaves that fall during the year. It's been many years since that area underneath was cleaned out, so it's time.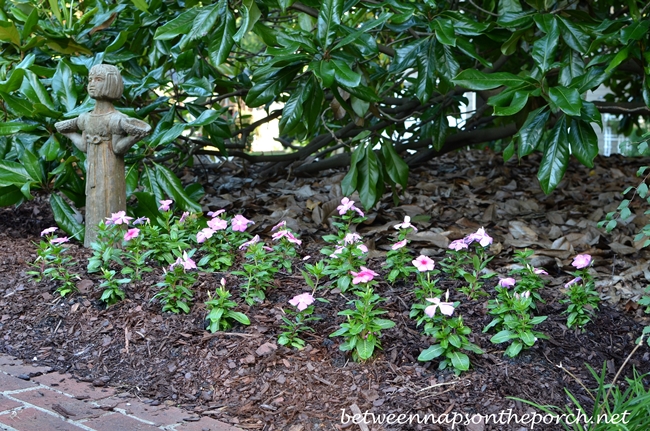 I'm hoping whoever I bring in to do the pruning (an arborist?) can also help me figure out what to do about all these baby magnolia branches that keep growing up from the lower limbs. The lower limbs have sort of rooted themselves into the ground and now baby magnolias limbs/trees keep growing up from the limbs. I had them all cut off just a few weeks ago and look how fast they are coming back!
Moving along on the "to do" list, note the area on the far right of the house. I'd like to put a slender, tallish tree there, something to balance the magnolia, but will not cover the windows that are now finally visible and open again.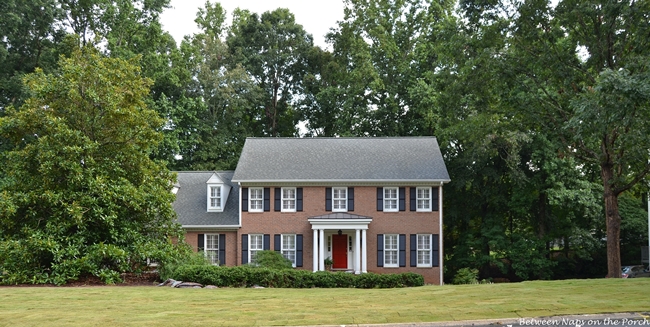 It would be wonderful if it had an upright-growing pattern and produced berries for the birds or for decorating at Christmas. I know I don't want an Italian Cypress. I'm just not crazy about how those look and the ones I see growing around here almost never look healthy. Whatever goes back there will conveniently hide the AC units from being so visible to the road. Also, need shrubs for this side.
On the other side of the driveway, I have a big perennial bed that needs to be fully reworked.
As you can see in this photo from when the sod was being installed, this whole end is empty now. It will be a lot of work to dig it all out and replant it. I think I may enlist some help with all the digging. It will be fun redesigning it all over again.
There's another small island on the other end of the yard–not sure what will be happening here. It's pretty far down the "To-DO" list.
There are so many things that could be done in this side yard. For right now I'd like to add back something along the lot line to give a little privacy to that area. Definitely don't want anything too tall that will kill out the grass again, though.
The small perennial bed in front of the fence needs to be extended out to the right where the fence parts will eventually come together again. Would love a pretty gate with an arched arbor above like these: Garden Gates. Would be so pretty with a climbing rose!
Backyard:
Need to have the wooded area cleaned out of ivy and dead limbs, etc…
Would love to create a brick or paved patio here under the porch and decks. (Way down the list.) Look at all that Georgia red clay! It will dye your clothes and your kids if they play in it long enough. 😉
One of the very first things I'll be doing next is adding a couple of fast-growing trees back to this area in front of the fence. When the Leland Cypress had to come down, I lost my privacy on that end of the screened porch. Remember how I mentioned I needed to buy more mulch for that area.
That was done this past weekend. That brings my mulch spreading total to 110 bags! Once the trees are in place, the fence sections will be reinstalled..
So what do you think? Are you exhausted just hearing about all this? The trees here in the backyard and on the corner of the house are first on the "To-Do" list, followed by the foundation planting in front of the house.
Just for Fun:
A few days ago I posted this beautiful entrance with an amazing Benjamin Moore "Peacock Blue" door.
I had just had my door freshened up with a new coat of Benjamin Moore, Heritage Red. In that post I mentioned if I ever went with a different color other than my favorite red, the Peacock Blue would be a leading contender.
Adam who blogs at J. Thaddeus Ozark's & Other Larks has some mad Photoshop skills and shared this picture. Looks great with the brick doesn't it?
Which do you think you like best: Heritage Red or Peacock Blue?
Let's check out a close up. This is how it looks now painted in Benjamin Moore, Heritage Red.
And here's kind of how it would look in Peacock Blue. Whatcha think? Leave me a comment and let me know which you like best: Heritage Red or Peacock Blue? Also, let me know if you have any suggestions for all my landscaping plans. I'm feeling a little overwhelmed so would love to hear your ideas.
*If a post is sponsored or a product was provided at no charge, it will be stated in post. Some links may be affiliate links and as an Amazon Associate, I may earn from qualifying purchases. *