Welcome to the 454th Metamorphosis Monday!
A few weeks ago I had the door to my lower level replaced. Sadly, I no longer had a need for a pet door and the door had been scratched rather badly on the other side by the previous owner's dog. It has only taken me 27 years to replace it. I move at a glacial pace as Miranda Priestly would say of Andy in the movie, The Devil Wears Prada. That was on TV last night so Miranda quotes are stuck in my brain this morning. 😉
As you may recall, the first door that was installed had a small problem.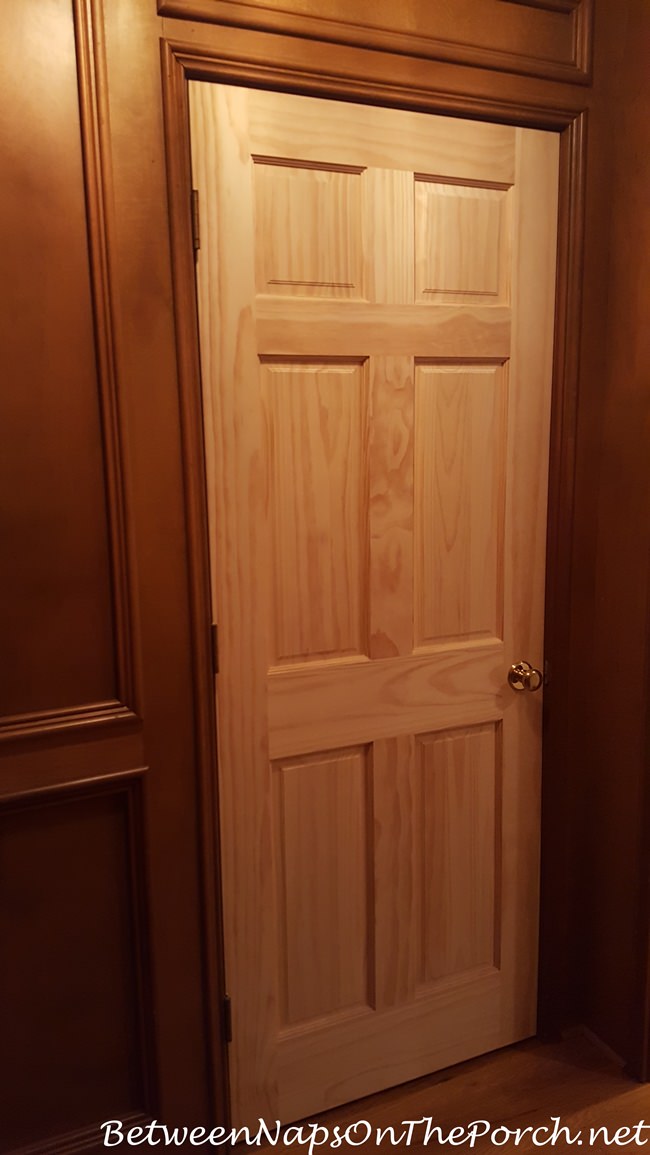 The installer cut it a bit shorter than the 1/2 inch that's standard for most doors. It didn't look that terribly bad from the hall side.
But it looked pretty awful from the basement stairs side. Your comments on that previous post convinced me to request it be redone.
Here's the new door.
Much better!
And way, way better from the basement staircase side. So glad to have that done!
The painting company that was going to pressure wash the house this week and start work on re-staining the decks, would have been staining the door this week, too. Unfortunately, the rains from Hurricane Nate have delayed everything. Looking forward to getting that done soon, though.
What Do You Think About This One?
When I shared the lampshade/finial makeover of my Belleek Castle lamp, a few folks thought the dragon finial I had added was a bit dark for the lamp.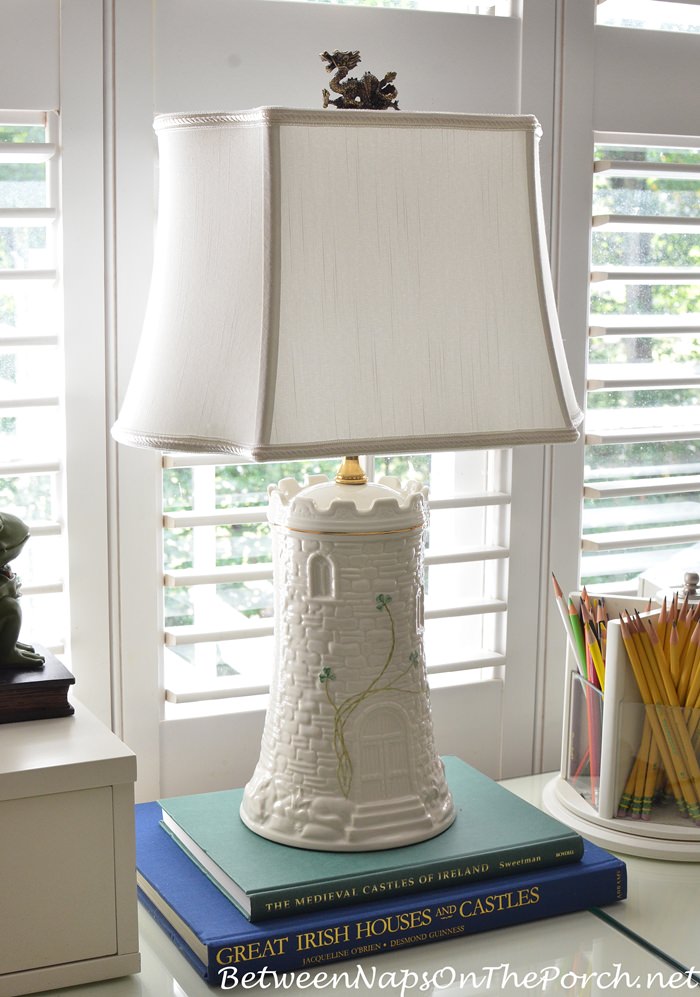 Others thought that he was a bit too "Chinoiserie" for an Irish Castle lamp. I knew he had a bit of an Asian bent when I added him to the top, but I really wanted a dragon for the lamp, and he was the only one I could find that I liked. Some of the others that I had found were even more Chinoiserie in style.
A BNOTP reader suggested a Griffin and I remembered having seen some during my dragon search, so I decided to try one of those for the top of the lamp.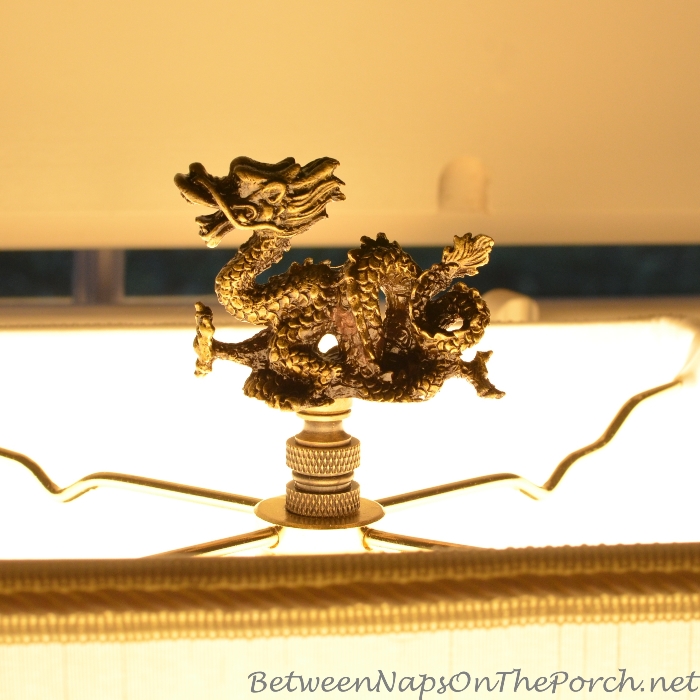 Here's how the Griffin (also spelled Griffon and Gryphon) looks. Wikipedia describes the griffin as a legendary creature with the body, tail and back legs of a lion and the head, wings and talons of an eagle. In reading about griffins, I couldn't find any ties back to Ireland or castles, so not sure he's quite right for the lamp either.
But he is polished brass which goes with the polished brass on the lamp a bit better. Umm, maybe I'll just keep looking for a non-Chinoiserie, polished brass dragon, one worthy of guarding an Irish castle. Which one do you like better for now…the previous dragon or the griffin below? (Sorry he looks crooked below, didn't realize he was slightly tilted until after I took photos. He's all straight now.)
Looking forward to all the great Before and Afters linked for this week's Metamorphosis Monday!
Pssst: I post almost daily to Instagram. Follow Between Naps on the Porch on Instagram here: Between Naps On The Porch. If you enjoyed this post, subscribe for free email updates when a new post is up here: Subscribe for post updates.
Metamorphosis Monday
Metamorphosis Monday is a party that's all about Before and Afters. If you are participating in Met Monday, please link up using the "permalink" to your MM post and not your general blog address.
To get your permalink, click on your post name, then just copy and paste the address that shows up in the address bar at the top of your blog, into the "url" box for InLinkz.
In order to link up, you'll need to include a link in your MM post back to the party so the other participants will have an opportunity to receive visits from your wonderful blog readers.
Please observe these few rules:
Please link up Before and After posts that are home, gardening, decorating, crafting, painting, sewing, cooking, fashion or DIY related.
Be sure to include a link back to the party in your post, so your readers will be able to find and visit the other bloggers who are participating.
Do not link up to the party if you're doing so to promote or sell a product.
To those who are linking up: If you notice a shop or store linking up to sell products (yes, unfortunately that does happen) please let me know so I can remove their link from the party. No one wants to click a link expecting a Before and After, only to find a spam link to an online business/store.
*If a post is sponsored or a product was provided at no charge, it will be stated in post. Some links may be affiliate links and as an Amazon Associate, I may earn from qualifying purchases. *