This new "old" home idea is totally winning me over. I've always dreamed of living in an old home but sometimes while watching TV shows like This Old House, Rehab Addict and Love It or List It, I get a little nervous thinking about the upkeep and sometimes hidden problems found in old homes, things like knob and tube wiring and poor insulation. More and more I'm loving the idea of building a new "old" home.
Whitten Architects is one of the companies out there that's building new homes. When they build a home in an established community, you would be hard-pressed to guess if the home is new or if it's old. They look like old homes that have been well-kept since they blend in seamlessly with their surrounding neighbors.
This lovely cottage located on the coast of Maine is a great example!
I love this side view of the home showing all the various gables and windows, something you almost never see on modern day new homes.
An oceanside view…
Love the big screened porch, perfect for enjoying the salt-air breezes and incredible views. We'll go out on the upstairs balcony in this tour.
The screened porch has a fabulous stone fireplace for chilly nights. The information about this house said it has a rain screen wall system. Even after googling, I'm not quite sure what that is, but it sounds like a great innovation for oceanside homes.
Beautiful welcoming entry! Love the sunshine color of the hardwood flooring, so light and bright for this cheerful beach home. Love the wall color, too!
Perfect spot to sit while taking off wet boots or shoes.
A cozy living room with Mission style furnishings. I wasn't sure if this was Mission or Shaker style furniture. Thanks to Gayle for identifying it as Mission. Here's a bit of information I found online HERE describing the difference:
The first fundamental difference between Shaker- and Mission-style furniture is the wood. Shakers used local American woods such as pine, maple and cherry to craft their furniture, but for most Shaker furniture, maple was the wood of choice. Mission-style furniture is traditionally made from oak, with an emphasis on straight vertical and horizontal lines and flat planes that help accentuate the natural wood grain. Exposed joinery on Mission furniture brings attention to the craftsmanship, while the minimalist design of Shaker furniture focuses on functionality.
Love how the glass canisters look on the shelves in this warm, inviting kitchen.
There are so many different choices now for kitchen countertops: soapstone, slate, silestone, concrete, quartz, marble, granite. Wonder what they used for this kitchen? It would be so hard choosing today with so many great options.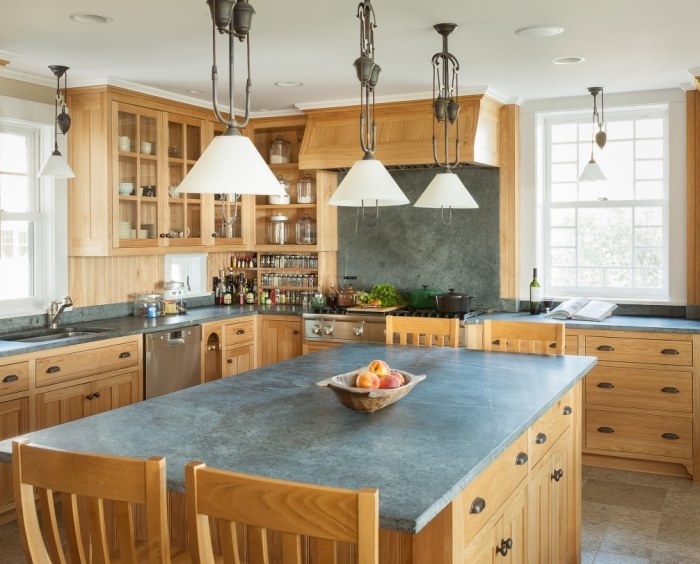 This may sound weird but this hallway is one of my favorite rooms in the home. I LOVE it when hallways are lined with built-in bookcases. It makes the space feel warm and inviting and completely un-hall-like. It gives the space a real purpose instead of it just being a pathway to another area of the home. If your hallways are wide enough, line them with beautiful bookcases. Make use of that "hidden-in-plain-sight" extra storage space.
All the bedrooms in the home have wonderful ocean views.
Love a great attic bunk room. They are perfect for visiting friends and family, especially grandchildren.
This bedroom also has an ocean view.
This cozy reading nook is another one of my favorite rooms in this beach cottage. It's unexpected, quirky spaces like this that  give this home a lot of historical charm. There's the balcony we saw from below…let's check it out.
Wow, what a view!
You can see more of this wonderful oceanside cottage at Whitten Architects where they photos were found.
*If a post is sponsored or a product was provided at no charge, it will be stated in post. Some links may be affiliate links. *