There's been so much happening around here lately, I thought I'd give you a little update all in one post. It's kind of a in-progress post with some hopefully helpful tips mixed in.
After the new coat of marine varnish dried, the furniture was moved back out onto the screened porch. So glad to have the porch back together again.
The flooring in the guest room got its third and final coat of polyurethane this morning. The furniture will get moved back in tomorrow. I'd love to have repainted the walls in here this past weekend, but I've been too busy planting to paint. Oh well, can do that some other time.
Update: See the guest room with furniture back in place here: Guest Room Reveal with Hardwood Flooring
Front Yard Landscaping
Yesterday I managed to get four shrubs planted on this side of the porch. I planted the Green Tower boxwood in the corner and got two more of the large boxwood shrubs in the ground. So hopefully I'll have a reveal for you before too much longer.
I also got the other Limelight tree-form hydrangea planted. I purchased this particular hydrangea last year with the idea of planting it in the ground. But I changed my mind and decided to put it into another planter, just a much bigger one.
I was wondering how I was going to get it out of the planter it was in and up high enough to get it into the new planter without straining my back. It has grown since I bought it last year and has quite the root ball now.
I came up with this idea and wanted to share it in case you run into a similar situation. To get it into the black planter without killing my back, I removed it from its existing planter, then turned that planter upside down.
Next, I lifted it by its trunk and sat it atop the upside down planter. Then I moved my hands further down on the trunk of the tree so I could get a really good grip, then lifted it the additional few inches to get it into the black planter.
This two-step process was so much easier than trying to lift it out of the red planter and up, up, up and into the black planter. I don't think I could have physically done that. Just wanted to share this in case you run into a similar situation.
I knew I wanted to use really good potting soil for the hydrangeas.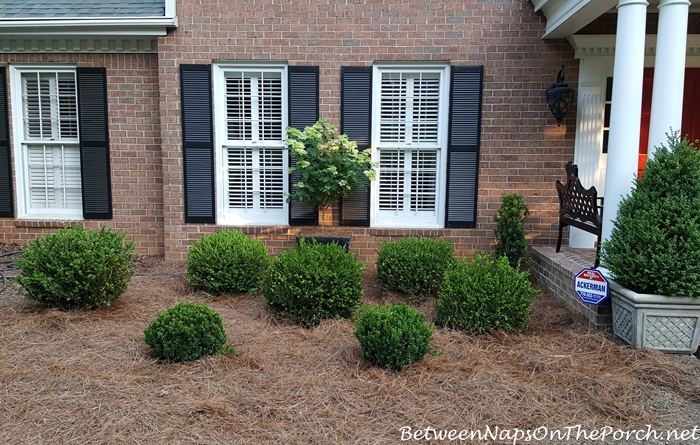 I decided to use the same potting soil I purchased when I planted these two Green Mountain boxwood because they have done extremely well over the past couple of years.
This was the potting soil I purchased at a local nursery called Lost Mountain Nursery. It was expensive, way more than normal potting soil, but sooo much better! I can't argue with success, I love how the Green Mountain boxwoods have done.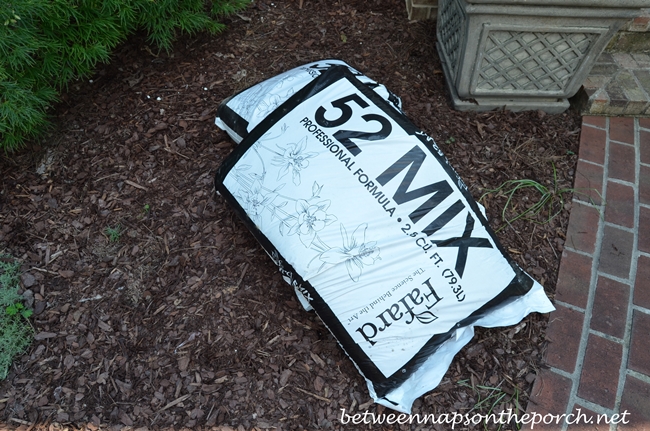 When I got out to Lost Mountain, they told me they still carry the Fafard potting mix but they recommended something else they called "Metro Mix" for the hydrangeas. (It says Sungro on the front of the bag and Metro Mix on the side.) They said the Metro Mix is what they mostly use and sell now because it dries out less quickly so they don't have to water as often. So I purchased 5 bags of this which turned out to be two bags too many, but I didn't want to run out mid-planting.
I'm going to use one of those bags I had left over to replant the two Knockout Roses I have here on the deck. I learned something new on my visit this time to Lost Mountain. In talking about Metro Mix and how it dries out less quickly, I mentioned the granules you can buy and mix into the soil that helps hold moisture in the soil…you know, the kind that swell up and hold onto water.
The folks at Lost Mountain said to never use those because if you go through a rainy spell like we had about a month ago, your plants will get water-logged and have too much water. I know they are right because I used those granules when I planted two Knockout Roses out here on the deck and they looked really bad during the time we were getting so much rain. They are just now starting to recover. So I'm going to dig them back out and use the Sungro/Metro Mix, instead. I don't plan to use those granules anymore.
Another little update, I just purchased this cute double-decker hummingbird feeder–have you seen these? I'm late getting my hummingbird feeder out this year, but maybe I'll have a few visitors. Since hummingbirds can be so territorial, I'm hoping the double feeder will make them happy when feeding. This feeder is available here: Hummingbird Feeder
Update: The little umbrella ant moat/ant guard that I'm using above the feeder can be found here: Ant Guard
There's a big box sitting in my kitchen right now. Any guesses on what's inside? 🙂
I shared this cute potting bench a few weeks ago. The more I looked at it, the more I wanted one for the spring potting I do on my deck. (It's available with free shipping here: Potting Bench)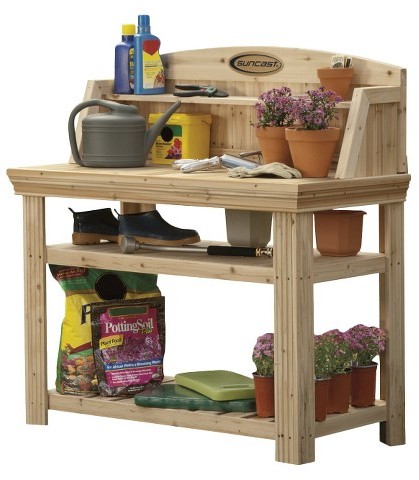 I built this potting table a couple of years ago and had planned to place it up on the deck, but I never got around to getting someone to help me move it up there. I was kind of reluctant to move it up to the deck anyway because I use it so much downstairs.
I've decided to keep it downstairs under the deck for potting up plants I use around the yard. You'll find the steps for building this potting table in this post: Build a Potting Table
This is the cutest potting bench that I've seen in this style and the price is excellent. I was reading the reviews and I saw a picture where someone had even added a sink to it.
I was thinking of painting it a festive color once I put it together, but I may just end up covering it with a marine varnish like I did the one I built. Would you paint it a fun color or just apply a clear sealer and let the cedar wood show through? Since it's made of cedar, it can also be left to age naturally.
You can read more about this potting bench here: Potting Bench. Be sure and check out the reviews to see the one with the added sink. Such a cool idea!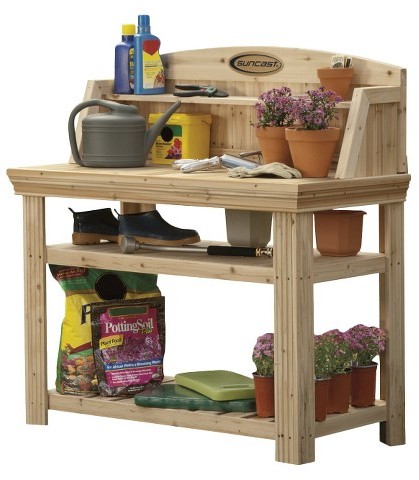 *If a post is sponsored or a product was provided at no charge, it will be stated in post. Some links may be affiliate links and as an Amazon Associate, I may earn from qualifying purchases. *