Welcome to the 221st Metamorphosis Monday!
Thanks so much for all the wonderful comments you left on Friday's post. I'm so grateful for all your well wishes and prayers…please know that. I'm way behind in responding to e-mails so if you e-mailed me in the last week or so and haven't heard back, I hope to get caught up on my e-mail correspondence over the next few days. Each day I'm getting stronger and I expect my energy level to be back up to normal real soon.
This weekend I did laundry, emptied the dishwasher and filled the bird feeder. I was shocked to find how much I enjoyed doing these simple, mundane tasks. After being so sick, even the little things I do every day suddenly seem special and more meaningful. Isn't that strange?
Metamorphosis Monday
I have an in-progress metamorphosis to share for this Met Monday, one that has been taking a ridiculous amount of time to complete. The porch has two screened doors, you can just barely see them in this pic below. One is on the far left and the other is on the far right in the photo below.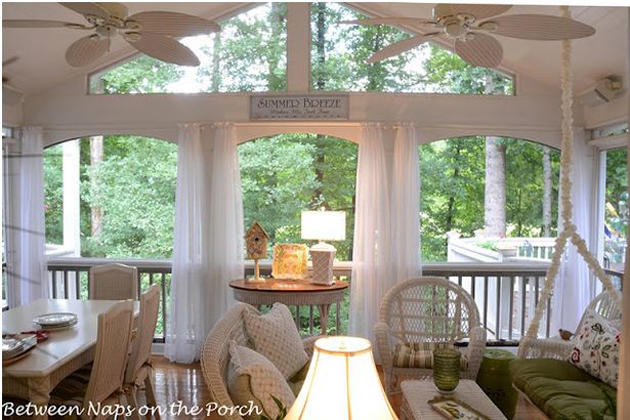 The porch was completed in Spring 2008 so the doors have been in place for five years. Unfortunately, when the porch was painted, the painter didn't prime and paint the underside/bottom of the doors. The builder installed them prior to the painting process so maybe my painter didn't think he could reach under there to paint them.
I had noticed the door on the left side seemed to occasionally stick along the bottom but it wasn't anything serious. A little bump with the foot opened it easily. It didn't dawn on me when it first started sticking what was actually happening.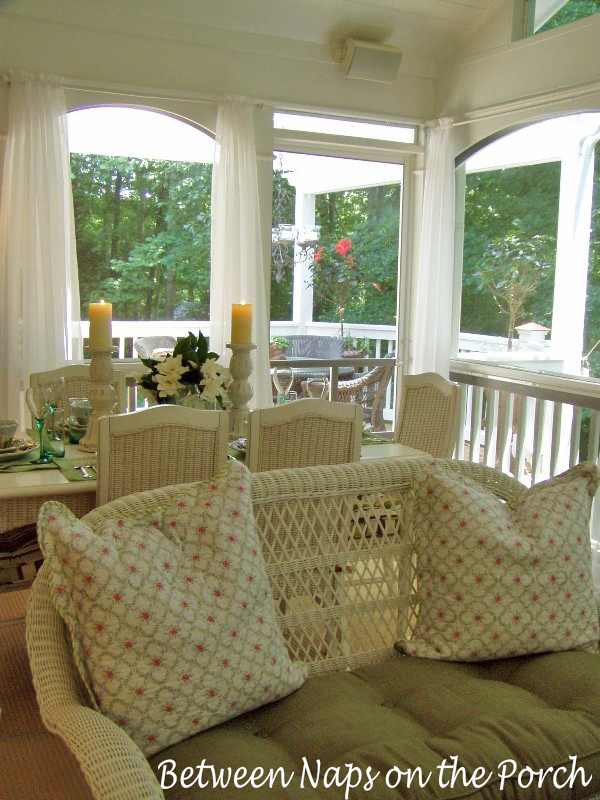 Then one day I noticed this. Ummm, not good. I'm not even sure when that happened. It probably got stuck one day and I bumped it with my foot to open it and it broke. This door gets a lot of water splashed on it because just above it off to the left is where the roof of the porch meets the rest of the house and even though there's a gutter there, if we get a torrential downpour, the water runs off faster than the gutter can handle it. In extremely heavy rains, it really pours onto the deck, splashing on to the door. Apparently that caused the bottom of the door to swell up, thus the sticking issue. I'm surprised it lasted 5 years before this happened since these wood screened doors are really light and inexpensive costing only around $40 each. If I have to only replace it every 5 years, I can handle that, but I have a plan that I hope will prevent this problem from happening again. More on that in a sec.
I've been working on replacing the door for months. Ridiculous, right? My door replacement plan totally got off on the wrong foot. A few months ago I went shopping for a new door and though I really didn't want a vinyl door, I purchased one hoping it would be a permanent solution. I found one in the exact same style as the old door and it was also very reasonably priced. But there were problems, multiple problems.
Once installed, the new vinyl door was so heavy it hung down creating a gap a the top where bugs can creep in. Also, the screening looked terrible on the door, raw edges sticking out everywhere. And the screen was torn at the top edge. 🙁 I looked the door over as well as I could before purchasing it and hauling it home. It was inside a big plastic bag so it was hard to see every detail. I'm hoping Home Depot will take it back since it has so many defects, not to mention it doesn't fit properly. Unfortunately, I can't recoup the money I paid to have it installed by a contractor who occasionally does work for me.
The vinyl door had even more problems. Not only did it sag down at the top leaving a big gap, it was actually a bit too short for the opening. Why they make wood screened doors slightly bigger than they make vinyl screened doors, I do not know. Notice the big gap at the bottom on the left. That's another big opening for bugs to come through. Ugh. The old wood door fit so much better than this.
So, off I went to Home Depot to buy another wood door like the one I had previously on this side. Unfortunately, they were not stocking that style anymore. It could be ordered but if I ordered it, instead of being around $40, it was something like $179 or $199. I've forgotten the exact amount now but it was A LOT more. So, I chose another style wood door that I think I actually like even better than the old one.
The contractor I used before to install my door is impossible to get. I usually have to call him a gazillion times and then wait weeks for him to come by since he's always working on really big jobs. He has to fit me into his schedule which always takes forever. His prices are very reasonable so normally I wait. But not this time. Porch season is upon us so time to get this never-ending door quest completed. I decided to let Home Depot install it this time.
A little side note: The inexpensive wood screened doors like this are available in both Lowes and Home Depot. Unfortunately, it's pretty common to find lots of major defects on them, like ripped screens, etc… If you read the reviews online for these doors, they aren't very good. So if you buy one, look it over very, very carefully. I recommend removing the plastic bag if it's covered so you can really see it.
Home Depot installs doors for right at $100. I've had them install French doors for me years ago for the room I'd love to turn into a library one day, and they did a great job. I let the installer pick the door up at the store this time instead of bringing it home in my SUV. That way if it was damaged, it would be his responsibility to return it and bring another one back out.
Fortunately, the door wasn't defective this time and it fits perfectly. The installer did a great job. Now I just need to prime and paint it. When I do, I'm going to prime and paint the underside of the door, too. There's plenty of room to run a paint brush up under the door when it's open…I already checked. So I'm hoping that will prevent the water damage this go around. At least that's the plan. 🙂
If you look closely on the porch, you'll notice the covers are off the swing chains. I took them off a few weeks ago to wash them. I do that about every two years. As soon as the pollen lets up a bit, I'll put them back on. The sheers got a good wash, too.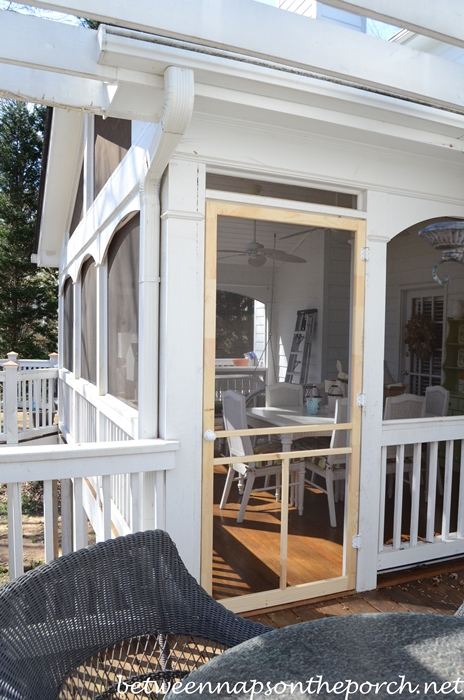 After the door was installed a few weeks ago, I covered it in plastic until I could find the time to paint it. I took this pic below before I tucked and taped the plastic all around it so I actually did a better job of covering than you are seeing here. Unfortunately, it was installed right around the time we started getting rainy day after rainy day here in Georgia. And then it turned freezing cold again. Crazy weather! Now that the weather has warmed up, I'm looking forward to getting out there and priming/painting it once my energy level picks back up..
Have you ever had a project that seemed straight-forward and simple but ended up taking way, way longer than you ever thought?
Metamorphosis Monday: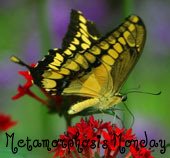 If you are participating in Metamorphosis Monday you will need to link up the "permalink" to your MM post and not your general blog address. To get your permalink, click on your post name, then just copy and paste the address that shows up in the address bar at the top of your blog, into the "url" box for InLinkz.
In order to link up, you'll need to include a link in your MM post back to the party so the other participants will have an opportunity to receive visits from your wonderful blog readers.
Please observe these few rules:
Only link up Before and After posts that are home, gardening, crafting, painting, sewing, cooking, DIY related.
Do not link up if you're doing so to promote a website or product.
Do not link up a post that was just linked last week since a lot of readers will have already seen that post.
Do not type in ALL CAPS. It spreads the links waaaay out.
Let's try something fun today! Please visit the person who linked before you and after you…that way everyone will get some visits.




Welcome! Thanks for coming to the party!
*If a post is sponsored or a product was provided at no charge, it will be stated in post. Some links may be affiliate links and as an Amazon Associate, I may earn from qualifying purchases. *