Welcome to the 228th Tablescape Thursday!
Every year I plan to create a New Year's Eve table setting to share here on BNOTP and every year, time gets away from me and I never seem to get one done. I've had an idea brewing in the back of mind forever. Even though I didn't have a New Year's party this year, I decided to go ahead and put a table together just for fun. Before I share my New Year's Eve tablescape…
…I should show you this. Long before I began blogging, I threw a little birthday dinner for a good friend. Fortunately, I took a picture of the decorations. Never knew I'd be sharing them on something called a blog one day. 😉 Back then the dining room was painted red above and below the chair rail, instead of just above it.
I had so much fun decorating for the party and went wild with streamers and birthday garland. You may remember seeing this photo (below) from a previous post published in January 2009 about adding picture molding to the dining room. If you missed that post, you'll find it here: Add Picture Molding to a Dining Room
I didn't string garland for this New Year's table, but did hang some streamers from the dining room chandelier. That's such an easy, quick way to add a little fun to your dinner party.
I didn't buy anything to create this New Year's table, just used "party stuff" I had stashed away in a closet upstairs. These pictures were all taken after dark since I wanted to make this a candlelight table. The streamers are a shiny metallic paper and are black, silver and gold in color.
I'm not sure if I've ever mentioned this before on BNOTP but I have a passion for antique clocks. The first antique anything I ever purchased was a clock and over the past 30 years I've added a few more to my home. I love hearing them chime so I placed one in each room on the main floor of my home.
For this New Year's table setting, I gathered together four clocks, pulling them from various rooms in the house. I clustered the clocks together in the center of the table, facing them outward. For an actual New Year's Eve table, I would not have all of them running. Can you imagine if they all began chiming at once! It would be fun to set them all to various times for the tablescape.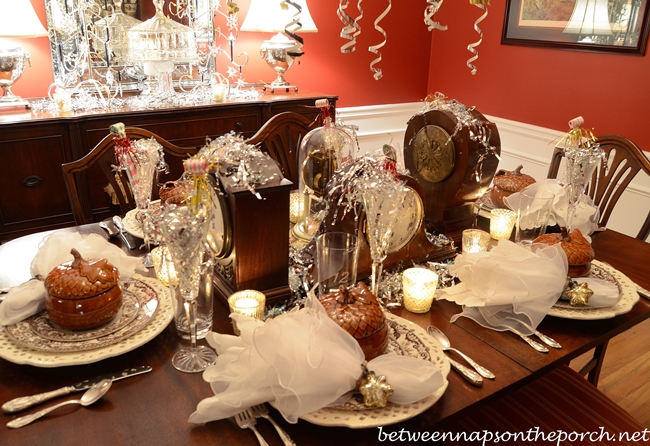 Initially, I thought my New Year's eve tablescape would be all glitz and glam, but once I placed the clocks on the table, the warmth of the wood led me to use my Spode, Woodland china.
Spode Woodland is my go-to china for fall and winter anyway. It just feels so cozy and perfect for this time of year.
I added a bit of glamour to this table with champagne flutes, shimmery napkin sheaths and mercury-glass napkin rings. Mercury-glass votives are sprinkled throughout this setting, too.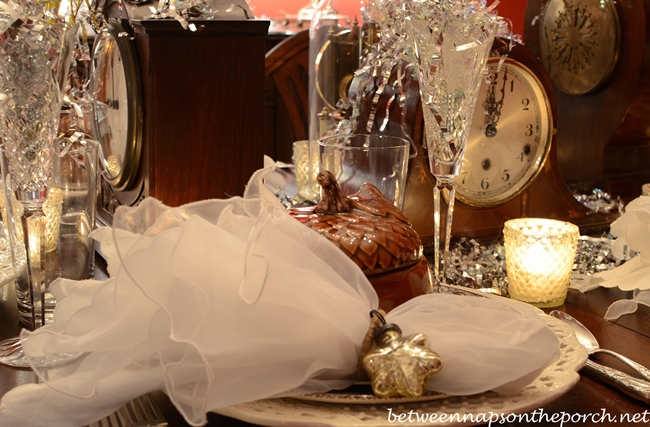 I decided to use my acorn tureens in this tablescape because I loved how they looked with the warm wood tones of the clocks.
Here's a picture from my Thanksgiving table setting this year showing the design of the Spode Woodland dishware.

In addition to champagne flutes, I used "numbered" glasses in this setting. You may remember when I used these in this previous tablescape: Halloween Table Setting with Spider Cupcakes. This one has the number 12 on it…hard to see in the photo.
I bought a dozen of these glasses from the Ballard Designs Outlet when they were marked down to just $1 each. I had a New Year's Eve table in mind when I bought them. This one has the number 9 spelled out, "nine." That votive is behind the glass but the glass is so clear, it almost looks like it's sitting inside of it, doesn't it?
This one is much easier to see. Some of the glasses have the number written as a numeral and others have the number spelled out like you see below.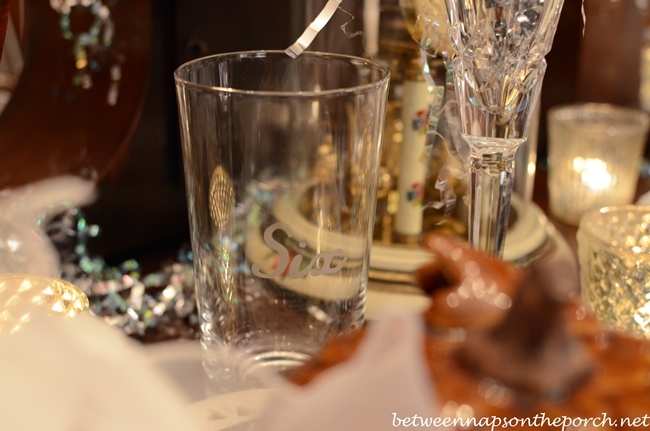 I filled the champagne flutes with silver confetti. Each glass also has a party horn, perfect for ringing in the new year and for annoying anyone who happens to be sitting next to you. 😉
I snagged this anniversary clock from my bedroom.
It was inherited from a grandmother and amazingly, it still works!
This is my very favorite clock…shhh, don't tell the others. It was the first antique/vintage thing I ever bought. I was just 23 or 24 years old and new absolutely nothing about clocks or antiques, but it stole my heart. I paid around $79 for it and that seemed like a small fortune back then. It has a Westminster chime so it sings to you four times per hour. It chimes at the quarter hour, half hour, three-quarter hour and at the top of the hour. Each time it plays a bit more of the Westminster chime, playing the full chime at the top of the hour. It has a wonderfully deep voice. If you heard it but couldn't see it, you would think it was a much larger clock.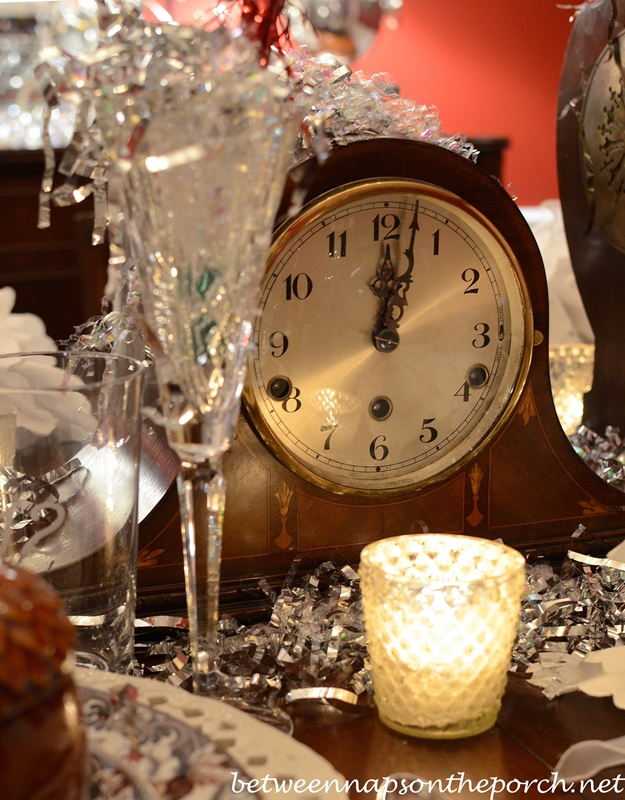 It almost met with disaster a few years ago when the mirror hanging above it in the family room leapt off the wall during the middle of the night. The mirror just barely grazed it on the way to the floor. Somehow the clock stayed on the mantel and only suffered a small scratch. The mirror was a mess and had to be repaired but I was so glad the clock didn't crash to the floor along with the mirror.
I placed this French balloon clock at one end of the table. It's a find from an antique store that used to be about 5 miles from my home. Unfortunately, the shop closed a few years ago. I miss it and the couple who used to own it. The gentleman could repair any clock…he was amazing.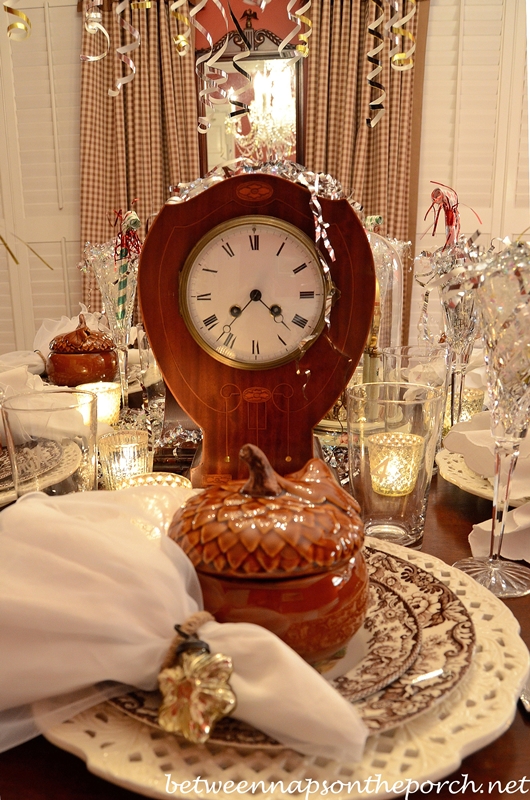 These clocks are called balloon clocks because they are shaped a bit like a hot air balloon. Don't you love that! This one normally lives on the sideboard here in the dining room, so it didn't have to travel far for this table setting. It chimes at the bottom and top of the hour. It has a beautiful chime…very sweet.
The other end of the table is decorated with this lovely Sessions clock that belonged to my mother and father-in-law. It also chimes at the top and bottom of the hour. It has a bold chime; you can hear it no matter where you are in the house. All of the clocks are 8-day clocks meaning they can go 8 days before they need to be wound. Actually, the balloon clock can last for several days longer. Sunday is usually clock winding day around here. It only takes about 5-10 minutes to wind them all and they reward you with music the whole week long.
The sideboard is decorated with Swarovski snowflake and star ornaments. I usually pull these out at Christmastime and leave them up for a few months since they are perfect for winter decorating. I started collecting these 21 years ago, one per year. Eventually the collection grew too large for one tree. If you collect these and you're looking for a way to display them, I found these inexpensive silverplate trees at Ross-Simon. I've always been afraid to hang the ornaments on a regular Christmastree. I worried I would I'd miss one and accidentally break it or throw it out, back when I had a live tree. The silverplate trees let me keep them out all winter. That's silver confetti underneath them. It didn't photograph well by candle and lamp light.
Happy New Year to you, dear friends. I'm so looking forward to traveling this next year with you!
Looking forward to all the tablescapes for this Tablescape Thursday!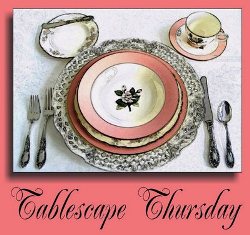 Please Read:
If you are participating in Tablescape Thursday, please be sure to add your permalink below, and not your general blog address. To get your permalink, click on your post name, then copy and paste the address that shows in the address bar, into the "url" box when you link up.
You'll need to include a link in your post back to the party in order to link up and participate. That's so visitors to your blog will be able to find the party and the other Tablescape Thursday participants.
If you would like to use the Tablescape Thursday logo button in your post, just copy and paste it to your computer and upload it to your post as you would any photo.
Please, don't add your post name/blog name ALL IN CAPS…it tends to create big spaces between the rows of links. Thanks!


*If a post is sponsored or a product was provided at no charge, it will be stated in post. Some links may be affiliate links and as an Amazon Associate, I may earn from qualifying purchases. *