Welcome to the 198th Tablescape Thursday! Hope your week is going great! It's 12:25 AM Thursday morn as I write this. I am a bit late finishing up my tablescape post for this week because I've been hanging with my blog friends at Haven. We all went out to dinner this evening after the kick off of the Haven Conference and I just got home around 11:30.
So, that means the pictures I'm sharing this week are straight out of the camera with no editing, sharpening, lightening or anything. No time for that this evening…have to get to bed since Haven starts early in the morn.
This 4th of July table setting incorporates many elements I've use in past Independence Day tablescapes. As we move through the post I'll link to some of those past settings in case you wish to see the pieces I used this week used in different ways/different settings.
There's a funny story about the chargers, which are a recent find…more on those in a sec. Hope you enjoy this patriotic tablescape out on the porch!
I love sunflowers but there wasn't time this week to pick up fresh ones from the market. So I snagged this arrangement from the upstairs family room.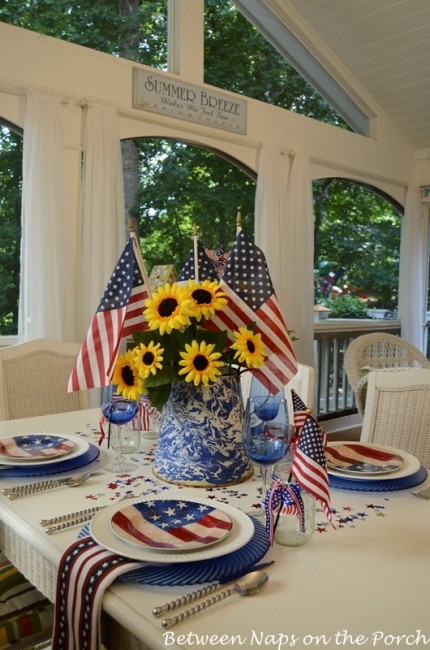 Salad plates go with a separate set of china used in this previous Independence Day table setting. It is by far my favorite china for a patriotic holiday dinner/party. (Click on the above link and check out that other tablescape to see a table setting with the full set. I love how the salad plates meshes perfectly with the dinner plate in that previous setting.)
Funny story about the chargers. I was shopping in my local Marshalls about three months ago and came across three beautiful, blue, glass plates. They were on sale for $1.99 each and I could see they were large enough to make great chargers in a future table setting. There was just one problem…there were only three. I bought them hoping to stumble across at least one more in another Marshalls later on.
Weeks went by and despite stopping into several other Marshalls while out running errands, I was never able to find a fourth charger. Very reluctantly, I returned the three I had purchased. It was so hard to return them and the sales associate who rang up the refund didn't make things any better because she kept ooohing and ahhhing over them the whole time she was ringing up the return.
Around 4 weeks later, while out of town, I came across another Marshalls. I stopped in to look for a new planter/pot for the screened-in porch. The blue chargers were not on my shopping radar this day, but there it was…one, lone blue charger. I thought, what the hay…I'll buy it and when I get back home, I'll stop by my Marshalls and see if by some miracle the other three chargers are still there. The worse thing that could happen is they would be long gone and I'd just return the one lone charger.
Well, I guess by now you've figured out what happened. I got lucky, they were still there waiting for me. So three of the chargers in this table setting were purchased twice!
Think I can find two more or is that just flat pushing my luck? If I had six, you would be looking at 6 place settings today. 🙂
Wine glasses are from Dollar Tree, last summer I believe. I just realized I have the wine glass in the wrong place for this one place setting. Ooops. I think I moved it over to take a pic and apparently didn't put it back in the right spot. Oh well, y'all know where the wine glass goes, right? When you're using Mason jars as tea glasses, I'm not real sure there are any hard and fast rules about where the wine glass lands. 😉 The fancy tea glasses were last used in THIS 4th of July celebration only then they had pinwheels attached with ribbon instead of flags.
Happy Tablescape Thursday, sweet friends!
I'll be checking in to see how you're doing in between classes at Haven today. Looking forward to all the beautiful tablescapes for this Tablescape Thursday!
Looking for more ideas for your 4th of July celebrations? Click on the "Tablescapes" category header at the top of this blog and check out the Independence Day category…or click on "Holiday Home" category at the top of the blog, then click on "Independence Day."
Receive BNOTP updates right in your Inbox:
To receive the latest posts, as well as updates about upcoming blog parties, subscribe To BNOTP here: Subscribe.


Please Read:
If you are participating in Tablescape Thursday, please be sure to add your permalink below, and not your general blog address. To get your permalink, click on your post name, then just copy and paste the address that shows up in the address bar, into the "url" box when you link up.
You'll need to include a link in your post back to the party in order to link up and participate. That's so visitors to your blog will be able to find the party and the other Tablescape Thursday participants.
If you would like to use the Tablescape Thursday logo button in your post, just copy and paste it to your computer and upload it to your post as you would any photo.
Please, don't add your post name/blog name ALL IN CAPS…it tends to create big spaces between the rows of links. Thanks!
Let's try something fun today! Please visit the person who linked before you and after you…that way everyone will get some visits. Hope you'll visit more, of course.


*If a post is sponsored or a product was provided at no charge, it will be stated in post. Some links may be affiliate links and as an Amazon Associate, I may earn from qualifying purchases. *