Welcome to the 215th Metamorphosis Monday!
For this Met Monday, I had planned to post a tutorial for the fun napkin fold I used in last week's St. Patrick's Day table setting. I know several folks asked for that and I promise that will go out in my very next post, which should be tomorrow. For this Met Monday, I have a little change out on the porch to share, one I've been needing to make for a long time.
When I first added on the porch five years ago, the three lamps I placed on the porch were supposed to be temporary. Two were just lamps I had stored away in closets and one was a small lamp I found while antiquing. The lamps functioned okay but they really were not great choices for a porch. One was too small, one was too dressy and one was bronze and just too dark.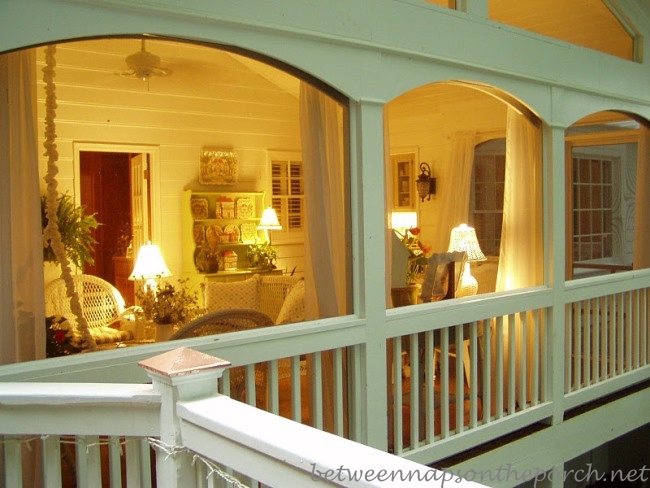 I've been keeping my eye out for something better and you may remember, I finally found a replacement for one of the lamps last July. Last summer I replaced the too-small wicker lamp on this table with a larger one. It's a good size for the table and the design is a nice fit for the porch since the porch has lots of white wicker furniture. The criss-cross design of the lamp is reminiscent of wicker.
The lamp I've most wanted to replace though, is the lamp over on the hutch.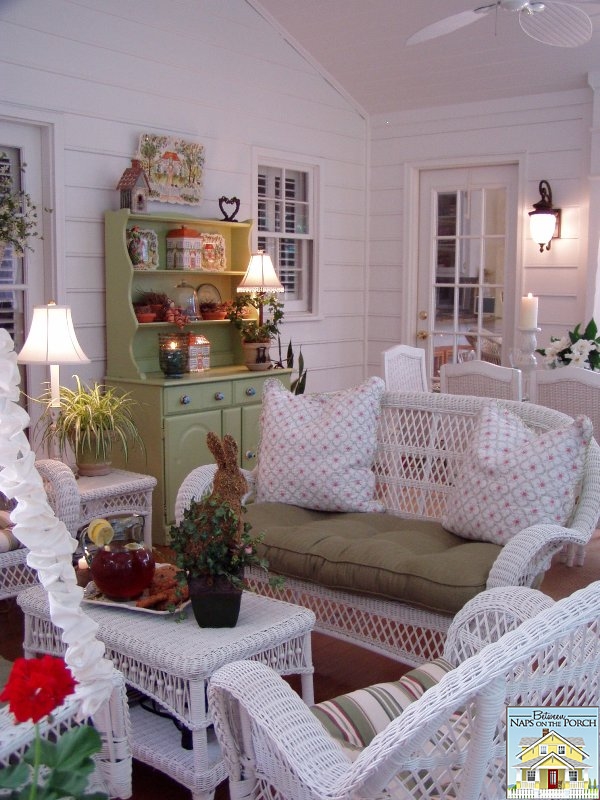 Its antique bronze finish was not a great look for a summer porch. I've been looking for an affordable lamp but the few times I've come across one that would almost work, the shade was usually a drum shade and much too big to fit comfortably on the hutch. Have you noticed how so many lamps available these days in the stores have dark colored or burlap shades now? I love how they look but unfortunately, they don't offer much light into a room. I much prefer lamps with white shades since light is important for evenings on the porch.
So, basically I've been looking for a needle in a haystack. The lamp needed to be the right style, right height, right width and have a white, fabric shade. I do this to myself all the time, get an idea or picture in my head and nothing else will do. Do you do that? Kind of frustrating isn't it?
I finally stumbled across a lamp this weekend that I think works!
Found this cute cottage-style lamp in HomeGoods on Saturday. At last, a lamp that meets my long list of criteria..miracles do happen. 😉 Took a pic with it turned off…
And here's how it looks lit up. It's a great style/design for a porch and the height and shape work well for the hutch. The shade is a rectangle-shape so it isn't too big around to fit on the hutch. It even has a white fabric shade which lets lots of beautiful light shine through.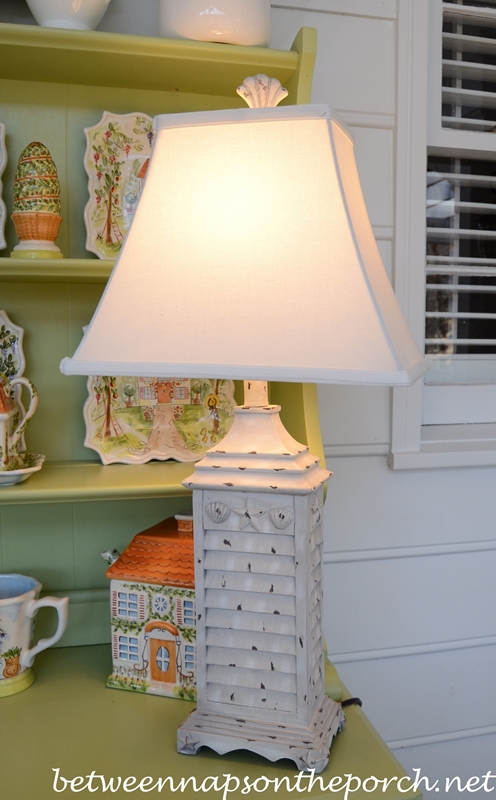 I love its shutter/louver design and whimsical shell motif! It's a nice fit for a summer porch filled with white wicker furniture.
A shell-shaped finial adds the finishing touch. This lamp should look great with the shell wreath I used last summer on the door just to the left of the hutch. You may remember seeing the wreath in this post last summer: A Shell Wreath for the Porch
Amazingly, it was just $34.99. Yay, HomeGoods! I am so ready for summer. Though it was just 42 degrees out on the porch, I pulled out my favorite porch dishes, gave the hutch a good wipe down and decorated it for spring. The rest of the porch is pretty dusty but at least the hutch is ready to go. Pssst: If you're new to reading BNOTP, you'll find a post showing the hutch makeover here: Painting Furniture: A China Hutch Transformation
I'm so looking forward to the Before and Afters linked for this Metamorphosis Monday!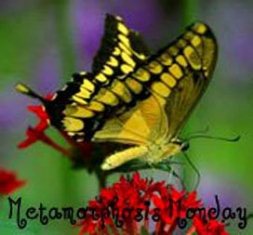 Metamorphosis Monday:
If you are participating in Metamorphosis Monday you will need to link up the "permalink" to your MM post and not your general blog address. To get your permalink, click on your post name, then just copy and paste the address that shows up in the address bar at the top of your blog, into the "url" box for InLinkz.
In order to link up, you'll need to include a link in your MM post back to the party so the other participants will have an opportunity to receive visits from your wonderful blog readers.
Please observe these few rules:
Only link up Before and After posts that are home, gardening, crafting, painting, sewing, cooking, DIY related.
Do not link up if you're doing so to promote a website or product.
Do not link up a post that was just linked last week since a lot of readers will have already seen that post.
Do not type in ALL CAPS. It spreads the links waaaay out.
*If a post is sponsored or a product was provided at no charge, it will be stated in post. Some links may be affiliate links and as an Amazon Associate, I may earn from qualifying purchases. *