Lately I feel a bit like the rabbit in Alice in Wonderland. I picture myself running around the house shouting, "I'm late, I'm late…for a very important date." I've sort of gotten the cart before the horse this Christmas season. I have all my gifts wrapped but one, yet I still haven't decorated around my front door. lol Now what's wrong with that picture!
I went shopping for fresh greenery late last night and found most stores were already out. I wasn't able to find a large wreath, either, only tiny ones. So, as soon as this post hits the bloggyland airwaves, I'm out the door in search of some pretty garland again today. Wish me luck!
In the meantime, I wanted to share something I decided to try this year. Normally I wrap all my Christmas gifts in lots of shiny, colorful wrapping paper with big, sparkly bows I create for each package. This is an old picture taken back in in 2009 when I posted a tour of my home decorated for Christmas in this post: Decorating for a Traditional Christmas.
This year, I wasn't sure if I was going to put up a tree in the family room. I was toying with the idea of just putting up one in the kitchen. So I thought I'd wrap my gifts in a more "casual" way since the kitchen tree is a more casual tree.
It turns out I'll be having a little Christmas get-together with friends here this year, so I nixed the idea of not having a living room tree. So all those casually wrapped gifts ended up under the living room tree after all. It's a very different look, for sure.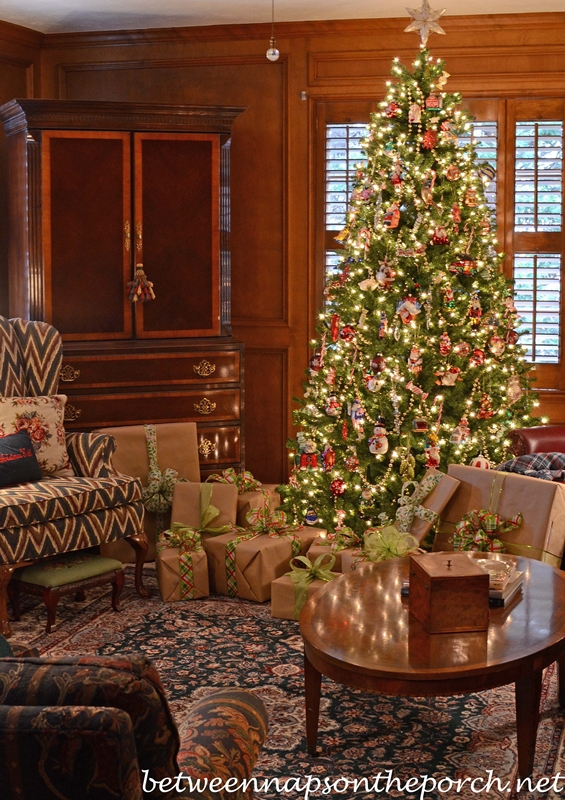 My plan this year was to wrap everything in kraft paper and decorate the packages with pretty plaid ribbons. I wasn't able to find the tartan ribbon I envisioned, but I found something else I liked just as well.
I stopped by the dollar store and found this wonderfully bright "lime" green and red plaid ribbon. It was perfect for what I had hoped to try this year with my casually wrapped gifts. I bought the kraft paper at Walmart and it was around $4-5 for a huge 30 ft. by 2 1/2 ft. roll.
It can be hard to break away from the way you've always done things, especially when you loved the "old way." But this year I was just ready to try something different. Next year, I'm sure I'll be ready for something else.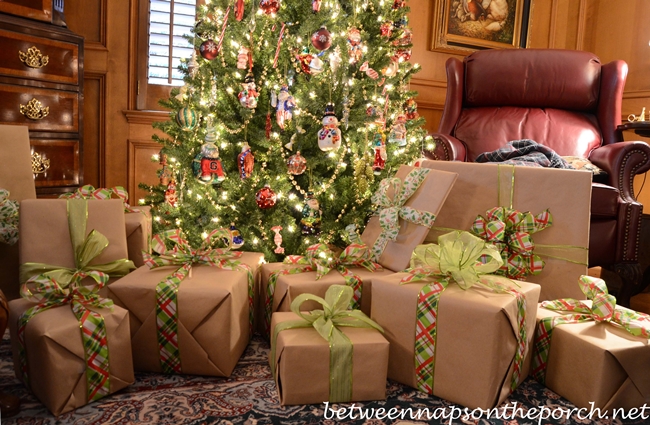 I had fun picking out different ribbon styles. I mixed and matched ribbons from the dollar store in various patterns and colors.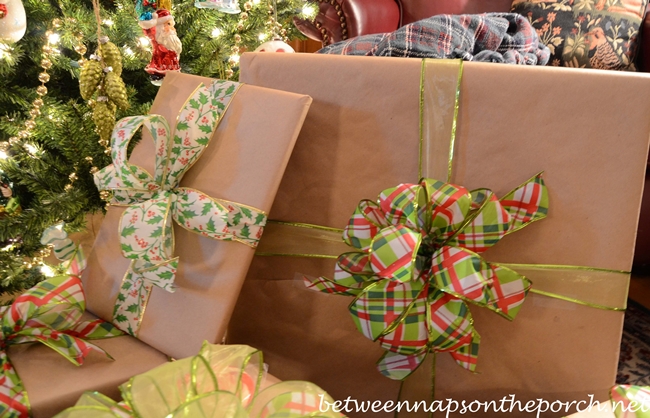 I always like to add some extra goodies to a few of the gifts…a little something extra for those you love.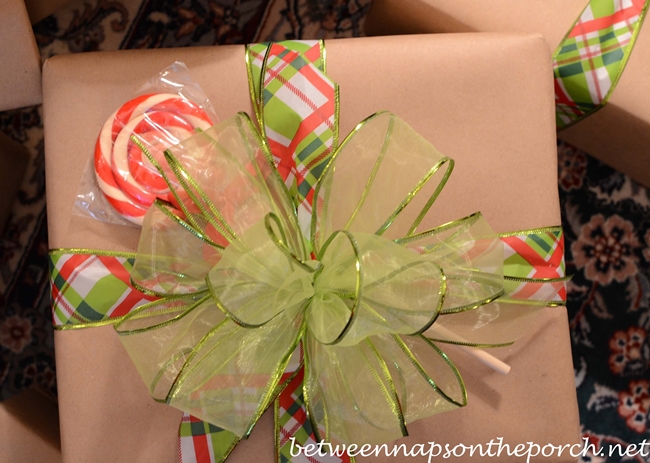 Here's a fun easy tutorial for making these cute mice present toppers: Christmas Mice Ornaments or Present Toppers
A lollipop in the shape of a Christmas tree will put a smile on someone's face this year. I found the pretty lollipops in Cracker Barrel.
Now, I should probably save this next part for a whole separate post but I'm so excited about it I couldn't wait to share it with you. At night I'm usually running around turning on all the lights/trees. There's the tree on the screened-in porch, the tree in the living room and the tree in the kitchen. There's also the garland out on the front porch columns. This year I came across this little gem while shopping on Amazon. It's a Remote Control Outlet Switch Socket – 5 Pack
and I found them on Amazon.
It comes with one remote and 5 outlets. Are you thinking what I'm thinking? 🙂
So, here's the amazing part: I can stand in my living room or really anywhere downstairs, and when I press the buttons on the remote control, allllll the lights will come on everywhere! The living room tree lights up and the kitchen tree glows.
The tree on the screened-in porch lights up. (Excuse how it looks…I haven't fluffed the branches or put its star on top, yet. It's on my to-do list.)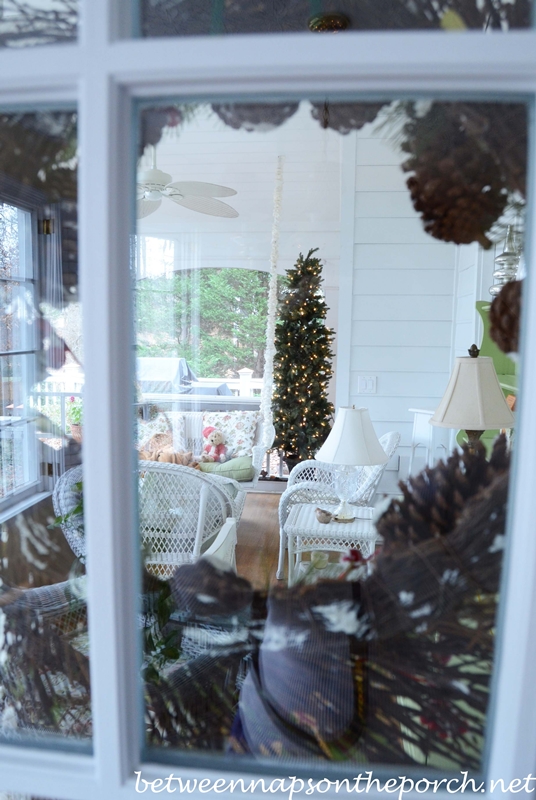 Even the garland on the columns on the front porch comes to life. I don't even have to take a step toward those areas because the remote works through walls! No more running around at night, turning on all the lights. I just pick up the remote from the secretary where it lives in the living room, press a few buttons and everything, everywhere lights up! Is that cool or what? 🙂
I know I could put all these areas on timers but I don't want them to come on when I'm not home to enjoy seeing it. (Front Porch post below can be viewed here: Front Porch Decorated for Christmas)
I haven't decided how I'm going to use the 5th button yet. I may use it for the feather tree upstairs in the bonus room. Wonder if the remote will work all the way to the upstairs part of the house? Ummmm, will have to give that a shot and see.
Mr. "de-glittered reindeer" has made his way from the porch tablescape to the upstairs family room where he proudly stands guarding the feather tree.
He needs a little sprig of holly at this base, doesn't he?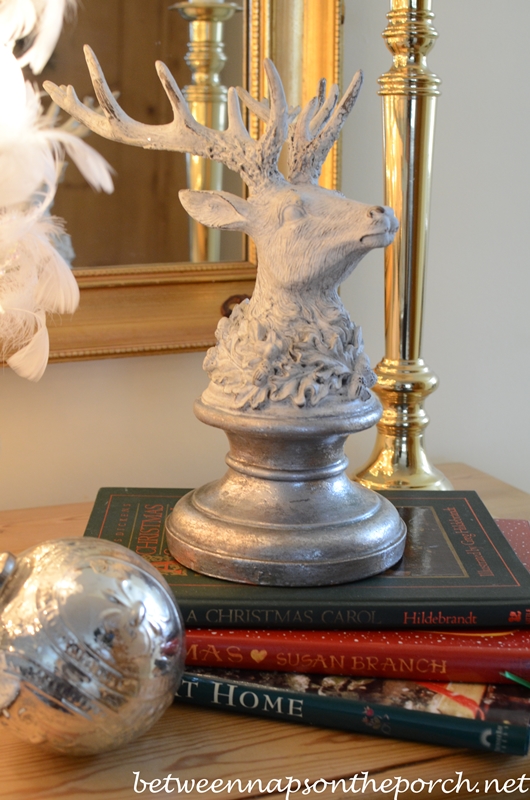 Okay, I'm off…back on the garland search. Wish me luck!
Merry Christmas and Happy Holidays, dear friend!
*If a post is sponsored or a product was provided at no charge, it will be stated in post. Some links may be affiliate links and as an Amazon Associate, I may earn from qualifying purchases. *