Welcome to the 322nd Metamorphosis Monday!
How was your weekend? Was it nice enough to get out a bit and enjoy some spring weather?
I spent part of the weekend viewing chickens, goats, bunnies and pigs (more on that soon) and part of the weekend experimenting with an idea for the puzzle board I ordered recently. You may remember it was supposed to look like this with a pretty green background on which to work puzzles.
But when it arrived, it actually looked like this with a black background. I liked the green better but apparently the manufacturer changed it to black. This tilt board is available here: Puzzle Board.
On Saturday, I stopped by a local fabric store and picked up some green felt. They had felt in a lot of different colors. I considered using a pretty cream-colored felt since that was mentioned in the comments as being a great background and easy on the eyes when completing puzzles online. But when I looked at the cream-colored felt, I noticed it was kind of see-through, I could see my fingers through it since it was so light in color. I was concerned the black felt would be visible through the cream color, so I decided I'd better stay with green.
I chose this color shown below called "Kelly green." By the way, the picture below is an accurate depiction of the color. It will look a fair amount darker in other photos in this post, but in person it looks like the color shown below. I used a coupon on my phone which gave me 50% off, so the cost for the felt was just $2.64 including tax. I ended up with enough green felt left over to recover it again if needed at some point.
To cover the board, I measured it as carefully as possible, then marked off the measurements on the felt. When I placed the felt atop the board, it was still too big as you can see below. Felt is a kind of stretchy so I think that's why it ended up a little too large.
Using a white colored pencil, I marked the edges again by running the point of the pencil along the inside edge of the puzzle board where you see the crease below. Once again, I cut the felt to fit.
To see how it would look in place, I used glue dots I already had and attached the felt around the edges of the puzzle board.
Here's how it looked with the fabric in place using glue dots. (This picture isn't the most accurate of the color, the close-up photo above is a better depiction of the color.)
I placed the cover that comes with the puzzle board on top to see if it would still fit with a puzzle inside and the extra layer of felt in place, and it did! It was a bit tighter fit, but it worked! That had been one of my biggest concerns about adding a different color/layer of felt to the board so I was glad to see that there was enough space. I wouldn't want to give up the ability to use the cover since it allows one to store a puzzle away with it partially finished.
I noticed the weight of the puzzle was pulling downward a little on the felt when the board was in the back-saving, slanted position, and that was after having the puzzle on top for just a few minutes. So, I don't think using glue dots to hold it in place is a good permanent solution. Also, the felt fabric was puckering a little around the edges where it was attached with the glue dots. So, if I do go through with recovering it, I need to look into a more permanent way of attaching the green felt to the black felt underneath.
I did a bit of research online and this spray adhesive was getting great reviews on Amazon. It's available here: General Purpose Spray Adhesive.  The info on this adhesive says that it will not bleed through. I'll definitely test the adhesive on a piece of scrap felt first to confirm that before I use it, if I do decide to use it. So, that's the progress so far.
Update: I decided to leave the board as it is because I found I've gotten used to the black background. So it's working fine just as it is.
Metamorphosis Monday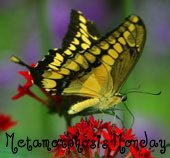 If you are participating in Metamorphosis Monday, you will need to link up the "permalink" to your MM post and not your general blog address. To get your permalink, click on your post name, then just copy and paste the address that shows up in the address bar at the top of your blog, into the "url" box for InLinkz.
In order to link up, you'll need to include a link in your MM post back to the party so the other participants will have an opportunity to receive visits from your wonderful blog readers.
Please observe these few rules:
Only link up Before and After posts that are home, gardening, crafting, painting, sewing, cooking, DIY related.
Do not link up if you're doing so to promote a website or product.
Do not link up a post that was just linked last week since a lot of readers will have already seen that post.
Please do not link up more than 2 or 3 Before and Afters each week. Thanks!