I'm beginning to think that England has a monopoly on all the fairytale cottages. lol Okay, maybe not a monopoly but they definitely have a some of the most magical, storybook homes to be found anywhere!
One such cottage is Faerie Door Cottage, located in the village of West Overton in the English county of Wiltshire. Is this not about the cutest cottage ever? The stone exterior and thatched roof immediately say storybook. As if that's not enough, Faerie Door Cottage is surrounded by a beautiful wooded landscape and what looks like a castle in the background.
Actually, the tower in the background belongs to the Church of St. Michael and All Angels. Oh, how I would love to visit this area and see all these beautiful places in person!
The inside of Faerie Door Cottage is just as enchanting as the exterior. Let's go inside and take the tour.
The interior is light and bright. There's a wood-burning stove in the living room to keep things cozy and warm on chilly evenings. That velvet chair looks so sumptuous, doesn't it?
This adorable cottage is available to rent and when I saw this corner, I thought it would be the perfect spot for writing postcards to friends and loved ones back home.
"Dear ____, I'm writing to you whilst sitting inside a fairytale cottage. Today, on a visit to a nearby castle, we came across a troll hiding under a bridge. Fortunately, we escaped unnoticed since he was napping at the time. More adventures to follow!"
A sweet window seat provides a sunny spot for enjoying beautiful views of the meadows and countryside surrounding this storybook home.
The beamed ceiling in the kitchen adds to the storybook feel of this adorable cottage.

It feels as if a hobbit will poke his head through the door at any moment. What do you think that tallish thing is over on the left?
See the winding staircase on the right? The cottage has two of those and they take you upstairs to the bedroom areas of the cottage. Let's go upstairs and check them out!
I think this may be the Master Bedroom with its own cozy fireplace.
There's room for two in the other bedroom. Don't you love all the wood/beam accents! They really add to the fairytale feel of the cottage.
A bathroom is located between the two bedrooms.
Stepping through that tiny little door into the bathroom would feel otherworldly and magical. It would be easy to imagine you're inside a faerie house that's been carved out inside of a tree.
There's a spot for soaking tired feet after narrowly escaping sleeping trolls. 😉
Faerie Door Cottage has a lovely garden, perfect for dining and enjoying the views.
Or, spread a blanket for a picnic on the grounds.
You can see more of this storybook home where these pictures were found: Faerie Door Cottage
Love a storybook home? Tour the home of Victoria and Richard MacKenzie-Childs, the makers of the whimsical black and white check dishware known as "Courtly Check." Take the tour here: MacKenzie-Childs Estate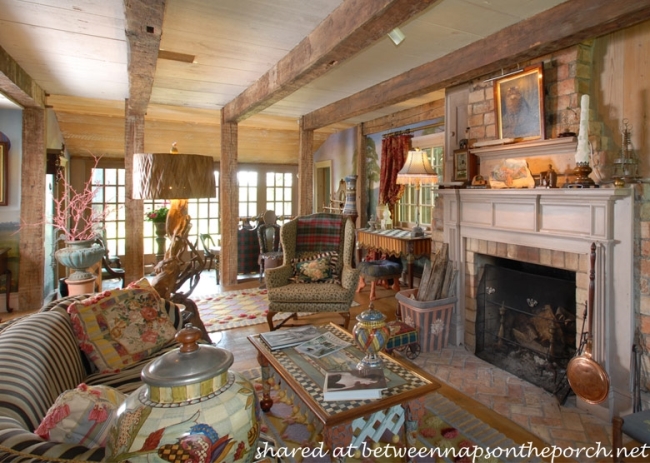 *If a post is sponsored or a product was provided at no charge, it will be stated in post. Some links may be affiliate links. *