Welcome to the 399th Metamorphosis Monday!
If you follow Between Naps on the Porch on Instagram, HERE or have subscribed to Postcards from the Porch, the free BNOTP newsletter, you'll have seen this photo shared from a recent visit to the Atlanta Botanical Garden. Currently they have a delightful Chihuly exhibit in place all throughout the garden and it's beautiful. Every corner you round reveals a wonderful, enchanting surprise. I will share more of the beautiful sights we saw in the garden during out visit real soon.
I think the exhibit will be in the garden until the end of October. If you live within driving distance of the garden, I truly feel it's worth a visit. The garden is still lush and green (still in the 80's here each day) and quite a few plants are still in bloom with others getting ready to bloom. So this is a great time of the year to visit. Just be sure to call or check the Atlanta Botanical Garden website to make sure the Chihuly exhibit is still there before you make the trip, if that's the main purpose for your visit. I'm pretty sure it's here until October 30th, but best to double-check that before you make the drive.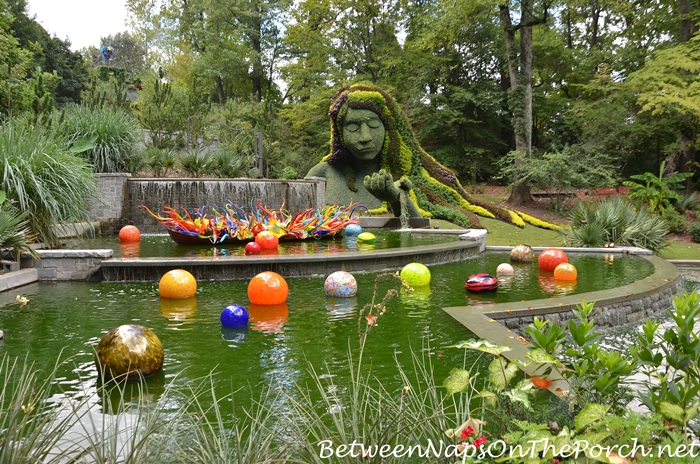 After our visit to the garden, we were super hungry and ready to find a good spot for dinner. As we were leaving the garden, we got a glimpse of an interesting looking restaurant. It was set way down below the road we were on and feeling adventuresome, we decided to see if we could find it.
We did eventually find it, but we ended up eating in another restaurant that looked even more interesting called, Loca Luna. It was a nice day and not overly hot, so we decided to sit outside under the lights. I bet this is so pretty come nighttime.
Across on the wall I spotted this and got up to walk over for a closer look.
What a cool way to recycle/upcycle old tires! Paint them and turn them into planters! Pretty cool metamorphosis! I wonder what tire companies do with old tires, do they get melted down to make new tires? I hope they don't all end up in a landfill. I've sometimes seen them used to line walkways, a look I don't especially like. This I like, though!
Limelight Hydrangea Update
Recently someone asked about the other Limelight Hydrangea that wasn't blooming at the time I landscaped the front of my house. You can see that Limelight (purchased last year) on the right side of the house and the one I purchased this year over on the left. The newly purchased hydrangea on the left began blooming pretty early in the summer; it was on a different time/light schedule than the hydrangea on the right.
The one on the right did bloom and it has been blooming up a storm all summer long. Some of the flowers are just starting to turn brown now, but it has been gorgeous all summer.
This was the photo I shared with you earlier in the summer of the newly purchased Limelight Hydrangea on the left. It was gorgeous!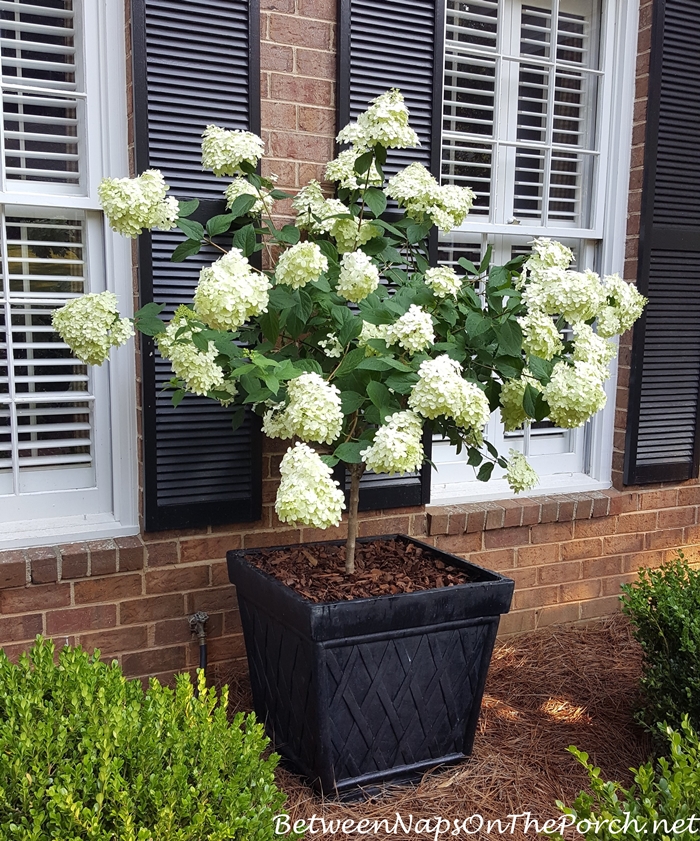 Here's how it looks right now. The white blossoms have lasted forever and have turned a beautiful shade of green.
Surprisingly, even though the official start of fall is just a few days away, it is STILL creating new blossoms! Do you see the two new white blossoms in the photo below? I am so in love with this plant. It has bloomed almost all summer and here on the cusp of autumn, it's still giving me new flowers to enjoy.
And look, here's the start of a brand new flower! Do you see it there on the left in the picture below? Love, love, love this hydrangea!
I'll have to Google and read up on the proper time to trim off the old blooms. I know hydrangeas create their blooms each year on new growth or at least that's what the nursery where I purchased the standard hydrangeas on my deck told me when I bought those. So, I'll Google again to see when I should trim them back some. Ugh, I always hating cutting/trimming anything back, always afraid I'll do it wrong. Appreciate any helpful tips on trimming them back!
Looking forward to all the fabulous Before and Afters for this Met Monday!
Metamorphosis Monday
Metamorphosis Monday is a party that's all about Before and Afters. If you are participating in Met Monday, please link up using the "permalink" to your MM post and not your general blog address.
To get your permalink, click on your post name, then just copy and paste the address that shows up in the address bar at the top of your blog, into the "url" box for InLinkz.
In order to link up, you'll need to include a link in your MM post back to the party so the other participants will have an opportunity to receive visits from your wonderful blog readers.
Please observe these few rules:
Only link up Before and After posts that are home, gardening, crafting, painting, sewing, cooking or DIY related.
Do not link up to the party if you're doing so to promote a website or sell a product.
Do not link up a post that was just linked up last week since readers would have already seen that post.
*If a post is sponsored or a product was provided at no charge, it will be stated in post. Some links may be affiliate links and as an Amazon Associate, I may earn from qualifying purchases. *