Welcome to the 295th Metamorphosis Monday!
When Lori and Bob built their home in 1993, they added a nice, large 14 x 24 foot deck on the back. After moving in they found they never really used the deck because the back of their home faces west and the deck always stayed way too hot to really enjoy.
I had the same problem with the deck on my home being way too hot, even though the back of my home faces south. That west sun is brutal and it's amazing how hot deck flooring can get in the blazing sun.
Six years later Bob and Lori added a pool to their backyard. Lori said, "In 1999, we added our pool and quickly realized how bad the wood of the deck had gotten. No one could walk barefoot on it for fear of getting a sliver or two."
"One day when my husband and I were talking about having the deck replaced, he suggested maybe we could add a roof so we could get some relief from the sun. I quickly suggested if we add a roof, we might as well add screens to keep the bugs away."
Lori said, "I knew I wanted something light and airy. I spent months searching the internet before I found a picture of a screened porch that caught my eye.
We managed to find our contractor through some friends. He had never built a porch like my picture, but was up for a challenge. He spent countless hours with us over the winter months discussing and planning our porch. Our criteria was simple: low-maintenance and a doggie door. We didn't want to have to walk outside in a New England winter to let the dog out."
About the construction Lori said, "In the summer of 2002, we had our 19' x 20' porch built. Our roofline and windows pretty much determined the width and height.
All the posts are covered in aluminum, the railing and ceiling are vinyl, the flooring is non-slip Trek-like tongue and groove, and we got a doggie door. Our contractor even trained our dog!"
Regarding details about her porch, Lori said, "There are 2 ceiling fans with lights, 2 side lights on either side of the slider, 2 electrical outlets, and cable & telephone outlets, which we've never used.
We never thought to wire for speakers, but it hasn't been an issue. We have a portable Sirius radio that we move from the pool area to the porch and we also have a small Bose speaker that we use with an iPod/iPhone.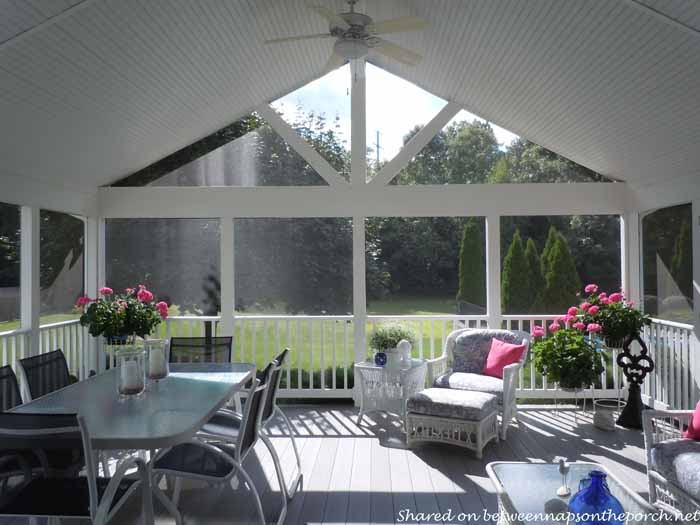 Lori's backyard is so beautiful, what a wonderful spot to sit and enjoy the view! After the thrill I experienced recently listening to the owls in my backyard, I asked Lori if they ever hang out on their porch at night.
She said, "Yes, we spend a lot of time on the porch between reading, relaxing and eating! Thanks to your blog, this summer I started setting the table much nicer than usual. I bought hot pink placemats and white dishes. Every weekend you could hear our two girl's saying , "Oh no, Mom is trying to do a tablescape again!"
Love that story! When Lori's daughters are all grown up, they'll never forget how their Mom made every day feel special.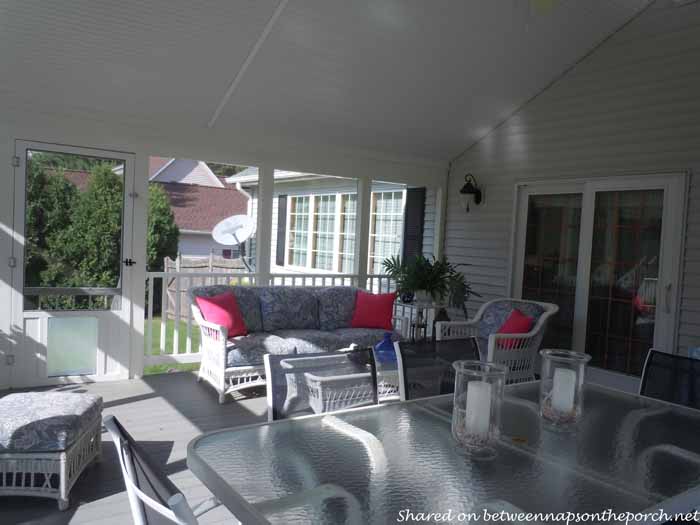 Could you just not spend the whole day right here?!
Lori gets some serious snow during the winter where she lives; the porch weathers it well. The view is even beautiful during the winter!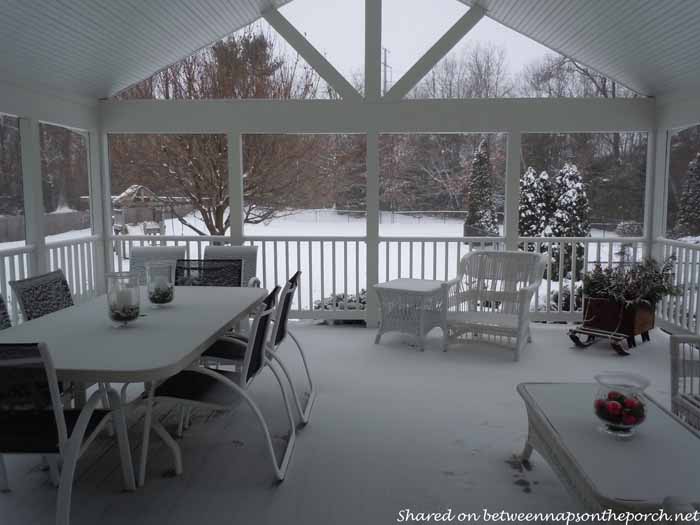 Someone else enjoys the soft, cool snow. 🙂 When spring rolls around and the snow melts…
…this view returns for the summer. Yep, this would work! 🙂
There just something so calming and peaceful about a screened porch. A wonderful way to enjoy the summer breezes and great views without the bugs.
Thanks to Lori and Bob for sharing these photos with me so I could share them with you…a great deck-to-porch transformation!
If you have a great Before and After, send me a few large, clear pics at [email protected] and if I'm able I'll share your project here on the blog.
Looking forward to seeing what you've been working on!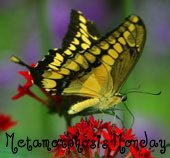 If you are participating in Metamorphosis Monday, you will need to link up the "permalink" to your MM post and not your general blog address. To get your permalink, click on your post name, then just copy and paste the address that shows up in the address bar at the top of your blog, into the "url" box for InLinkz.
In order to link up, you'll need to include a link in your MM post back to the party so the other participants will have an opportunity to receive visits from your wonderful blog readers.
Please observe these few rules:
Only link up Before and After posts that are home, gardening, crafting, painting, sewing, cooking, DIY related.
Do not link up if you're doing so to promote a website or product.
Do not link up a post that was just linked last week since a lot of readers will have already seen that post.


*If a post is sponsored or a product was provided at no charge, it will be stated in post. Some links may be affiliate links and as an Amazon Associate, I may earn from qualifying purchases. *