Welcome to the 306th Metamorphosis Monday!
How was your weekend? Go on any Christmas home tours? Did you do a little Christmas decorating? I finished decorating the front porch and I'm looking forward to sharing that soon.
This weekend I attended the Marietta Pilgrimage and though pictures weren't allowed inside the homes, I have a few to share of some of the outside spaces that were transformed for Christmas. I also have a couple of pictures from inside one home…more on that in a sec.
Remember recently when I shared pictures of a cute cottage that was available for purchase. The listing stated the home was a Sears kit home. It was so fascinating to learn about these homes built from mail-order kits!
As we stood in line waiting to enter this home below, the docent told us it was originally a one-level home and was built from the Montgomery Ward kit called "The Florence." I'm not sure how much it still resembles "The Florence" since the home had a second story added to it and saw an extensive renovation in later years. These kit homes are really all around us, but we don't always know it since many have been renovated over the years.
We saw three homes on the day tour and three homes on the candlelight tour. Behind one of the homes on the day tour we saw a Summer House in the back yard. Photos were allowed inside so I snapped a few with my cell phone.
The summer house was screened and there was a nice seating area in one corner.
Another corner was furnished with a place to eat on breezy summer days.
There was also a great fireplace which would be wonderful for those early spring and late fall evenings.
Love the little outdoor kitchen….it's like a real playhouse, only for grown-ups! 🙂
Outside another home we toured, I noticed their pretty window boxes.
The window box above made me think of another one I once saw on this same tour during a previous year.
Have an old wagon around the house? Here's a fun way to decorate for the holidays. Decorating with cotton seemed to be a big theme this year. We saw quite a few wreaths and other Christmas decorations that incorporated cotton either pulled off the stems or left on the branches as shown below.
As I mentioned in a post here on the blog a couple of weeks ago, my friend Marie's home was on this year's tour. This was the very first year her home has been a part of the tour so I hope some of you were able to see it! From talking with Marie, I know several of you did attend. Pictures do not do this beautiful home justice so I'm so glad some of the BNOTP readers were able to see it in person.
Marie was there and told me to take any pictures that I wanted. I snapped one in the dining room of the pretty table she had set. After I snapped this photo, I was going to snap a close up of the salad plate but one of the docents stopped me so I didn't get that one for you. It had a sleigh on it and the year, 2014…you can see it a little in the picture below.
Marie was sitting on a bench in the master bedroom along with the house chair and told everyone within earshot that it was fine to take photos of any of the rooms, so a few of us invaded Santa's private bath for a quick pic of him soaking in a nice bubble bath. He's evidently getting ready for the big night! HA! If you subscribe to my newsletter, Postcards From The Porch, you saw this picture in the one that was sent out this weekend.
(Pssst: If you're not already receiving Postcards From The Porch, it's free and you can subscribe here: Postcards From The Porch, the newsletter for the blog, Between Naps On The Porch.)
Cell phones don't take great pics at night but I had to try to take a picture of this Dutch Colonial home because it was just so pretty lit up at night. The picture just doesn't show how pretty it was.
One of the homes we toured on the candlelight tour was on several acres and the long driveway was lit with mason jar lanterns. The driveway twisted and turned and it was really beautiful seeing the lanterns the whole length of the drive.
It was a full moon the night of the candlelight tour.
Such perfect timing for a candlelight tour! It made everything even more magical.
Saw this just outside the back door of another home…such a cute idea!
If you didn't get to attend this year's Christmas home tour and would love to see Marie's home decorated for Christmas, check out these previous posts from year's past:
Tour a Beautiful Victorian Home Decorated for Christmas, Part I (Exterior, Entry, Powder Room)
Tour a Beautiful Victorian Home Decorated for Christmas, Part II (Library, Study and Beautiful Dining Room)
Tour a Beautiful Victorian Home Decorated for Christmas, Part III (Gourmet Kitchen, Breakfast Room with Peppermint and Gingerbread Theme)
Tour a Beautiful Victorian Home Decorated for Christmas, Part IV (Great Room and Outdoor Entertaining Spaces)
Tour a Beautiful Victorian Home Decorated for Christmas, Part V (Elegant Master Bedroom & A University of Georgia (Bulldog) Themed Bedroom)
Tour a Beautiful Victorian Home Decorated for Christmas, Part VI (Adorable Pink Bedroom For The Little Ones)
Gift Wrapping Room and Terrace Level With Guest Room, Kitchen & Bath
Four Beautiful Christmas Table Settings, One Gorgeous Victorian Home
Looking forward to the other Before and Afters for this Met Monday!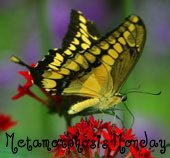 If you are participating in Metamorphosis Monday, you will need to link up the "permalink" to your MM post and not your general blog address. To get your permalink, click on your post name, then just copy and paste the address that shows up in the address bar at the top of your blog, into the "url" box for InLinkz.
In order to link up, you'll need to include a link in your MM post back to the party so the other participants will have an opportunity to receive visits from your wonderful blog readers.
Please observe these few rules:
Only link up Before and After posts that are home, gardening, crafting, painting, sewing, cooking, DIY related.
Do not link up if you're doing so to promote a website or product.
Do not link up a post that was just linked last week since a lot of readers will have already seen that post.
Please do not link up more than 2 Before and Afters each week. Thanks!
*If a post is sponsored or a product was provided at no charge, it will be stated in post. Some links may be affiliate links and as an Amazon Associate, I may earn from qualifying purchases. *