I've been working on a little project the last few weeks and the day has finally arrived that I can share it with you! Yay!
So, you know how this past summer I cleaned out my closet and had all these jeans I could no longer wear? Somehow they had magically shrunk while hanging in the closet. How DOES that happen?!
They weren't really candidates for donation because in addition to being too small, they were woefully out of style, high-waisted enough they would probably give Steve Erkle a wedgie! 😉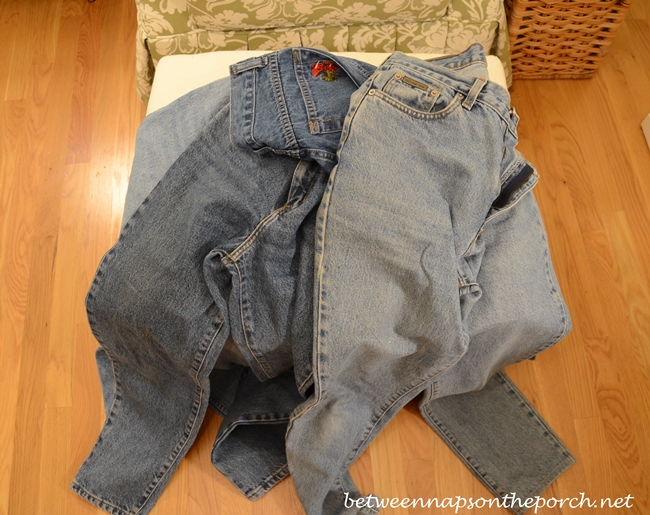 Rather than toss those old jeans into the trash, I decided to play around with them and turn them into something fun. That something "fun" turned into 4 projects over the summer and I have still have denim left over!
Around the time I was posting my denim projects, I heard from Carol who had a wonderful denim project of her own. She had upholstered a chair with old jeans previously worn by her three sons and hubby. What a special way to hold onto wonderful memories of her children's early years, as well as her hubby's rodeo days!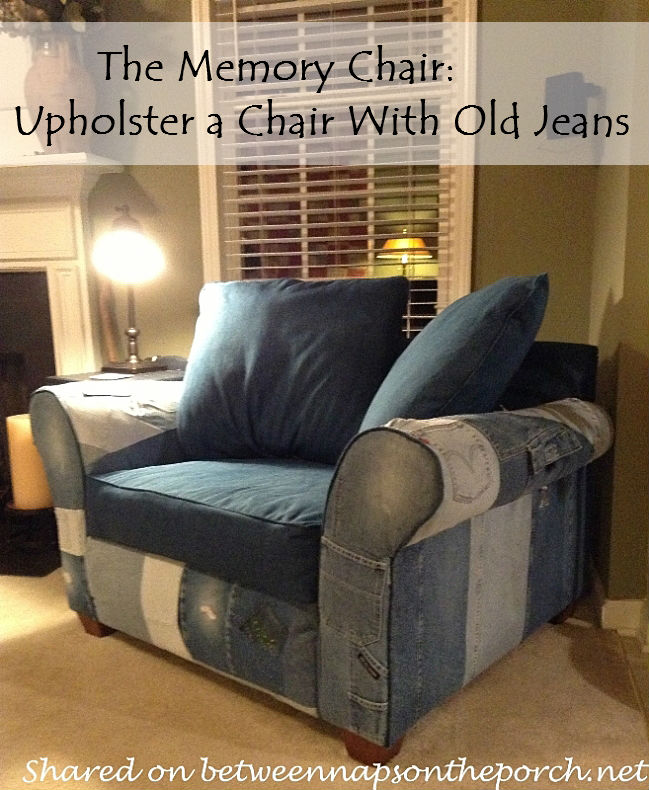 All these great projects got my wheels a-turning and I had one of those little light-bulb moments. Wouldn't it be awesome if we had one place to gather together all the amazing denim projects we've already created or will create some day with denim!

Now we do! It's called Denim Do Over and it's a blog dedicated to showcasing projects made from recycled or repurposed denim.
DDO is still just a baby but there are some wonderful new projects there to enjoy now, like Michele's fabulous denim pouf that she made for her son. He loves it so much he carries it with him from room to room. 🙂 Love that!
You'll find these darling denim baskets Pam created as gifts for family and friends! I want to make some of these this Christmas!
No-Sew Projects
Don't sew? Don't worry, I'm creating a whole separate category at Denim Do Over for No-Sew Projects! I'll put a link to the No-Sew Projects in the sidebar sometime over the next few days.
I'll be adding lots of great denim projects to Denim Do Over several times a week, so hop on over, check it out and if you're interested, subscribe to receive an email notice when a new project is posted.
Subscribe via Email
If you would love to receive inspiration for denim projects in your Inbox each week, subscribe to receive an e-mail notice when a new project goes up. You'll find the Subscribe button at the top right of the category bar at the top of Denim Do Over.
Denim Do Over is also on Facebook, Pinterest, Google + and Twitter, so follow for updates there, too!
Have a Denim Project You Would Love to Have Featured?
If you have a denim project you've created and posted on your blog, I'd love to feature it at Denim Do Over!
You'll find a "Submit" button at the top of the sidebar and in the category bar at DDO where you can click to submit your denim project. I know the readers of Denim Do Over would love to visit your blog for your awesome project or tutorial!
The image below is a link to Denim Do Over so hop on over and check it out!
*If a post is sponsored or a product was provided at no charge, it will be stated in post. Some links may be affiliate links and as an Amazon Associate, I may earn from qualifying purchases. *