Welcome to the 633rd Metamorphosis Monday, a blog party sharing fabulous Before and Afters!
We've been having the most amazing weather over the last few weeks. It was 78° out on the porch today and I couldn't wait to get out there and play a little. I turned on the fans overhead–love those soft breezes.
After a bit of cleaning and sprucing, I began adding a few touches for St. Patrick's Day.
Mr. Leprechaun had to make his annual appearance. It just wouldn't be a St. Patrick's Day celebration without him! After the cleaning was done, I celebrated the opening of the porch for spring with a glass of Pinot Noir Rose Champagne. I love the rose-colored bottle this champagne comes in, I'm going to add it to my bottle tree out on the deck.
While I was searching for a big shamrock-covered platter I keep stored in my laundry room closet, I came across my diffuser pitcher.
Today was the perfect day to bring it out and fill it!
Sooo, yesterday I kept seeing this ad on Instagram for the cutest St. Patrick's Day donuts from Krispy Kreme. They were soooo cute, I tried to order a dozen online for my son, daughter-in-law, and grandsons, but sadly during the ordering process, I discovered they no longer have a Krispy Kreme Donut Shop in their area. They used to but apparently, it had closed at some point. So that left me with no choice but to order them for me! 😉
I think this St. Patty's promotion must have been really successful for them because though their ad shows the promotion includes a dozen donuts decorated in many different designs for St. Patrick's Day, only about half of the donuts I received were decorated that way. Plus they were all done in the same design except one. The rest of the donuts I received were just regular chocolate-covered donuts, so that was kinda disappointing.
I noticed today when the ad popped up again on Instagram, a few people were complaining in the comments about similar issues, or not being able to order the St. Patrick's Day donuts at all where they live. Based on an article I read online this evening, I think this may be the first year they've done this promotion. Despite not getting a dozen St. Patrick's Day decorated donuts as the ad showed, I thought it was still a good deal. I received a dozen donuts delivered to my front door about an hour after ordering and the total cost was $22.09.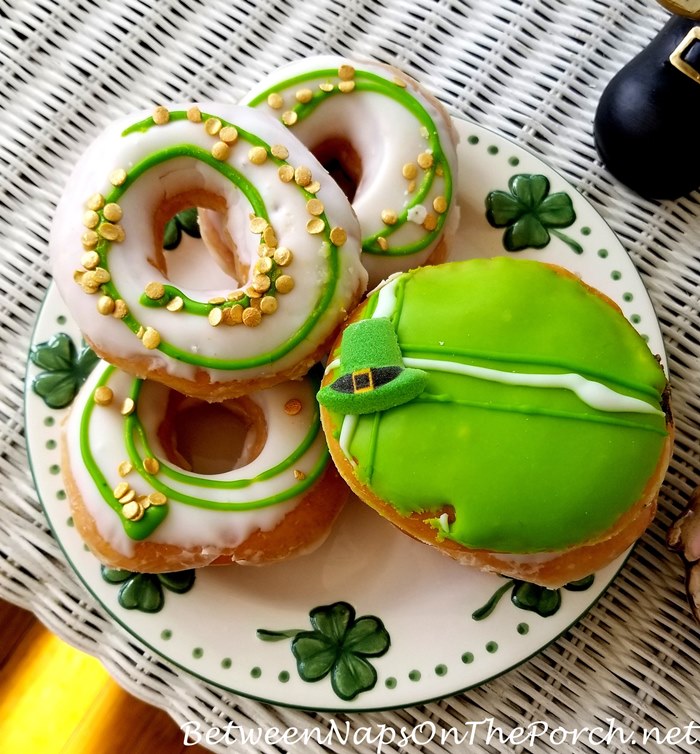 Several weeks ago, I came across the cutest St. Patrick's Day pillow covers online. They were reasonably priced (just $14.99 for all four) and the reviews were really good so I decided to order them. I just looked again this evening and now they are marked down to just $9.99! (They are available here: St. Patrick's Day Pillow Covers.)
This one is my favorite of all! Sooo cute!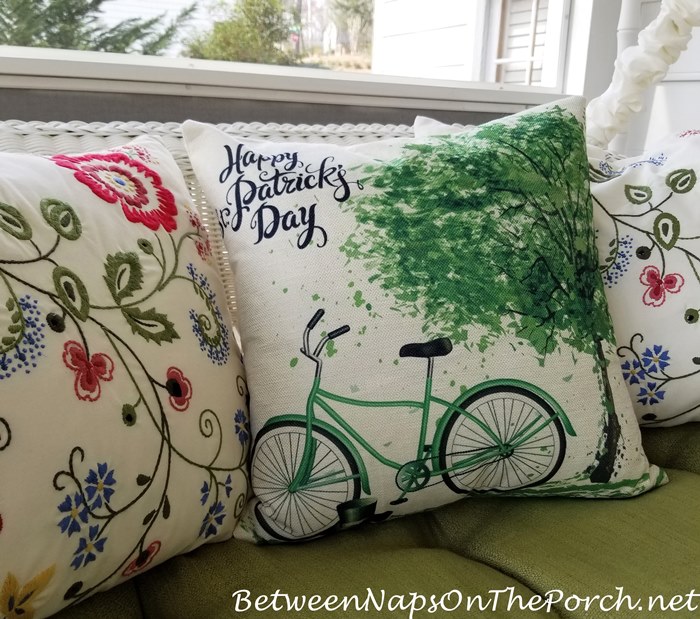 Love this one, too!
I really wish there was a Shamrock Delivery service! Imagine being able to order up a truckload of lucky shamrocks whenever you were in need of some extra good luck. lol
These were the other two pillows included in the set of four.
This one depicts a wreath of lucky shamrocks–adorable! All four St. Patrick's Day pillow covers are available here: St. Patrick's Day Pillows.
Love the way daffodils look with the green colors of St. Patty's Day! ♥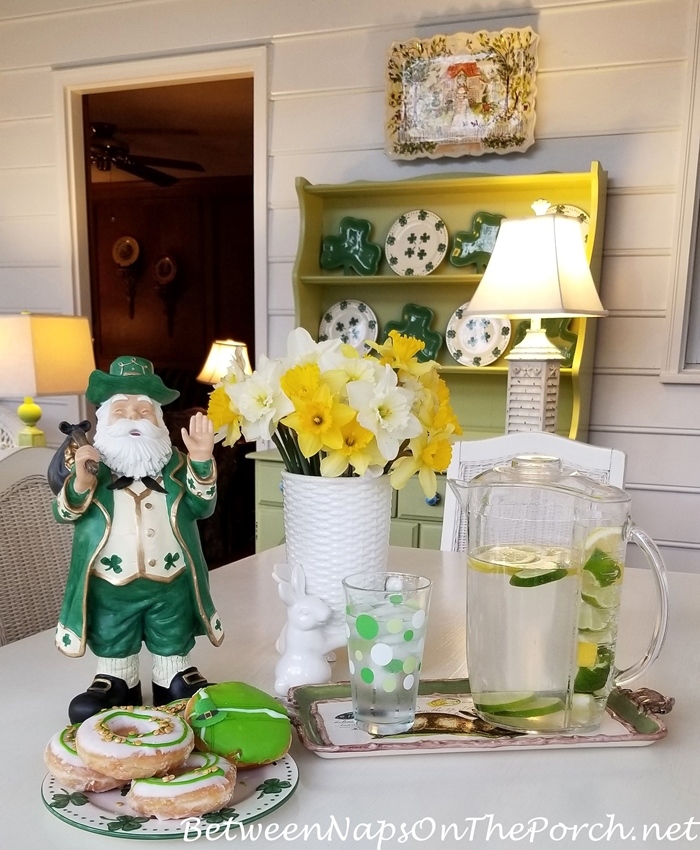 You may remember when I shared this adorable bunny/butterfly vase a few days ago in this post: Bunnies, Butterflies and Blossoms for Spring. (Bunny flower vase is available here: Sculptural Bunny Vase.)
I couldn't resist decorating the porch hutch for St. Patrick's Day.
This may be the first time I've used these plates on the hutch. I love how they look here!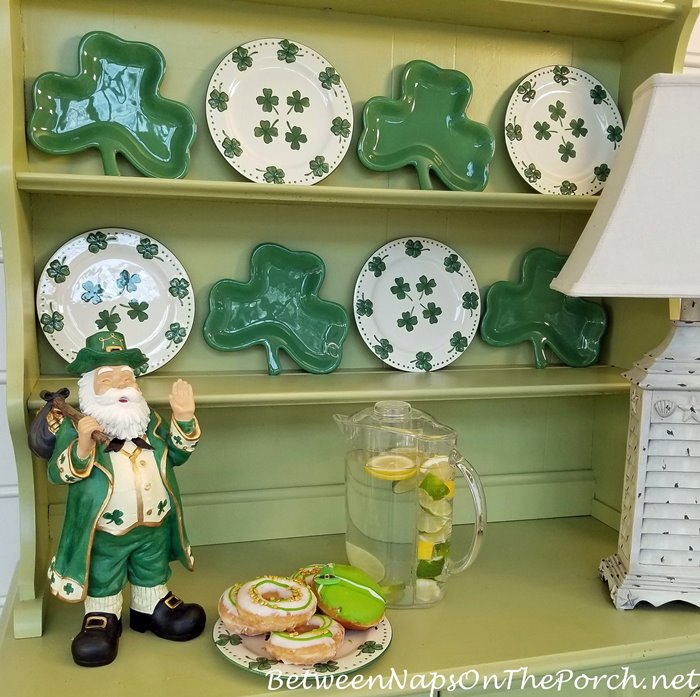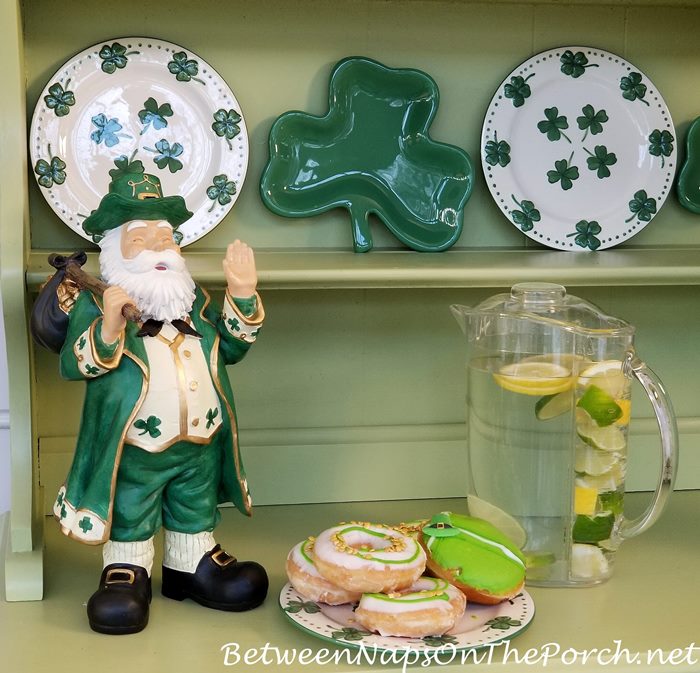 Are you decorating for St. Patrick's Day? I'm so excited that we are really close to that first day of spring now! The Redbud trees here are all in full bloom. I keep meaning to stop and take some pictures to share for those of you who live further north. I'll try to bring spring to you early here on the blog and then you'll get to celebrate a second spring when it arrives in your area! I had that happen to me one year, enjoyed spring here then a few weeks later visited family in Ohio and experienced the same trees and flowers blooming all over again. It was awesome!
Happy St. Patrick's Day to you just a little bit early!
Looking forward to all the great Before and Afters linked for this week's Metamorphosis Monday!
Pssst: Did you know Between Naps On The Porch is on Instagram? You'll find me on Instagram here: Between Naps On The Porch.
Like to know when a new blog post is up and available to read? Subscribe for email updates, it's free and your email will never be shared.
Subscribe for free post updates via email here: Subscribe.
Metamorphosis Monday
Metamorphosis Monday is a party that's all about Before and Afters. Please link up your Before and After projects like DIY projects, room makeovers, craft projects even recipes. Any Before and After is great! Please do not link up Table Settings, save those for our Tablescape Thursday party on Thursday.
If you are participating in Met Monday, please link up using the "permalink" to your MM post and not your general blog address. To get your permalink, click on your post name, then just copy and paste the address that shows up in the address bar at the top of your blog, into the "url" box for InLinkz when prompted.
In order to link up, you'll need to include a link in your MM post back to the party so the other participants will have an opportunity to receive visits from your wonderful blog readers.
This party has ended, click button below for the links to all who participated.
*If a post is sponsored or a product was provided at no charge, it will be stated in post. Some links may be affiliate links and as an Amazon Associate, I may earn from qualifying purchases. *