Welcome to the 185th Tablescape Thursday!
Spring officially arrives on March 20th, but it's already here in Georgia. The temps have been in the upper 70's; they even went above 80° today.
It was so beautiful out the day I captured these pics. I'm looking forward to seeing green leaves filling out the trees real soon. I don't think it will be long now.
The sheers were dancing in the spring breezes.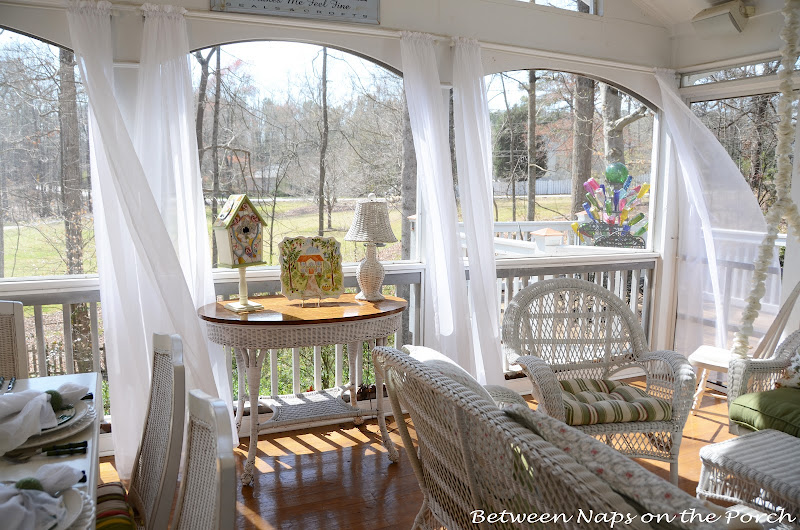 Since St. Patrick's Day is this Saturday, it's time to celebrate with a St. Patrick's Day themed tablescape.
I was so excited to find shamrocks for the table this year. In years past, I could never find them for my St. Paddy's Day table.
I love how the light shifted and lit up the shamrocks and the stemware in this shot. Shamrock plants have delicate, little white flowers. I hope you'll be able to spot them in the photos…they are so pretty.
I placed our Irish Fairy (leprechaun) happily carrying his bindle filled with gold, upon a small pedestal to give him a bit of extra height.
According to legend, leprechauns are supposed to be aloof and unfriendly, living alone, passing their time making shoes. I don't think our leprechaun looks unfriendly, do you?
Leprechauns always have a hidden pot of gold somewhere. Pssst: The end of a rainbow is a great place to look! 😉 Treasure hunters are said to listen for the sound of this Irish Fairy's shoemaker hammer so they can track him down and steal his treasure.
If the leprechaun is caught, legend says he can be threatened to tell where his treasure is hidden. No wonder they are aloof and unfriendly. I would be too if I had pesky treasure hunters chasing me down! Now, if the captors get careless and take their eyes off him for even a second, the Leprechaun will vanish, as will any hopes of finding the treasure. I can't help but think of all those "Lucky Charms" commercials I saw growing up. Remember those? Wonder if that cereal still exist?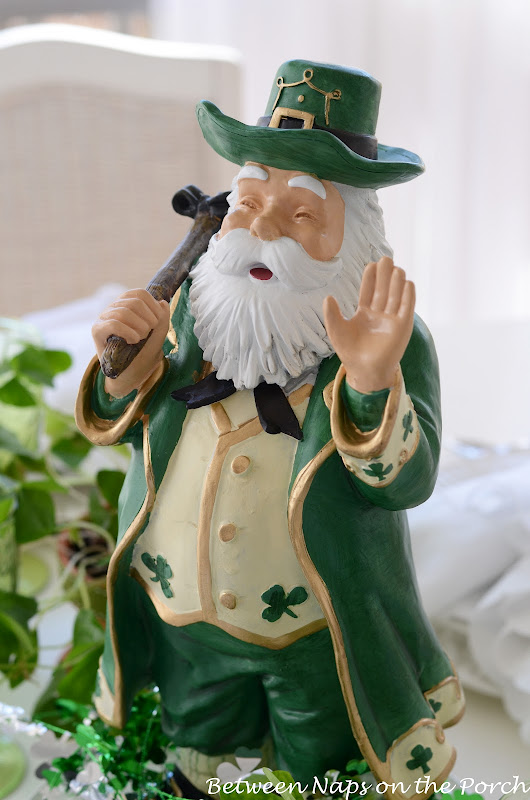 I found these cute froggy glasses at a local antique/thrift store last year. This seemed like the perfect setting for them. The lily pads and the white flowers around the glasses reminded me of our shamrock centerpiece.
Love the look of organza sheers layered over our napkins…especially in the sunlight.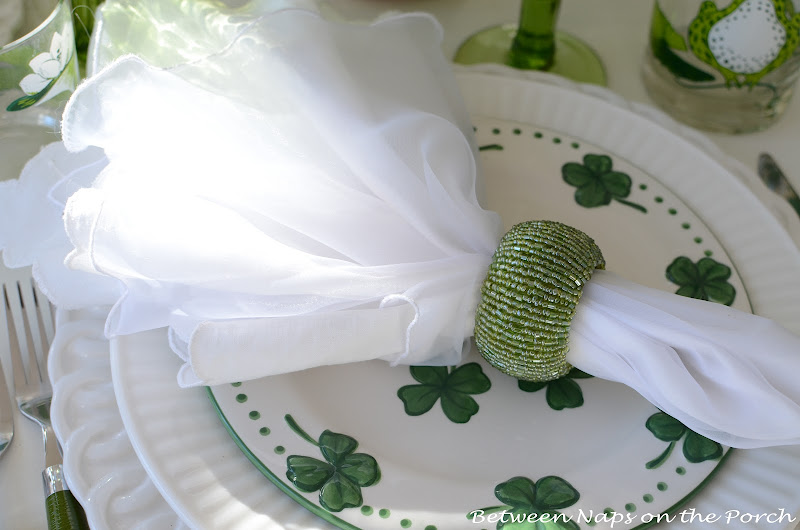 The Shamrock is the common name for several different varieties of three-leafed clovers native to Ireland.
History has it that the shamrock was chosen as Ireland's national emblem because of the legend of St. Patrick. (He plucked a shamrock from around his feet and used it to explain the doctrine of the Trinity.)
From the earliest times, the Irish have considered shamrocks to be good-luck symbols. Of course, that belief/superstition has now spread far and wide.
Hope you're having breezy, springtime day!
Happy St. Patrick's Day!
St. Patrick's Day Tablescapes:
Looking for additional inspiration for your St. Patrick's Day table? You'll find additional St. Patrick's Day tablescapes here: St. Patrick's Day Tablescapes.
Resources:
Chargers: Horchow, 4 years ago
Dinner Plate: Clarendon, Big Lots, 3 years ago
Shamrock Salad Plates: HomeGoods, several years ago
Leprechaun: Marshall's, 2-3 years ago
Green Iced Beverage: Pier 1, 2-3 years ago
Froggy Glasses: Antique Mall, last summer
Green Bamboo Flatware: Tuesday Morning, a few weeks ago
Napkins: Found antiquing
Organza Napkin Sheaths: The Magnolia Room, 2 years ago
To receive the latest posts, as well as updates about blog parties, subscribe via an RSS Reader or have BNOTP delivered right to your Inbox. You'll find links to subscribe via RSS and e-mail on the sidebar to the right. Thanks for reading; so glad you are here!
Reading this post via e-mail or RSS feed?
*If you are reading this via email or RSS feed, to view all the tablescapes linked for Tablescape Thursday, click HERE.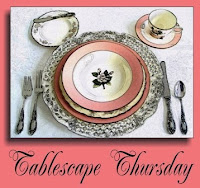 Please Read:
If you are participating in Tablescape Thursday, please be sure to add your permalink below, and not your general blog address. To get your permalink, click on your post name, then just copy and paste the address that shows up in the address bar, into the "url" box when you link up.
You'll need to include a link in your post back to the party in order to link up and participate. That's so visitors to your blog will be able to find the party and the other Tablescape Thursday participants.
If you would like to use the Tablescape Thursday logo button in your post, just copy and paste it to your computer and upload it to your post as you would any photo. Or, grab the html code you'll find under the "Parties" heading at the top of this blog.
Please, don't add your post name/blog name ALL IN CAPS…it tends to create big spaces between the rows of links. Thanks!
Let's try something fun today! Please visit the person who linked before you and after you…that way everyone will get some visits. Hope you'll visit more, of course.


*If a post is sponsored or a product was provided at no charge, it will be stated in post. Some links may be affiliate links and as an Amazon Associate, I may earn from qualifying purchases. *