Welcome to the 310th Tablescape Thursday!
This past weekend I had a little cookout with some friends. After setting the table, I snapped a few hurried pics. Normally when I'm having friends over for a dinner party or cookout, I'll set the table the night before. This time I was so indecisive about what direction to go with the table, I waited until the last-minute to put it together.
One part of me wanted to go in a beachy direction but the other part of me wanted to use a dishware that's my fave for porch dining. With friends due to arrive in just a couple of hours, I finally forced myself to choose and went with a Dario Farrucci pattern called, Ma Maison. I took down the "SeaShells" sign I had up for last week's table setting and rehung my fave "Summer Breeze" sign.
These pics were snapped about a half hour before everyone arrived. I lit the candles for the photos, then blew them out afterwards. I relit them later in the evening before we sat down for dinner.
I purchased beautiful sunflowers from a local farmer's market thinking I might use them on the table but they ended up as the centerpiece for the table in the kitchen where I had appetizers and drinks.
Once again I used the green candle holder/lantern (remember it from last week's tablescape?) but this time I added little iron birdies on branches down the center of the table to compliment the twig flatware.
The weather was so great this evening…perfect for a porch party. I had a Kim Waters jazz CD playing from the speakers when my guest began to arrive.
The dishware I used for this table is by Tabletops Unlimited, designed by Dario Farrucci and the pattern is Ma Maison. I found it in HomeGoods 4-5 years ago.
Green wine glasses are from Dollar Tree and the water/tea glass is "Breeze Clear" from Noritake.
Butterfly napkin rings and napkins are all from Pier 1 a couple of years ago.
I turned the ceiling fan over the table down to a lower setting and lit the candles just before we sat down for dinner. One of my friends (thank you, Liz) reminded me to take a picture with the candles lit. My friends do a much better job at remembering to take pics than I do, so you can thank them for this photo. 🙂
I completely forgot to snap a picture of the Sparkling Pomegranate Punch I served as my friends began arriving, but you'll find the recipe in this older post: Sparkling Pomegranate Punch. I actually served it from a punch bowl this time, too.
This is the second time I've made this punch during the summer and I keep forgetting that you can't find pomegranate seeds this time of year. So, I had everything I needed except the seeds which I think are really more for looks than anything. One of these days I'm going to make this punch around Christmastime and I'll actually be able to garnish it with pomegranate seeds.
Everyone brought a dish to share and as usual my friends fussed at me for having too much food. I assured them that I didn't do as much cooking as I normally do. I decided this time around to buy some prepared dishes so I could just concentrate on cleaning the house and the little bit of decorating I planned to do. The only things I made from scratch were the punch and a salad.
One friend bought asparagus for the grill and quinoa, another brought a yummy appetizer and another brought a salad and fruit for dessert. Just as we started to serve our plates, again my friends reminded me, "Take a picture of the food for the blog!" lol I can never remember to take photos during a party so I have them to thank for these next few pics.
As I so often do for casual dinner parties with friends, we placed the food along the kitchen counter to serve our plates. Below you'll see the asparagus we cooked on the grill with a little olive oil and seasoning. To the right of that is quinoa, which was very tasty.
I stopped by Harry's Farmer's Market and picked up green beans made with almonds and cranberries and a bow-tie pasta salad that has a little bit of everything in it.
One friend brought the delicious salad seen on the left and I made the Arugula Salad on the right. Both salads had goat cheese in them and they were delish. You'll find the recipe for the Arugula salad shown below on the right, in this previous post: Summertime Salad: Arugula With Berry Dressing.
I had also picked up marinated beef and chicken kabobs from Harry's Farmer's Market to cook on the grill. This wasn't all of them, some were still on the grill cooking when this pic was taken.
I went with a variety of four different marinades/flavors and don't remember them all now. Some were garlic and herb, some were teriyaki and ginger, another was ginger and something…and I've forgotten what the fourth "flavor" was now.
I also purchased two types of fresh bread at Harry's, one was Rosemary and Garlic, forgotten what the other one was…sourdough, I think. They both looked delicious but we ended up not eating any of the bread. No one was in a bread mood that night. Needless to say, I am enjoying a lot of leftovers this week.
It's still very much summer here but I know fall is coming. I love fall but I love summer more so I'm always sad to see the days getting shorter. Okay, I know the days aren't getting shorter, but you know what I mean. It's already getting dark a half hour sooner now. Boo, hiss. Oh well, I'll just stay inside all fall and winter. You guys can wake me when it's springtime again. 😉
Looking forward to all the beautiful tablescapes posted for this week's Tablescape Thursday!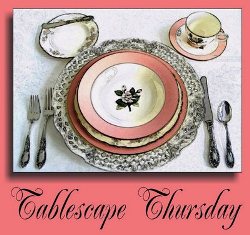 If you are participating in Tablescape Thursday, please be sure to add your permalink below, and not your general blog address. To get your permalink, click on your post name, then copy and paste the address showing in the address bar, into the "url" box when you link up.
You'll need to include a link in your post back to the party in order to link up and participate. That's so visitors to your blog will be able to find the party and the other Tablescape Thursday participants. Requiring a link back also prevents businesses from linking up to sell their products. (Yep, that really happens, unfortunately.)
If you would like to use the Tablescape Thursday logo button in your post, just copy and paste it to your computer and upload it to your post as you would any photo.
Please, don't add your post name/blog name ALL IN CAPS…it tends to create big spaces between the rows of links.



*If a post is sponsored or a product was provided at no charge, it will be stated in post. Some links may be affiliate links and as an Amazon Associate, I may earn from qualifying purchases. *