So. I'm starting to dream of renovating the baths in my home. It's becoming a constant thought, this need to update the baths.  I know what that means.  When a thought gets stuck in my brain, it usually leads to some action.  I'm only in the dreaming stage right now but it would be nice to tackle at least one of my outdated, 30 year old bathrooms this year.
While dreaming and browsing online yesterday, I happened across a beautiful lakeside cottage. I have a definite weakness for cottages, especially an English cottage or a waterside cottage.  The interiors of this lakeside cottage were designed by Tom Stringer Design Partners and I'll link to them at the end of this post so you can check out more of their beautiful work.
This may be the main family room since it has a casual, fun look.  Notice the beadboard ceiling, at least I think that's beadboard.  It runs throughout the home.  Love all the great seating and those fun prints/posters.
Love this room!  I especially like how the rock fireplace appears to be made with real stones.  Do you think it is? So often they're covered in a veneer.
The colors are so cheerful in this room. There's a mix of painted and whitewashed furniture, as well as a few stained pieces.  I think that's what makes a second home or summer home so cozy, the way the rooms often feel like they have evolved over time.  Sometimes they are a collection of new furniture combined with pieces no longer in use in the owners primary home.  Either way, I love that casual "un-decorated" look.
A game table over near the windows is the perfect place to play a card game or work on a puzzle.
This room has a fireplace at each end, perfect for those nights when the weather turns chilly in the evening.  A couple of small stools give additional seating when needed.  Gotta love a coffee table with lots of extra storage for games, candles, books etc…underneath.
This house is a great example of how you can go casual without going shabby, if shabby isn't your cup of tea.  It has a casual elegance about it, doesn't it?  Adore the chippendale design in the back of the chairs.
This cottage has a spacious white kitchen.  Do you think the countertops are slate?  I always love to see islands done in a different material than the countertops.   The wood looks great for this island.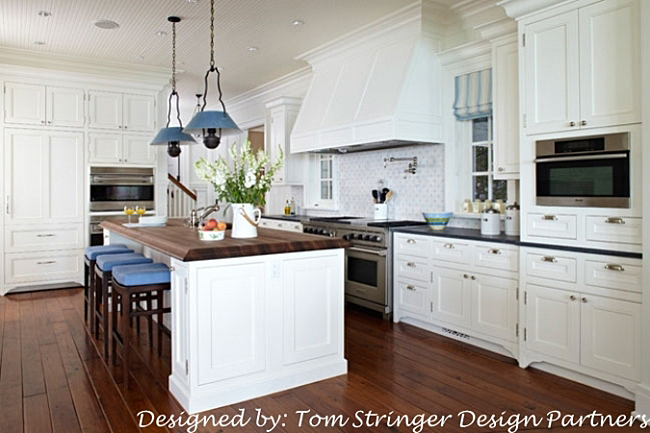 A beautiful blue and white Master bedroom…wouldn't the bed be stunning with wispy white sheers or bed hangings at the corners?  I can just see them moving and swaying in the breezes coming in through the windows.
Another beautiful blue and white bedroom…something tells me this room has an amazing view just outside all those fabulous windows.
A fun room for the little ones…love the quirky, slanted ceiling!
What an adorable way to incorporate additional sleeping space.  It doubles as a reading nook during the day with the perfectly placed lighting.  I'm pretty sure the faux drawers in front are stairs because I've seen that done before.  If I'm right, you just pull on the two handles at the top and out comes the steps.  Brilliant design!
I saved my favorite "room" for last.  You knew it would be a porch, didn't you. 🙂
Doesn't this make you feel more relaxed just viewing this space?  Imagine actually sitting there!  So tranquil and beautiful!
You can see more of the beautiful work of Tom Stringer Design Partners here: Tom Stringer Design Partners
*If a post is sponsored or a product was provided at no charge, it will be stated in post. Some links may be affiliate links. *