Does an idea ever come to you in the form of a picture or an image? You're just going about your day and suddenly an idea comes to you out of nowhere, but it doesn't come to you as a conscious thought. Instead, it pops into your head as a picture or an image. Has that ever happened to you?
That happened to me about two weeks before Thanksgiving. I had been picking up a few goodies for my grandsons in the weeks prior to Thanksgiving, toys I thought they would enjoy playing with during their upcoming Thanksgiving visit. Originally, I thought I'd just place them, wrapped, underneath the Christmas tree where they would find them upon their arrival.
A few weeks ago I was out on the porch removing the swing covers to wash them when suddenly an image popped into my head.
I suddenly saw the swing filled to overflowing with presents! Have no idea where that idea came from, but I loved it and couldn't get it out of my head!
It didn't take the boys long to discover this swing full of gifts.
I wanted to share this idea in case you have a porch swing that's currently sitting idle since wintertime isn't exactly swing-time. lol
Since porch swings are not usually seeing a lot of use this time of year, this would be a fun way to add a bit of whimsy to a porch. There wouldn't even need to be gifts inside, but it would be a good way to recycle all those Amazon boxes we accumulate this time of year.
I really didn't do a lot of decorating out on the porch, was too busy cleaning the house from top to bottom, including all the windows and shutters. Whew! But I did hang this adorable sign I came across recently while out shopping. I just looked and it was available here online: Fresh Cut Christmas Trees Sign. Unfortunately, it appears to be sold out now, but I did find one here: Fresh Cut Christmas Trees Sign.
Remember those wonderfully fat, jolly gumdrops I found recently and shared in a previous post?
Here's how the gumdrop tree turned out. Eventually, I had to stick it up high atop the refrigerator because I kept catching my youngest grandson (age 4) stuffing handfuls of gumdrops into his pockets. Ha! My daughter-in-love and I couldn't stop laughing. The boys love the Gumdrop tree and look for it each year when they are here for Christmas.
If you wish to make a gumdrop tree, you'll find these fat, gourmet-style gumdrops here: Extra Big Gumdrops.
If you need a gumdrop tree, you'll find a tree similar to mine here: Gumdrop Tree. Also, found another one here: Gumdrop Tree.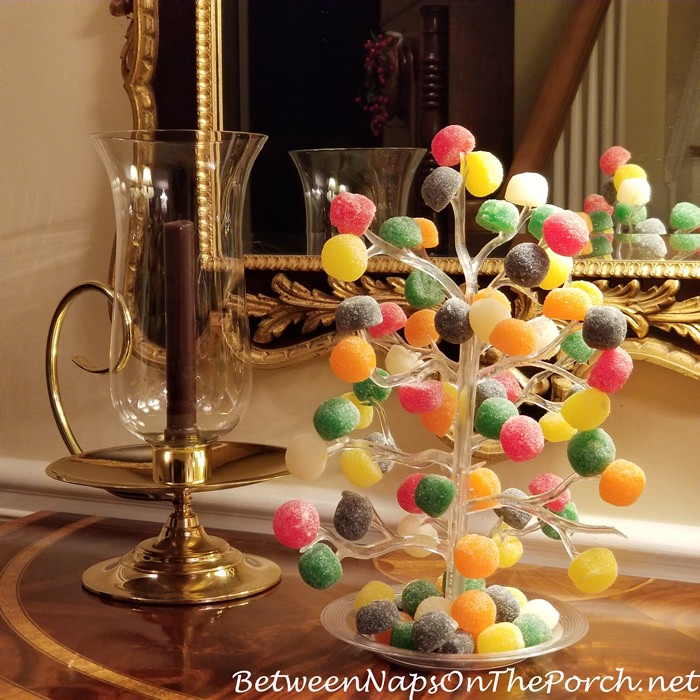 I made a Cranberry Trifle again this year and oh my gosh, it was good! I had forgotten how delicious it is! I always use fresh cranberries and the juice soaks into the pound cake making every bite insanely good! My oldest grandson loved it, as well. He thought the cranberries were cherries, at first. I almost let him think that, afraid if he discovered they were cranberries he might change his mind. lol I did tell him they were cranberries and he still loved it!
If you would like to make this for your upcoming Christmas feast, you'll find a printable recipe here: Cranberry Trifle.
The cornhole boards I purchased were a big hit! The boys asked me to get them out each day they were here. My daughter-in-law and son always play Cornhole at home on the boards my son built with a friend, so they enjoyed them, too. Wish I had gotten a picture of the boys playing Cornhole. That's why the boards are so close together in this picture, the boys had just played a game with their parents.
These were the boards I purchased and they look exactly like this in person. The colors are really pretty and vibrant! I hate it when you order something and it doesn't look the same in person when it arrives. But these did! I've been really impressed with the quality of these boards and how easy they are to set up. I should write a review, now that I think about it. (Cornhole boards are available here: Cornhole Boards.)
They came with bags but since the bags didn't contain real corn (which most Cornhole players prefer) I purchased another set of bags.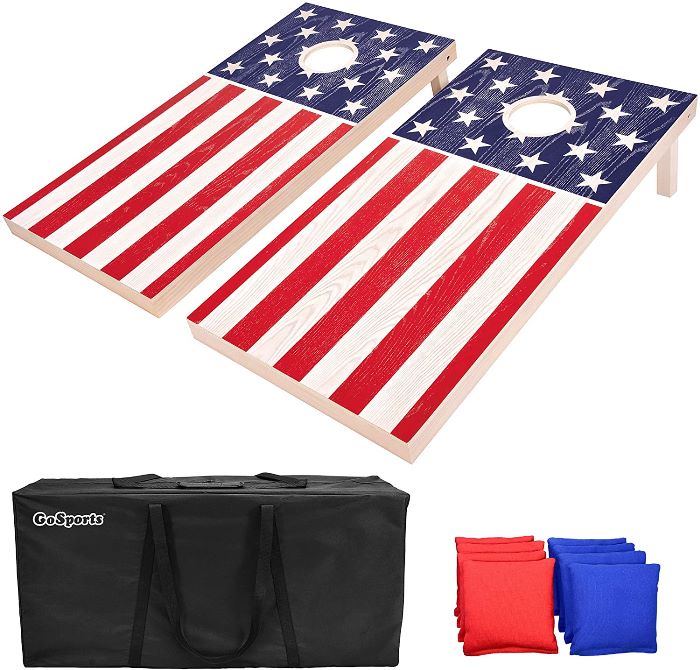 These were the cornhole bags I purchased and they matched the boards beautifully. The bags I purchased are available here: Cornhole Bags.
I'm glad I have a set of the boards and bags now because they will always be here when family visits. They will also be great for future parties/gatherings.
Hope you enjoyed this little recap of Thanksgiving. Hope your Thanksgiving was wonderful this year and that you were able to spend it with those you love most!
*If a post is sponsored or a product was provided at no charge, it will be stated in post. Some links may be affiliate links and as an Amazon Associate, I may earn from qualifying purchases. *