Welcome to the 239th Metamorphosis Monday!
Recently True Value asked if I would share a story about an "heirloom" piece passed down through my family. Immediately, a special chair came to mind. It's an heirloom piece that played an important part in our everyday life for many years, starting when we moved into our first home, a yellow cottage in a small Alabama town where my husband was stationed on active duty with the Army.
This little house was where we were living when our son was born in 1983. Since I wouldn't let the doctors tell me if we were having a boy or a girl, I went with a yellow color scheme for the nursery.
The nursery was still under construction and was half office and half nursery in the photo below. I'm busy cutting out the pattern and fabric for the table cloth, curtains and pillows I would be sewing to coordinate with the bedding.
Four years before, my mom had passed away while I was a senior in college. At that time I inherited a rocking chair she often sat in while embroidering and crocheting. I purchased additional fabric to have the seat covered to coordinate with the nursery bedding. It's hard to see in this old photo, but the yellow fabric was covered in little white polka-dots. I sewed heart pillows for the chair.
Remember the story of the phoenix rising from the ashes? This chair almost met with disaster during the time I was having it recovered. I had dropped it off at a local upholstery shop a few weeks before and had not heard a peep since. It seemed to be taking a long time to cover one little cushion.
One morning I was sitting at the table eating a bowl of cereal for breakfast and reading the newspaper. I almost dropped my spoon as my eyes fell on an article saying a local upholstery shop had caught fire and burned down. It was the same shop where I had taken my rocking chair! What?!
I immediately called the shop. There was no answer so I left a message on their answering machine. Later, I drove over to the shop and it was clear it was a total loss. A few days later I got a call from the owner of the upholstery shop saying the chair had survived the fire but the seat cushion had suffered significant smoke and water damage. He was building a new seat for the rocker and said it would be ready soon. Finally the call came that the chair was ready. When I picked it up, it looked just as it had before, no smokey smell or damage. I was so relieved!
We moved the chair from the nursery to our bedroom for the first few months since Chip was sleeping in his bassinet here in the bedroom. The picture below was taken the day I came home from the hospital. I was rocking Chip in the rocker when Chalmers, one of our three kitties, hopped up into my lap to check out the new addition to the family.
Once Chip was old enough to sleep in his crib, we moved the rocker back to the nursery where it was our favorite spot for reading bedtime stories. I loved reading to Chip here, it was one of my favorite times of the day.
Everyone headed to the rocker for story time, including Dad.
I had so much fun looking back through albums to find these special pictures. In the picture below, Grandpa is reading to Chip and the blanket in his lap is one Grandpa's sister, Mazie (would that be Chip's Great Aunt Mazie?) crocheted for Chip before he was born. I still have that blanket. Oh, do these pictures bring back memories!
Even as Chip grew older and was becoming almost too big for laps, we always headed for the rocking chair when it was time for bed.
Sometimes Chip and Garfield climbed up into the rocker to read all by themselves.
When Chip became too big to sit in Mom or Dad's lap for reading time (sniff, sniff) I moved the rocker to the master bedroom and had the cushion covered in fabric that matched the wallpaper in that room.
You can just see the wallpaper above Chip's head as he sits rocking with his bunny, Phineas and hamster, Ralph. It really is amazing how many memories one little chair can hold.
Today, the rocker is still covered in the same floral fabric, though the wallpaper has long since been removed.
Very soon this chair will be going to another home where it will be needed to rock another sweet baby.
Chip and Nancy are expecting a little one of their own. Just think of all the wonderful new memories this rocker will soon hold!
Your Special Heirloom Piece
Do you have a special piece that's been passed down through your family, one that carries beautiful memories so precious they should never be forgotten? I would love to hear about your special heirloom, be it big or small.
Please watch this beautiful video and leave a comment sharing the story behind the special piece that's been cherished and passed down in your family. Looking forward to hearing about your treasured heirloom!
I was one of the bloggers selected by True Value to work on the DIY Squad. I have been compensated for my time commitment to the program as well as writing about my experience. I have also been compensated for the materials needed for my DIY project. However, my opinions are entirely my own and I have not been paid to publish positive comments.
Looking forward to all the Before and Afters for this Met Monday!
Metamorphosis Monday: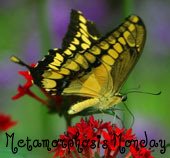 Update: Recently, I made a change in how links will display for Metamorphosis Monday. Each time you visit, the links will rotate and display randomly. This ensures all participants will have a chance to have their link displayed at or near the top. You'll easily be able to tell which links you've already visited since the links will change color, once clicked.
If you are participating in Metamorphosis Monday you will need to link up the "permalink" to your MM post and not your general blog address. To get your permalink, click on your post name, then just copy and paste the address that shows up in the address bar at the top of your blog, into the "url" box for InLinkz.
In order to link up, you'll need to include a link in your MM post back to the party so the other participants will have an opportunity to receive visits from your wonderful blog readers.
Please observe these few rules:
Only link up Before and After posts that are home, gardening, crafting, painting, sewing, cooking, DIY related.
Do not link up if you're doing so to promote a website or product.
Do not link up a post that was just linked last week since a lot of readers will have already seen that post.
Do not type in ALL CAPS. It spreads the links waaaay out.




Welcome! Thanks for coming to the party!
*If a post is sponsored or a product was provided at no charge, it will be stated in post. Some links may be affiliate links and as an Amazon Associate, I may earn from qualifying purchases. *