I've been obsessing a little about beach homes lately. I've always wanted to decorate one but since I don't actually own one, that could be a bit tricky. 😉 Did you catch that whole series of HGTV shows on designer, Sarah Richardson's beach cottage recently? Just google "Sarah Richardson HGTV episodes" and you'll find them. I didn't get to watch the whole series but I loved how her cottage was turning out.
Recently, I spotted this wonderful waterside home at Sotheby's online and the exterior was so beautiful, I had to take a peek inside. It did not disappoint! Though this home isn't located near an ocean (it's on a lake, instead) it could totally be a beach house, couldn't it? It definitely has that "Something's-Gotta-Give" vibe going on.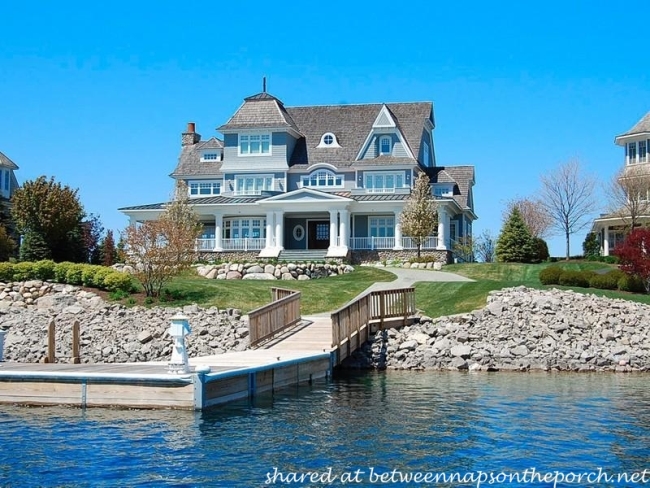 This home is actually located on a peninsula so there are waterside views from every window! Wow! Don't you love the design of the exterior of this home! I love all the curves, the dormers, the eyebrow windows, the oval windows, the rock/stone fireplaces. This home has soooo much personality, inside and out!
Let's go inside and take the tour!
Initially, I thought this was a family room, but I think it may be a keeping room or hearth room just off the kitchen. Do they still call them keeping rooms? I always loved that name. Notice the unique ceiling. It appears to be tin/metal but that could just be a decorative finish. I like how the rug anchors this area, defining it from the rest of the room.
Beautiful kitchen! Love the pendant lights.
Could you be happy cooking here?
This must be the actual living room. There's that view! I love a striped sofa, especially when it's a blue and white striped sofa. Blue and white is such a great color scheme for a home on the water. Notice how the slightly curved shape of the sofa mimics the shape of the bay window. Great design!
When I saw the dining room, I immediately thought, "Hey, I know that fabric!" I was pretty sure it was the same fabric Marian, who blogs at Miss Mustard Seed, used recently in her home.
I clicked over to Marian's blog and yep, same fabric! The fabric is Pkauffman Artissimo Navy Fabric. I love it in her bedroom and love it in this lake house, too.
Marian also used this fabric to make her draperies and to upholster parts of the chair in that room. Isn't it fun to see fabrics used in different ways and different settings? Really gets the wheels turning about all the possibilities. See the full reveal of Marian's bedroom here: Miss Mustard Seed, Master Bedroom Reveal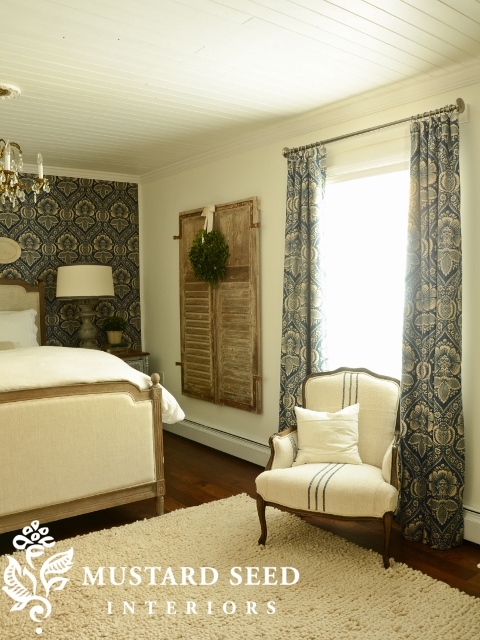 Check out the sassy stair runner. Every home needs a bit of whimsy and a red, star-studded runner definitely adds that spark of whimsy.
Great built in bookshelves flanking a wonderful window seat under a beautiful window!
This room was a surprise, I didn't expect a stained, paneled bedroom in this home but I actually love it. The light blue paint keeps it from feeling too serious and library-like. Notice the panel coming out from the right in front of the windows. It looks like you just pull it across for privacy. Have you ever seen that before? Great way to keep the windows nice and open but shut them off when you need to.
The other bedrooms were a wonderful surprise, too. Lots of fun, bright colors. Such a cute bed with its picket fence design.
Cute, cute rooms!
Another beautiful bedroom. So pretty!
Love this…so much space for overnight guests.
Not everyone can say they sleep in a boat each night! Perfect bed for a waterside home!
Hope you enjoyed the tour of this amazing waterside home. Love a great beach house? Check out this summer house: A Summer House with Waterside Views
(Photos of the above home are from Sotheby's Reality.)
*If a post is sponsored or a product was provided at no charge, it will be stated in post. Some links may be affiliate links and as an Amazon Associate, I may earn from qualifying purchases. *