How was your Labor Day weekend? Hope you did something fun and relaxing!
A while back I came across the cutest cottage in Edgartown, Massachusetts. I don't think I've ever met a cottage I didn't love and this one has tons of personality and charm! I know you're not supposed to judge a book by its cover but the colorful flowers spilling out of these window boxes is a very good omen of what awaits within.
Before we go inside for a tour, notice the style of the garage doors and the sweet pergola leading to the front door. Love both those features so much! This house would not be the same without those, would it?
Love the little side porch on the right with the sunning deck above, too. I used to see those on homes a lot growing up but almost never see them on new homes now. All these wonderful details (window boxes, gambrel-style roof, pergola, carriage garage doors, side porch with sunning deck) are what give this house its personality and so much curb appeal!
Such an inviting entrance! If you don't have a front porch and it's not in the budget to add one, this would me a much less expensive way to add a tremendous amount of curb appeal and create a welcoming entrance. The walkway under the pergola was created using blue stone.
A two-story entry with open stairways can be a challenge to decorate. Over-sized or large art pieces combined with smaller ones can fill those big empty walls. The staircase and landing were built from reclaimed oak. The paint color reminds me of my fave Sugar Cookie that's taken over my home.
The doors give this cottage an historic feel, don't they? I love the owners bold use of color throughout the home. You'll see it in both the paint choices and in the furnishings.
Notice the sweet inglnooks on either side of the fireplace. They offer extra seating for this space. Since I'm a book nut, I'd be tempted to add bookshelves on either side of the fireplace, turning this room into a library for the home.
Great pot rack and the pots look like they are hanging high enough to not get too steamed up from the cooking below.
The exposed beams are really pretty with the color of the rustic alder cabinetry. Look how much light the skylights bring in! The flooring is Italian stone.
The kitchen, dining room and great room are all open to each other. Such a dramatic ceiling, must be really amazing to see in person.
Imagine dining here with this amazing view overlooking Mattakeset Bay and the Atlantic.
Great paint color…such a pretty blue. Notice how the artwork over the desk is hanging fairly high but the artwork on the right wall is pretty low. I wonder if the owners had already moved out some of the furniture and maybe there was a sofa or love seat at one time under the paintings on the right.
Another bold paint choice…love this color with the quilt. I wonder if they bought the quilt first and then chose the paint color to compliment it.
The chest is beautiful! I always think bold paint colors limit what we can do in a room but look how pretty these colorful painted furniture pieces are with the bold yellow paint. It all works great in this room!
I'm guessing this bath adjoins the bedroom we just saw since the paint color continues into this room.
In this bedroom they steered more toward a sunny yellow for the walls. Those beautiful flowers spilling from the window boxes outside were foreshadowing of the pretty colors within!
I'll leave you enjoying this endless view. Forget an infinity pool, how about an infinity view?! 🙂
Love a storybook cottage? Here are two more you might enjoy!
Happy Hollow, A Storybook Home With Beautiful Gardens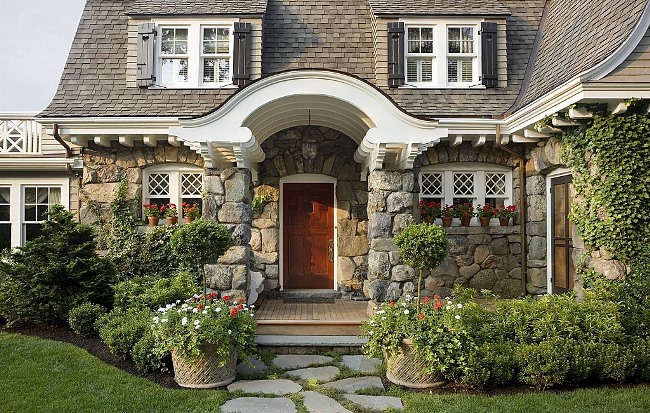 You'll find additional pictures of this home where I found these HERE.
*If a post is sponsored or a product was provided at no charge, it will be stated in post. Some links may be affiliate links. *