Welcome to the 464th Metamorphosis Monday!
I'll be leaving soon to visit the Christmas Markets in The Netherlands, Germany and France. I plan to post some while I'm away provided the ship has WiFi that will let me upload photos to a post. The biggest issue I've found when traveling in the past is that it seems everyone on the ship tries to access the wi-fi at once, which pretty much brings it to a crawl. We'll see how it goes this trip, I so hope to share this Christmas wonderland with you while I'm actually there.
I'll also be sharing photos on Instagram each day, so if you're not already following BNOTP on Instagram, you can do that here: Between Naps On The Porch on Instagram. If you would like to subscribe for email updates that let you know when a new post is up here on the blog (it's free!) you can do that here: Subscribe for Post Updates.
A Fantasy Christmas Porch
December has been a challenging month in so many ways. After getting sick for ten days with a cold/virus right after Thanksgiving, followed by a crazy snow storm that dumped 8 inches of snow in our area…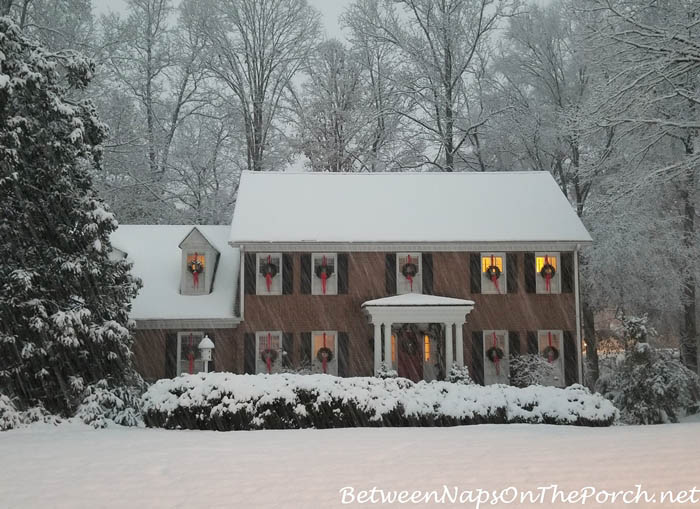 …I decided to keep the decorations on the front porch simple this year. I hung a fresh Frazier Fir wreath on the door and decorated around the door with fresh pine garland.
The snow is almost all gone now, just a little left here and there in the yard.
Determined to share the front porch decorated for Christmas, I was inspired to create a whimsical setting, something totally impractical but just for fun. (See that little bit of snow left there on the left side of the porch. Snow takes forever to melt in my yard since my home faces north. The snow in my neighbors yard across the street melted away so much faster!)
This would be a fun way to decorate a porch the day of a Christmas party–a whimsical, fantasy setting to delight your guests as they arrive for the party.
Some of the decorations could remain throughout the holiday season, like the garland and wreath, but others are just a bit of fun for family or for party guests.
One strange thing you may notice in this post is how the porch lanterns appear to be coming and going. lol In the photo above, you'll notice a lantern on the right and a hanging lantern in the center of the porch. The lantern on the left is missing, kinda hard to see for the column.
In the photo below, both of the lanterns on either side of the door are present, but now the hanging lantern is missing.
So what's up with the missing lanterns? I've been trying to clean the lanterns for the last few years, but each time I've attempted to take them apart for cleaning, I couldn't get them to open up. I had a handy man/electrician take a look and he found that the screw mechanism where you take them apart had basically rusted/welded itself together.
He ended up removing the lantern on the right to take it home where he could soak the part where it was screwed together with something that would break it loose. A couple of days ago he returned and reinstalled the right lantern, then took the left lantern home to do the same. As I was taking photos today, he arrived and reinstalled the left lantern. Next he took a look at the hanging lantern and found an issue with it, so he took it home today. I took the photo below today before he arrived, so the left lantern was still missing, but the hanging lantern in the center of porch was still there.
I love the bubble glass in these lanterns. They were purchased in Home Depot Expo when the porch was being built in 2008. I wish the HD Expos were still around, loved shopping in those!
So you can see why this month has been a real challenge for sharing the front porch. I do love seeing the lanterns all nice and clean again. Will be glad when the hanging lantern is back.
So about this whimsical, fantasy porch, it looks like Santa has stopped by and left a lot of presents!
He also left a sled, just in case another big snowstorm comes this way again.
Mr. and Mrs. Reindeer have arrived for our party! Looks like they brought a Christmas tree with them! 🙂
There's a cozy throw for enjoying some porch time. Throw is from Pottery Barn this season, but I think it may be sold out now.
I found the "No Sniffing, No Squeezing, No Shaking" basket in Michaels a few weeks ago during a 60% off sale. It's filled with some of the many magnolia branches that came down during our recent storm.
A few evening shots…
Be glad when the hanging lantern is back in place, I miss it already.
Hope your holidays this year have many wonderful, fantasy-filled moments. Merry Christmas and Happy Holidays, dear Friends!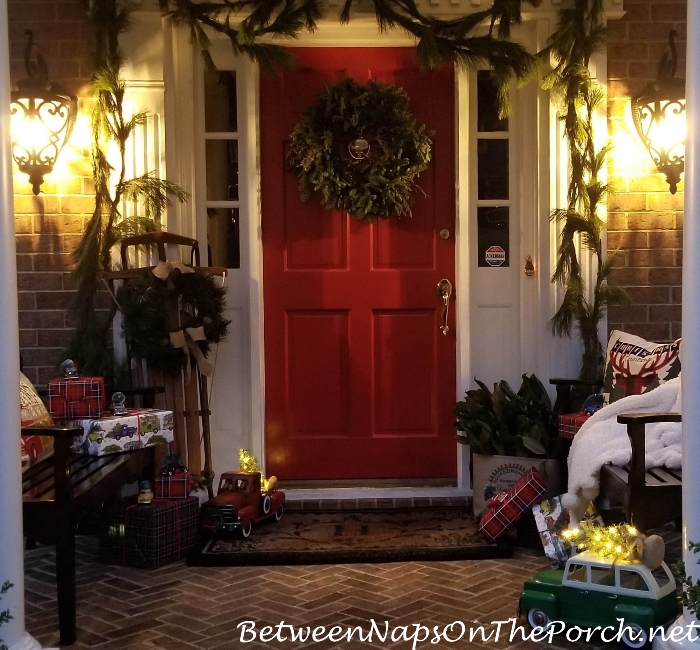 Pssst: I post almost daily to Instagram. Follow Between Naps on the Porch on Instagram here: Between Naps On The Porch. If you enjoyed this post, subscribe for free email updates when a new post is up here: Subscribe for post updates.
Metamorphosis Monday
Metamorphosis Monday is a party that's all about Before and Afters. If you are participating in Met Monday, please link up using the "permalink" to your MM post and not your general blog address.
To get your permalink, click on your post name, then just copy and paste the address that shows up in the address bar at the top of your blog, into the "url" box for InLinkz.
In order to link up, you'll need to include a link in your MM post back to the party so the other participants will have an opportunity to receive visits from your wonderful blog readers.
Please observe these few rules:
Please link up Before and After posts that are home, gardening, decorating, crafting, painting, sewing, cooking, fashion or DIY related.
Be sure to include a link back to the party in your post, so your readers will be able to find and visit the other bloggers who are participating.
Do not link up to the party if you're doing so to promote or sell a product.
To those who are linking up: If you notice a shop or store linking up to sell products (yes, unfortunately, that does happen) please let me know so I can remove their link from the party. No one wants to click a link expecting a Before and After, only to find a spam link to an online business/store.

*If a post is sponsored or a product was provided at no charge, it will be stated in post. Some links may be affiliate links and as an Amazon Associate, I may earn from qualifying purchases. *