Welcome to the 330th Tablescape Thursday!
My tablescape today is a winter themed table setting with a very special centerpiece. It's so special that it's practically invisible.
What? You don't see it? It's right there–on the pedestal in the center of the table. 😉
I knew by the time the centerpiece I planned to use was ready, it would already be getting dark out. Since table settings look so much nicer in natural light, I took a few pictures mid-day, even though my centerpiece was still baking in the oven.
Remember the Snowman Cake Pan I purchased recently? I took it for a spin today. I learned a few things in the process and I'll share those in a post real soon. In the meantime…
…here's how Mr. Snowman looked this evening. He was supposed to cool for 3-4 hours after baking but I sped that process up a bit by sticking him in the refrigerator. By the time he was ready for his place of honor in the center of the table, it was almost dark outside.
A snowman themed table setting works great anytime during the winter months. Plaid does, too!
I especially love using plaid during the wintertime when we need some color and coziness to offset the bleakness of the landscape outdoors.
A picture added the following morning…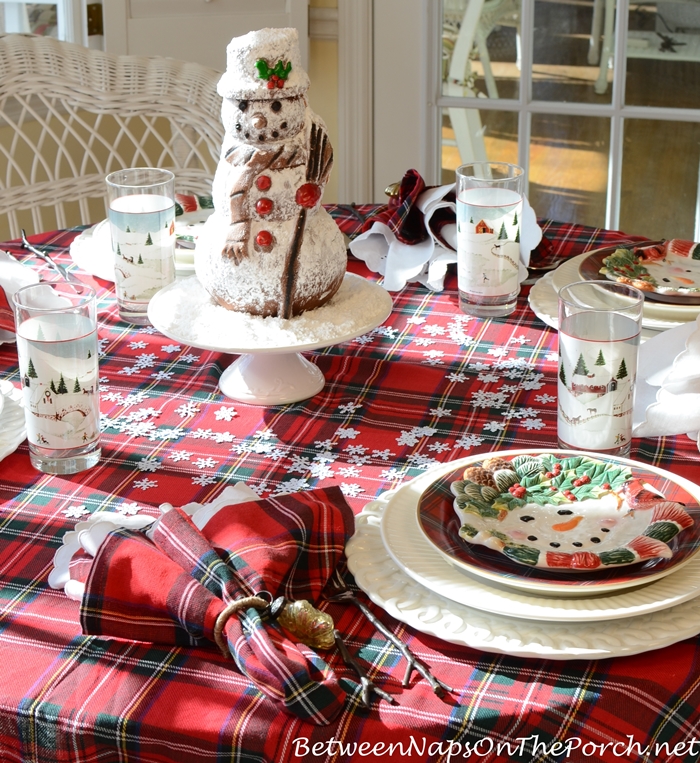 I've had these snowman plates for many years. I'm not sure who the manufacturer is, the only thing on the back are the initials CR in an overlapping design. I think I found them in HomeGoods.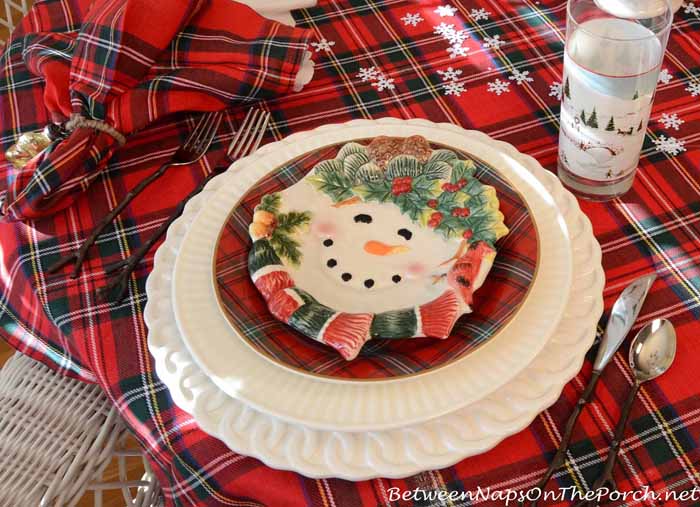 The plaid salad plates are from Williams-Sonoma this year. I already had plaid dinner plates as seen in this previous Christmas table setting: Dashing Through The Snow. I didn't have plaid salad plates and really wanted these particular plates because…
…they are the same plaid pattern…
…as my winter bedding. Yep, Williams-Sonoma even made dishware in this tartan pattern! They don't mess around when they do a theme, do they?
Apparently, when WS does a pattern like this plaid, they offer it in different products for several years, then it's discontinued and another pattern is introduced…at least that's what I was told by a WS employee.
The plaid tablecloth and napkins I used for this tablescape are actually a different pattern. They are from either Marshalls or HomeGoods several years ago. Fortunately, they worked well with the plaid salad plates from Williams-Sonoma.
I used mercury glass snowflake napkin rings for this table. You may remember seeing them in a previous tablescape I put together for a Christmas party with friends: A Christmas Dinner Party .
The twig flatware is from West Elm and has been used in many table settings here on the blog. I liked how it kind of mimicked the snowman's broom.
The glasses are by David Carter Brown and coordinate with his dish pattern called Christmas Valley.
You may remember the Christmas Valley dishware from this outdoor table I created when I lost my mind during Atlanta's Snowmageddon last winter. 😉 Let's hope we don't have a another one of those again, although it was fun creating the table.
I didn't have the Christmas Valley glasses last year so I used snowflake glasses from the dollar store, instead. I found the David Carter Brown glasses this past summer on eBay. I think they are also available at Replacements.com.
Since it was fast getting dark out, I didn't have time to get too fancy with Mr. Snowman. I needed to get cracking on some picture taking. So, I kept things simple and made a little confectioners icing in red for his buttons, mittens and holly berries, then mixed up some in black for his coal eyes, mouth and broom. If it hadn't been getting so late, I think green would have been cute for the holly leaves. If Mr. Snowman doesn't soak up all his powdered sugar snow overnight, I'll take some daytime pics of him tomorrow and add them to this post.
Here's a better picture of Mr. Snowman this morning. I added a little green icing to his holly this morning.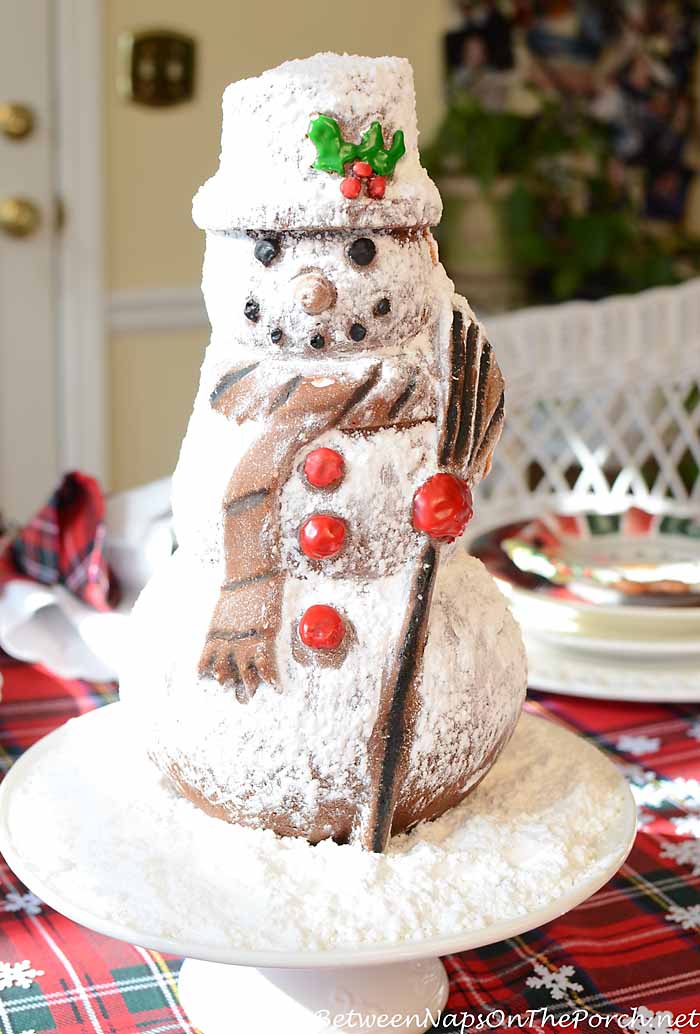 I'll share some pics real soon showing how Mr. Snowman was made. I definitely learned some things in making him this time around, things I will do differently the next time. This would be a great cake to make for or with a child. They could even help with the decorating, too. Great winter activity!
Update: You'll find the post showing how I baked this snowman cake centerpiece here: Make A Snowman Spice Cake
It's going to be a gorgeous day! Cold, but beautiful!
Looking forward to all the beautiful tablescapes posted for this week's Tablescape Thursday!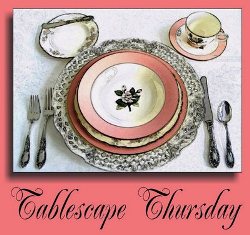 If you are participating in Tablescape Thursday, please be sure to add your permalink below, and not your general blog address.
To get your permalink, click on your post name, then copy and paste the address showing in the address bar, into the "url" box when you link up. You'll need to include a link in your post back to the party to link up and participate.
That's so visitors to your blog will be able to find the party and the other Tablescape Thursday participants. Requiring a link back also prevents businesses from linking up to sell their products. (Yep, that really happens, unfortunately.)
Please, don't add your post name/blog name ALL IN CAPS…it tends to create big spaces between the rows of links.
Please do not link up table settings that were just recently shared for a previous Tablescape Thursday.

*If a post is sponsored or a product was provided at no charge, it will be stated in post. Some links may be affiliate links and as an Amazon Associate, I may earn from qualifying purchases. *