Welcome to the 352nd Metamorphosis Monday! While we were staying in Sorrento, on afternoons or evenings when we were out touring or were just free to explore on our own, we would often walk the short distance to a nearby market area where we could shop and dine. About a block away from our hotel, there was a bridge that had to be crossed to reach the shopping/dining areas. We merrily crossed over it several times, never realizing what lay below.
One day while walking back, we crossed the bridge on the opposite side of the road and I glanced down and about passed out. What I saw was so unexpected and truly one of the creepiest things I'd ever seen. It was like the earth had split apart and down inside the huge abyss was a buried city.
I don't normally think of myself as being afraid of heights but the combination of the height, the depth of the canyon and the view of what I saw below sent chills all over me. I knew I had to share it with those of you who were following this trip on Instagram, so I pulled out my cell phone and forced myself to reach out over the rail and take a few pics. That's the edge of the rail you see in the lower, left corner of the picture.
In this photo, you can see this abandoned place is now filled with all types of vegetation and trees. Is this not completely creepy?!!! But wait, it gets even creepier!
At night, it's all lit up! We were walking back from dinner one evening and as we approached the bridge, I was doing my best to not think about the scary black hole just a few inches to my right on the other side of the rail. Then I noticed it, an eerie glow coming up from the abyss. Again, forcing myself to the edge of the rail, I looked down to find this. As if it's not scary enough in the daylight, at night the creepy factor ratchets up a few more notches.
Once back to the hotel, I Googled to learn more about this abandoned place. I found a fair amount of info online indicating that it was once an old flour mill that was built around 900 AD. At that time it was in a great location because it had direct access to the water from the nearby bay.
Over the years, this area became known as the Valle dei Mulini or Valley of Mills. The deep crevasse in which the mill sits was thought to have been caused by a huge eruption that ultimately devastated the Mediterranean area 35,000 years ago. This whole area along the coast has a history of earthquakes and volcanic eruptions.
The flour mill was built from stone and its location was perfect at that time due to the ever-present stream of water at the bottom of this deep valley. The mill was used to grind wheat for the Sorrentine people living in the area. Later a sawmill was added to provided materials needed by local cabinet-builders. There was even a wash/bath house for women where they could bathe or wash clothes.
I've read conflicting stories about why it was abandoned. One article said the milling of flour moved to some nearby pasta mills and with the reduced work, the buildings eventually closed and were abandoned around the 1940's.
Other information I found online said the area surrounding the mill was filled in to build all the shopping areas that are above it. This greatly increased the humidity, hampering the flour milling process and cutting off the access the mill had to the bay. That article indicated the mill was abandoned in 1866. Since the mill's closing, the buildings have been slowly taken over by nature.
Apparently they have different lights that rotate through because sometimes it glows with an eerie blue color. If you ever visit Sorrento, check it out. Just don't go too close to the edge of the canyon, especially if you've had a bit too much wine to drink. Back in 2011, a British tourist lost his balance and fell 150 feet down the slope.
I wish I had a "Before" picture to share. Imagine a thriving business with workers moving in an out, working to grind wheat for bread. Imagine a saw mill working away to create the wood materials needed for local cabinet makers. Imagine ladies gossiping and laughing while bathing and washing their clothes. Hard to envision all that now. It's amazing to me how quickly nature attempts to reclaim the land when man is no longer there to keep it at bay. The high humidity of the area has sped the process up even faster.
Sometimes the building appears to glow a fierce red…probably from another one of the lights that occasionally shines on it.
Would this give you chills crossing over and peering down into this deep crevasse at night? It definitely gave me a case of the hebbie jebbies!
If you follow BNOTP on Instagram, you saw this place in real-time during my trip to Italy. I was posting there daily since it's such a fast way to share beautiful, fascinating and interesting things quickly. If you would like to follow on Instagram, you can do that here: BNOTP on Instagram
Looking forward to all the fabulous Before and Afters for this Met Monday!
Metamorphosis Monday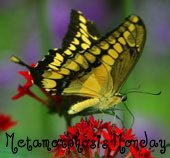 If you are participating in Metamorphosis Monday, please link up using the "permalink" to your MM post and not your general blog address. To get your permalink, click on your post name, then just copy and paste the address that shows up in the address bar at the top of your blog, into the "url" box for InLinkz.
In order to link up, you'll need to include a link in your MM post back to the party so the other participants will have an opportunity to receive visits from your wonderful blog readers.
Please observe these few rules:
Only link up Before and After posts that are home, gardening, crafting, painting, sewing, cooking, DIY related.
Do not link up if you're doing so to promote a website or product.
*If a post is sponsored or a product was provided at no charge, it will be stated in post. Some links may be affiliate links and as an Amazon Associate, I may earn from qualifying purchases. *