They are enchanting aren't they! Dutch doors are the best of both worlds, they keep the pets and little ones inside while letting the sunshine and fresh air flow through. I love the Zuber wall paper featuring "Scenes from North America" in this entry. Such a beautiful foyer!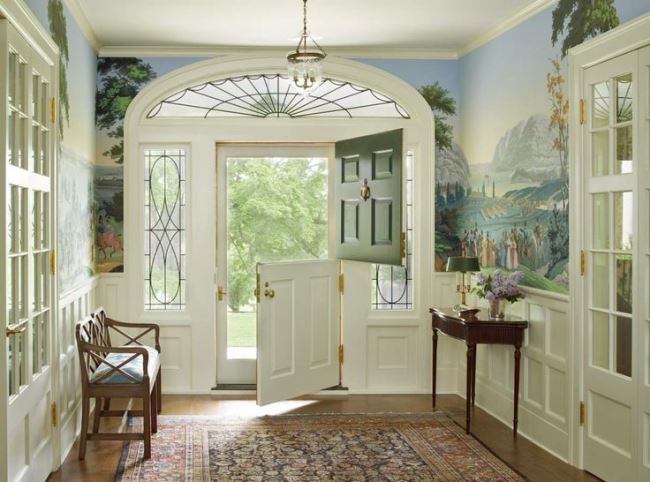 If you live in the sunny south, this would be an early spring or late fall happening since during the warm summer months the mosquitoes would come in, pick you up and carry you right back out the open top half of the door. Yep, we grow 'em that big down here!
Photo from Country Home Magazine-no longer in publication
The Dutch door, as it's frequently caledl here in America, is simply a door that's divided horizontally allowing the bottom half to stay closed while the top half remains open. Per Wikipedia, Dutch doors were very common in the Netherlands in the 17th century and would often appear in Dutch paintings of that period. (Painting below is by Samuel van Hoogstraten and image is from Wikipedia)
Wikipedia
The initial purpose of designing the Dutch door in a double hung fashion was to keep animals out of farmhouses and keep children inside and safe, while still letting in air through the open top. This picture from This Old House online made me smile because a Dutch door wouldn't even slow down most cats. They have amazing leg power and could easily leap atop a door like this.
In this photo below, notice the stirrup-shaped handle. There was also one of those in the second picture of this post. That's called a Dutch Drop Handle and it is one of the earliest forms of a handle. Back in the day, it would have been made from forged iron. On today's doors, they are probably more of a decoration and a nod to the past than actually used as a handle for opening or closing the door.
Don't you love this space…it's like a little inglenook with space to sit down and pull on winter boots, coats and scarves. Love the wall color, too!
Do you remember Julio's gorgeous cabin on the Russian River? It also had a fabulous Dutch Door.
Just imagine walking up to the front door of the cabin and finding this view through that wonderful Dutch door. (Tour Julio's cabin in this previous post: A Cabin Renovation & Restoration)
Dutch doors have seen a return in popularity and you'll even find them on some contemporary structures these days.
I mostly think of a Dutch door being used for a side entry or maybe for a back door, but this picture proves on the right home, they even look wonderful as front doors.
I love them painted in bold colors like this fabulous green. I like that little shelf area this one has, too. That's where you sit the freshly baked apple pie to cool. 😉
They are perfect for a beach cottage, especially when there's an ocean view with soft breezes right outside. Wish I was there right now, sitting on that wonderful window seat!
Absolutely love the window design in the top of this Dutch door.
Dutch doors are beautiful when decorated with a wreath for Christmas. Really a wreath would look great on a Dutch door anytime of the year.
So charming!
Do you love this style door? Would you use one in your home, maybe for a laundry room, side door or back door?
*If a post is sponsored or a product was provided at no charge, it will be stated in post. Some links may be affiliate links. *