Welcome to the 279th Metamorphosis Monday!
For this week's Metamorphosis Monday, I'm taking you into the garden sharing how I finished out the bed around my mailbox.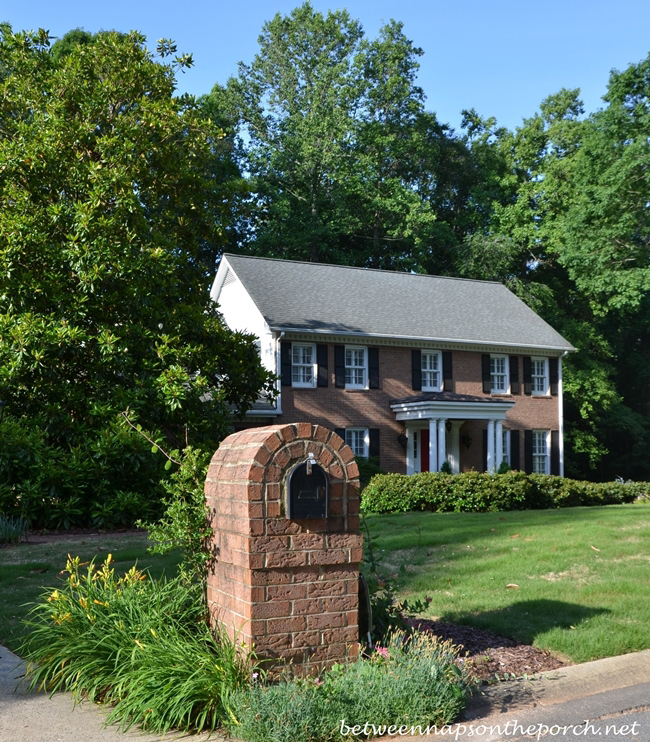 The goal was to add some curb appeal to this spot on the other side of the mailbox, an area left mostly empty after the front yard was sodded last summer. You may remember, it started out with some stubborn weeds that broke off at the roots when pulled, always coming back with a vengeance.
I got rid of them once and for all with Spectracide Weed and Grass Killer.
With the weeds all gone, I could get busy planting.
The day I went out to plant, I thought I had a mound of fire ants starting up. I've had so many problems with fire ants in my yard in the past. After looking closer, it was a false alarm, just a mound of Georgia red clay. If you run into any in your yard, Spectracide makes a product to get rid of them. There is nothing worse than stepping in a mound while wearing sandals…I know from personal experience!
Before I could get busy planting, I needed to amend the soil. In many parts of Georgia, the ground is thick, red clay. If you plant flowers directly into the clay dirt without improving it, the plants may live a short while but they definitely won't grow or thrive and they'll most likely die because the roots suffocate in the thick clay.
I added two bag of soil conditioner to this bed.
The method I always use to prepare a bed for planting is I first turn over the bed with a shovel, then I sprinkle the soil conditioner all over the bed. Once that's done, I go back and work it down into the soil with the shovel. The photo below was taken right after I had sprinkled the soil conditioner across the bed.
The main reason for adding the soil conditioner is to break up the red clay and make it more crumbly and friable and a lot less sticky and thick. The good thing is, once you amend a bed, it tends to stay that way forever. You may have to eventually add a bit more dirt as you pull plants out and put more in, especially if it's an annual bed, but any future planting in that bed will be easier and go a lot faster.
Remember the inspiration photo? My mailbox area is in full sun but I was still hoping I could use a hydrangea. Several of you mentioned there are hydrangeas that can take full-sun.
I went in search of sun-loving hydrangeas and found one called Dharuma. Are you familiar with that one? The nice thing about this particular hydrangea, other than the fact it can take full sun, is that it also stays pretty small, growing to be around 3 to 3-1/2 feet tall. I didn't want to plant anything here that would get so tall it blocked the view while exiting the drive way. Isn't it pretty? I love the flowers!
I placed it pretty close-up behind the mailbox thinking over the years it will grow up and outward toward the yard, without getting out too far over the grass. I left the Bath's Pink Dianthus in front of the mailbox (not visible in this photo) as well as the Stella de Oro daylilies. They look fine where they are and I wouldn't want to transplant them while they are actually blooming, anyway.
In the comments of my previous post, several folks suggested Vinca for this area since it can take the full sun. I do like Vinca and I've used it in annual beds before, so I decided to take your suggestion and go with it for this bed. Thanks for all the great suggestions!
I came across an unusual plant while shopping in the nursery. It's called Curcuma. Have you heard of it? I love the exotic-looking pink blossom it produces. I could have sworn the label said it took full sun but once I got it home, I noticed it said "part sun." I'll have to keep an eye on it and if it starts to show signs of decline, I'll move it to another location or pot it up and put on the porch in a shady spot.
Besides the pretty pink blossoms on this plant, it also has tiny purple flowers tucked down inside the pink petals. Hard to see in this photo but they are more noticeable in person. It's like two flowers in one! I don't think this plant handles cold weather since it's a tropical plant, so I may be digging it up to bring it inside come wintertime.
The only thing left to do now is to add something to the mailbox to train the honeysuckle I have growing here…you can see it waving around wildly in the background in the photo below.
I planted it here years ago after seeing it on a tour in the garden of author and garden designer, Ryan Gainey. I used to have some wire over the mailbox for it to grow on, but it kept coming loose so I finally had to remove it. The honeysuckle grows prolifically so I cut it back drastically last fall. It's already coming back out and looking for something to climb. Guess I better get busy!
Here's a picture of how looks from this previous summer tablescape. I can't remember the name of this particular honeysuckle now, but it's a variety that's sold in nurseries, at least it was when I bought mine.
I also used it in this spring tablescape on the porch.
Thanks again for all your ideas and suggestions in the previous two posts! I'll give you an update in a month or so and let you know how things are growing.
I want to thank you all for the support on this project. Be sure to follow the Spectracide Facebook page for giveaways, savings and tips.
This is a sponsored conversation written by me on behalf of Spectracide. The opinions and text are all mine.
Looking forward to all the Before and Afters linked for this Met Monday!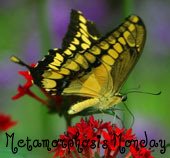 If you are participating in Metamorphosis Monday, you will need to link up the "permalink" to your MM post and not your general blog address. To get your permalink, click on your post name, then just copy and paste the address that shows up in the address bar at the top of your blog, into the "url" box for InLinkz.
In order to link up, you'll need to include a link in your MM post back to the party so the other participants will have an opportunity to receive visits from your wonderful blog readers.
Please observe these few rules:
Only link up Before and After posts that are home, gardening, crafting, painting, sewing, cooking, DIY related.
Do not link up if you're doing so to promote a website or product.
Do not link up a post that was just linked last week since a lot of readers will have already seen that post.

*If a post is sponsored or a product was provided at no charge, it will be stated in post. Some links may be affiliate links. *