I've been thinking about adding a security camera to my front porch for a long, long time. Fortunately, I've never had a package or anything go missing from my porch, but a camera could come in handy for that, as well. The main reason I've been wishing to add a camera is in hopes of avoiding unnecessary interruptions. So often when I'm working in the office or somewhere in the house, I'll hear the doorbell ring. I'll stop what I'm doing and head for the front door only to discover it's a company going door-to-door soliciting in the neighborhood. Arggg.
I always thought I'd have to hire a security company to give me the system I had in mind. What I envisioned was a setup where if I'm working at my desk and someone comes to the door, an image of the porch and the person would automatically appear on a monitor here on my desk. I thought without a monitor I'd have to log onto an app on my phone and click a bunch of buttons to see the porch. By then, the visitor would probably be long gone. (Photo below is from this previous post: Decorating the Porch for Christmas.)
Well, it turns out that's not how it works at all–thankfully!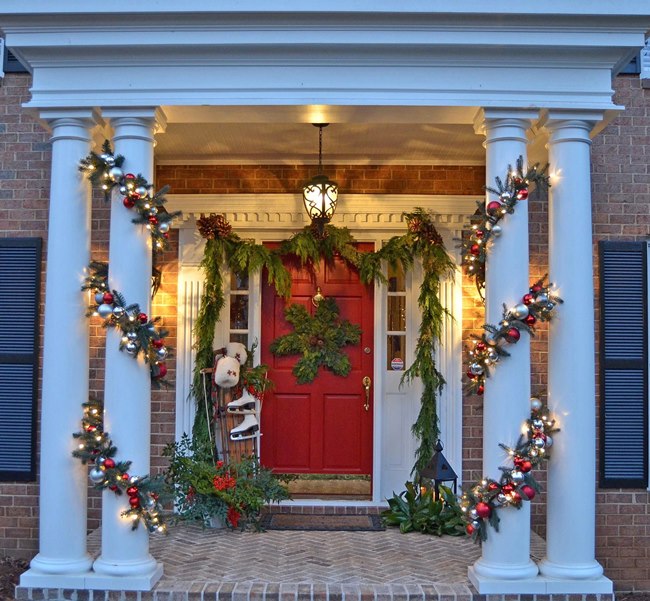 Yesterday when I was being driven home by the service I normally use when returning from the airport, my driver and I were discussing security. He excitedly shared how much he loves his Ring doorbell. I had heard of Ring but hadn't really considered it since I didn't think it would be sophisticated enough to do what I wanted.
Today, still thinking about our discussion, I decided to Google and read more about the Ring system. I discovered it's much more sophisticated than I had thought. They have so many different systems, it took me a while to figure out which one to buy. I narrowed it down to two but was having trouble making a decision. I couldn't decide if I wanted the Video Doorbell 2 that can be either battery operated or wired, or if I wanted to pay a little bit more and get the Video Doorbell Pro that is strictly hardwired.
I called Ring and talked with a super nice guy in their customer service who explained the differences/features of the two systems. I decided to go with the Video Doorbell Pro for two reasons: I will never have to have to worry about a dead battery, plus the representative said with the hardwired Video Doorbell Pro, I'd get a faster reaction and image display to my monitor/phone.
The Video Doorbell Pro can also be purchased along with a Chime, in case you don't have a working doorbell. I didn't need that since my doorbell works fine. I also didn't need some of the other security features they offer since I have a great home security system that's monitored 24/7.
But what about that desk monitor I wanted? What really convinced me to go ahead and give the Ring a try is when I saw how it works with Echo Spot/Alexa.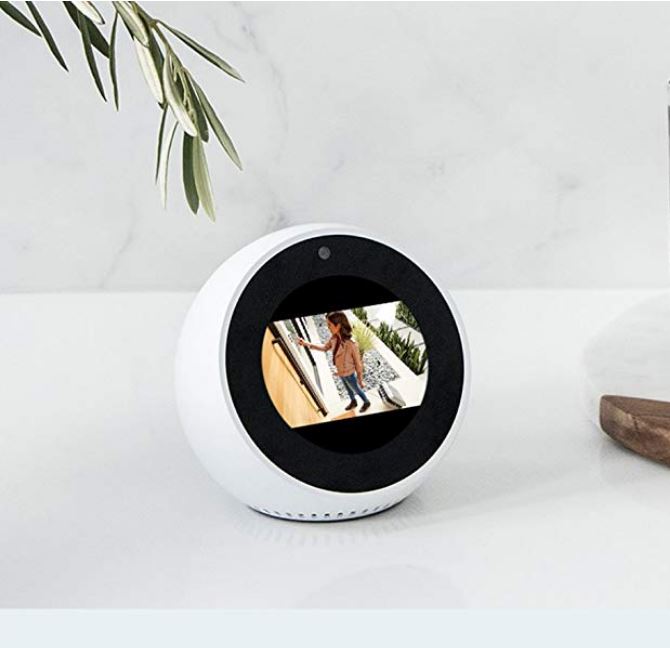 Plus, the Ring representative said the Ring app has a setting/option that will automatically wake your phone and display an image of what the camera is seeing when it detects movement coming toward your porch.
So I may not even need an Echo Spot since my phone is pretty much always right here on my desk whenever I'm working. Now that I think about it, I may want to put the Echo Spot downstairs so when I'm downstairs away from my phone, I can see who's approaching my porch even though my phone is still upstairs.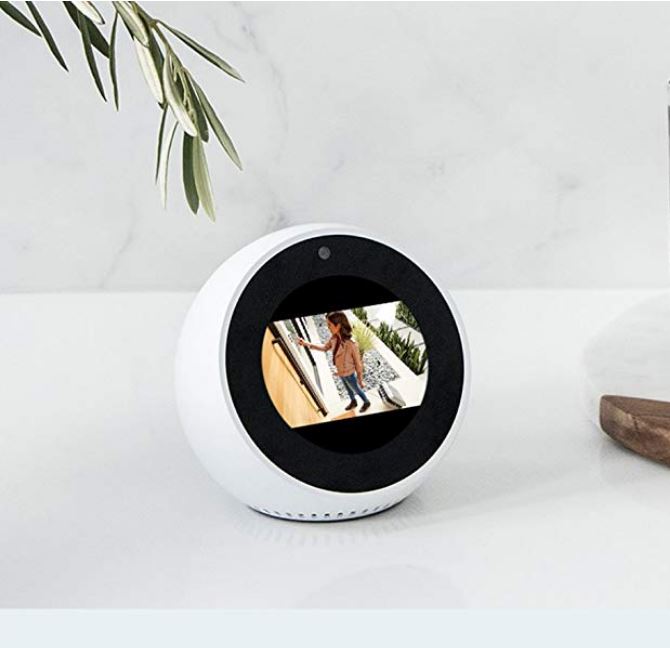 I also love that you can actually talk to a person visiting your home. So if you're away from your home and someone rings the bell, you can talk directly to them to see what they need or why they are visiting. They won't even know you're not home. Love that!
I'm going to attempt to install my Ring Doorbell myself since I installed my last doorbell and that worked out well. Hopefully, I remembered to label the switch in the electrical panel downstairs last time. It would save me a lot of running up and down the stairs this time if I did. lol
I am going to miss my cute pineapple doorbell, but the convenience and safety factor of the Ring doorbell is more important to me at this point.
You can read more about the Ring Doorbell I purchased where I purchased mine, here: Ring Doorbell Pro. There was a review there that gave me the chills. A guy said he felt like his Ring doorbell had already paid for itself not too long after he installed it. He said his phone lit up showing a guy approaching his door carrying a dark object down along his side. The guy walked up onto the front porch, stared straight at the Ring doorbell, turned around, walked back down the steps, got in his car and left. Creepy, huh? I wonder if the dark object was a crowbar.
You'll find the Echo Spot I purchased as an additional display/monitor here: Echo Spot. Again, it's not needed because your phone will alert you if someone visits your home. I just love the idea of having it downstairs since I usually leave my phone upstairs on my desk when I'm working in the kitchen or doing something else downstairs.
If I find I don't need the Echo Spot, I may return it, although from all I've been reading, I may want an Echo Spot beside my bed to use as an alarm clock and for weather info when I'm getting dressed in the morning. It will also work with Audible, which would be great. Of course, it does a lot more, way too much to cover in this post.
The Ring Doorbell is supposed to arrive on Saturday, so I'll try to install it this weekend. If I can't do it for some reason, I'll call an electrician I occasionally use for electrical work. Will let you know how it goes…very excited to get it up and running!
In Love With This Candle!
Oh, one more purchase I need to share…a few days ago while I was still in Ohio, I ordered one of the Woodwick Hearthwick candles that crackles like a nice, cozy fireplace. Oh, my gosh, I am IN LOVE!
My candle arrived today and I was so enamored, I placed it right in front of my keyboard so I could see and hear it while working. It sounds heavenly and smells divine! I love the sound of a crackling, wood-burning fireplace, it's absolutely perfect for this time of year!
I love woodsy or smoky scents when the weather turns cold, so the one I ordered was their "Fireside" scent here: Fireside Scent. It's also available here: Fireside Scent.
I enjoyed it so much today, I ordered three more scents to try, plus another one to give as a gift. I think they would make wonderful Christmas gifts for anyone who enjoys scented candles. I barely stopped myself from ordering more! I want to try all the scents, the names all sound wonderful! You can see all the other scents here: Woodwick Crackling Candles.
Anyone else love Hearthwick Candles as much as I do?
Update: You'll find a small version of the WoodWick Fireside candle here: Woodwick Flickering Fireside Candle. I haven't tried this size but it appears to have good reviews.
*If a post is sponsored or a product was provided at no charge, it will be stated in post. Some links may be affiliate links and as an Amazon Associate, I may earn from qualifying purchases. *