Welcome to the 307th Tablescape Thursday!
Our Pinterest Tablescaping Group Boards
Thanks so much for the wonderful response to the post I sent out late yesterday evening about the new group boards I'm creating on Pinterest. So far we have over 135 members! Whooo Hooo! Those are going to be some amazing boards and I can't wait to see what you'll be pinning!
The invites will be going out today and tomorrow, so if you requested an invite to join any of the boards you should get your invite sometime today. If you missed yesterday's post and love pinning beautiful tablescapes on Pinterest, you'll find more information here: Pin With Me: Join My Tablescape Group Boards
An Alice In Wonderland Birthday Celebration
Recently I received a special email from Elena, a BNOTP reader. Elena wrote: "I was so inspired by your blog to create a one-of-a-kind birthday tablescape for my sister's 60th birthday. This was a very special milestone birthday for my sister, Anna, since she is a heart transplant recipient. I incorporated many of your ideas and came up with a few of my own."
Elena created a wonderful centerpiece down the center of her table.
I love the stacked cups…so very Alice in Wonderland!
The clocks, books and keys all hark back to this now famous book and movie.
Elena said, "I made the decorations that were glued to the mirror and hung from the draperies, most supplies came from Michael's. All were inspired from vintage Alice in Wonderland pictures and quotations."
I see another table in the distance…this was a grand celebration!
Love the Paul Cardew, Alice in Wonderland dishes! It is one of my very favorite patterns.
The dinner plates are so perfect for this AIW table setting. You'll find a list of where Elena found everything at the end of this post.
Elena followed a tutorial I posted a while back to make her clock charger plates. She found her clock fabric in JoAnn's. I love how they turned out! You'll find the tutorial for making these here: Make Clock Plates for a New Year's Eve or Whimsical Table Setting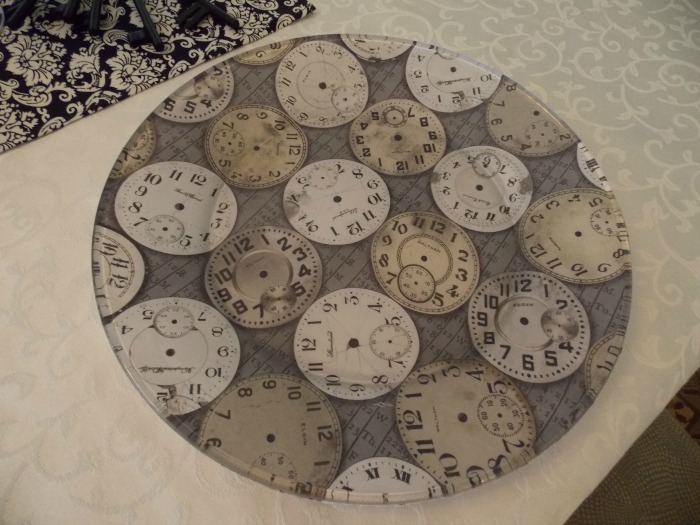 Elena said, "In keeping with the over-the-top tea party theme, I used skeleton key place card holders…
…made my own "Drink Me" beverage tags, and made my own Cheshire Cat straws." LOL Aren't these awesome?! Love them!
Love those place card holders!
Elena said, "I made the cupcake tower from a silver wedding cake pedestal (got it off eBay for my daughter's wedding reception), and a second smaller silver-gilt pedestal from Home Goods. I decorated the red-stemmed votive holder (cost: $1.80) with crystals from Hobby Lobby. I even baked and decorated the cupcakes myself LOL! The little flags on the cupcakes came from the UK via eBay. The sterling tea set was a gift from my mother in law. I arranged gorgeous red roses in my very favorite vase, a 14" Waterford Lismore Diamond crystal vase."
What a beautiful cake pedestal, I've never seen one like that! Everything is stunning, I know Anna must have felt so special and so loved when she saw everything Elena created for her birthday.
Elena and her hubby made this fabulous Cheshire Cat piñata for Anna's birthday celebration! Eleana said, "Hubby and I worked on the piñata together, we used a punch ball from Wal Mart as the mold. My sister had asked for a piñata, so we made her one, the first one she ever had in her whole life. :0) I used the same technique I literally learned in first grade, paper strips with flour paste covering a blown-up punch ball. The design for the face was based on the Walt Disney cartoon version of the Cheshire Cat. After covering the ball with one layer of newspaper and one layer of paper towels, my husband and I primed the piñata with acrylic gesso, and then painted the piñata using acrylic paints from Michael's."
"I fashioned a black tail for the piñata by stitching together a black feather boa from Michael's. I loved my Cheshire Cat so much, it made me sad when he got smashed up at the party! I'll have to make another one. :0)"
Oh, my gosh…I love it! The cat is so perfect! Look at that tail, is that not hysterical? I wonder what Eleana put inside…maybe her sister's favorite candy? Soooo awesome!
Elena, thanks so much for sharing this creative and over-the-top wonderful table with us! I love everything about this special party you planned for your much loved and cherished sister, Anna!
Love an Alice in Wonderland themed table setting? You'll find three more below.
Click on the pictures below to access that particular table setting.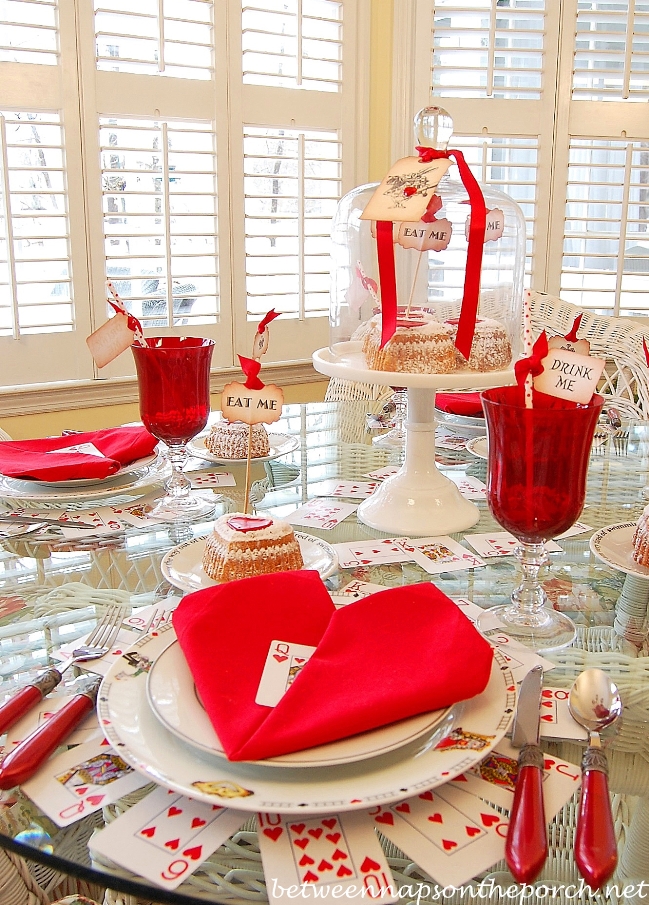 Resources for Elena's Alice in Wonderland Table Setting:
Tablecloth: Lenox Opal Innocence (white)–from Macys
Black and white damask table runner: from eBay
Cloth-covered books: I used hardback books and covered them with fabric and trimmings from Jo-ann Fabrics
Silver Bond Street London alarm clock: Homegoods
Small red alarm clock: Steinmart
Cast iron skeleton key ring: Steinmart
Hourglass: TJ Maxx
Teacup tower: various vintage tea cups from thrift shops, eBay; glued together with clear ceramic epoxy
Red mercury glass stemmed candle holders: Kirkland Home
Paul Cardew Alice in Wonderland tea set: eBay
Clock charger plates: I bought 13″ Anchor Hocking glass plates from the grocery store and the fabric at Jo Ann Fabrics, followed your DIY instructions using Mod Podge. I made a set of 8 charger plates and 8 salad/dessert plates.
Black and cream bunny and rooster Carly Dodsley dinner plates: eBay
Andrew Cardew salad bowls and teacups/saucers: eBay
Red swirl damask napkins: I don't remember where I got these, I've had them a long time!
Gunmetal grey "pearl" napkin rings: Dillard's
Stemmed Beverage glasses: Marquis by Waterford Brookside, from ShopNBC
Stainless steel flatware: Oneida Michelangelo, from Macy's
Cheshire Cat straws: I bought black striped straws on eBay and glued Cheshire Cat faces to them (found the Cheshire Cat image on the internet)
Place Card names and "Drink Me" tags: Hand made, used black sparkle ribbon from Michael's
Skeleton key place card holders: from eBay
Sideboard mirror and drapery decorations: hand-made, supplies from Michael's
Cupcake tower: 18″ silver cake pedestal from eBay, 10″ second pedestal from Home Goods, red stemmed votive holder with crystals from Hobby Lobby. I made the cupcakes using Wilton "no fade" cupcake foils and a Wilton M1 large frosting tip. The little cupcake flags are from the UK via eBay.
Vintage silver tea set: a gift from my mother-in-law, it's at least 75 years old
Red roses on the sideboard: Roses from Costco, 14″ crystal vase is Lismore Diamond, from ShopNBC
Looking forward to all the beautiful tablescapes posted for this week's Tablescape Thursday!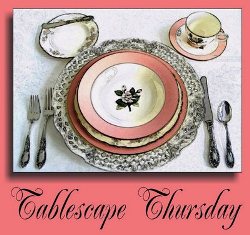 If you are participating in Tablescape Thursday, please be sure to add your permalink below, and not your general blog address. To get your permalink, click on your post name, then copy and paste the address showing in the address bar, into the "url" box when you link up.
You'll need to include a link in your post back to the party in order to link up and participate. That's so visitors to your blog will be able to find the party and the other Tablescape Thursday participants. Requiring a link back also prevents businesses from linking up to sell their products. (Yep, that really happens, unfortunately.)
If you would like to use the Tablescape Thursday logo button in your post, just copy and paste it to your computer and upload it to your post as you would any photo.
Please, don't add your post name/blog name ALL IN CAPS…it tends to create big spaces between the rows of links.
Click on the Blue Frog below to see the links to all the participants in last week's Tablescape Thursday:


*If a post is sponsored or a product was provided at no charge, it will be stated in post. Some links may be affiliate links and as an Amazon Associate, I may earn from qualifying purchases. *